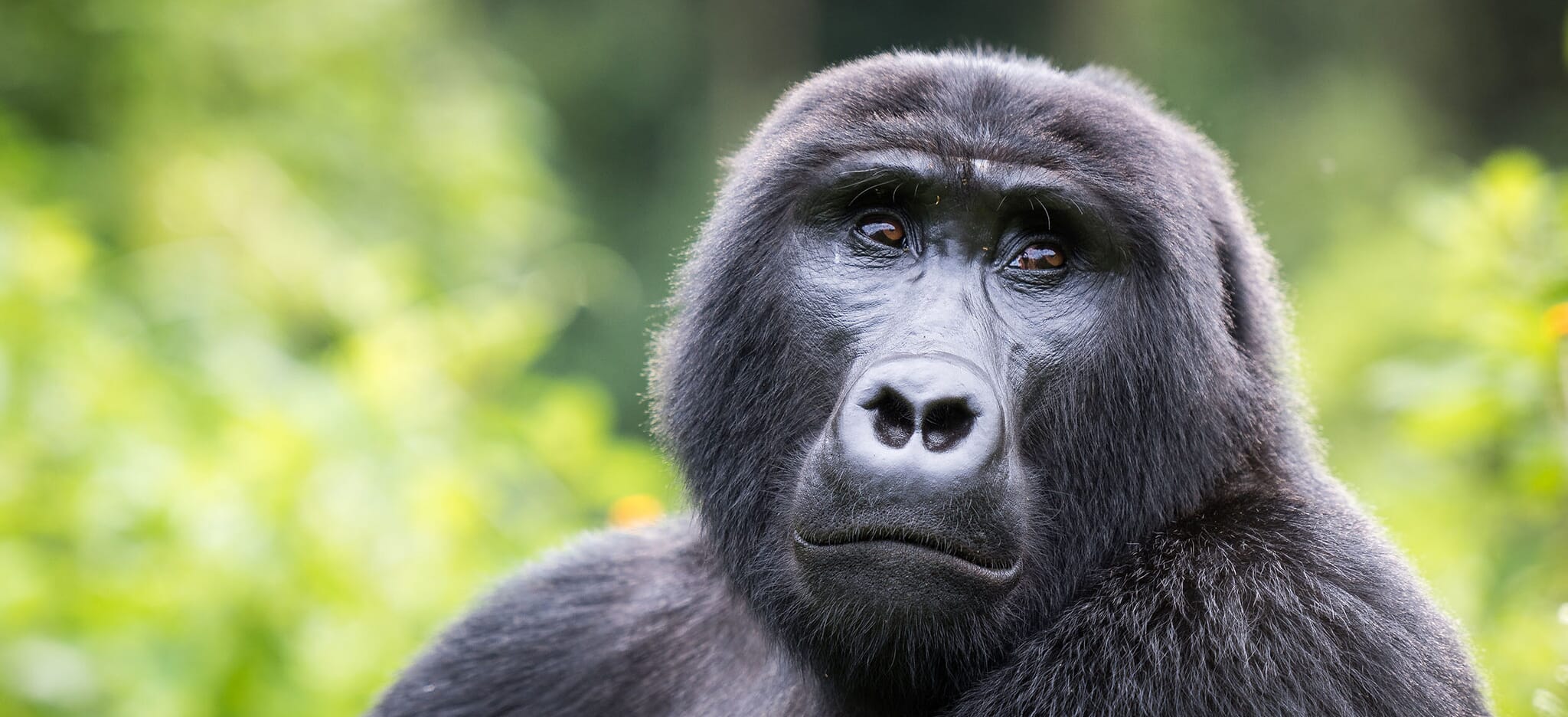 Gorilla Trekking Safari
Up close and personal with the majestic mountain gorillas
Gorilla Trekking safari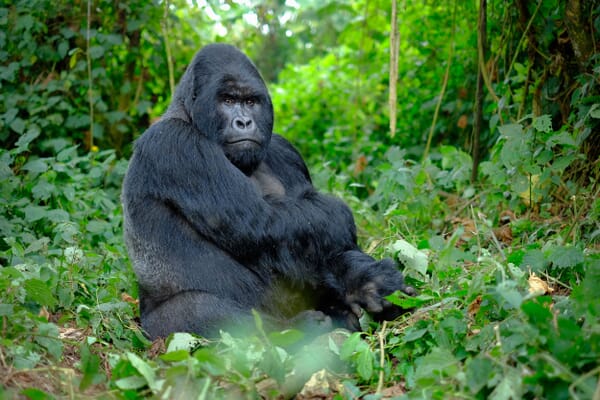 The greatest of the great apes are so similar to humans in many ways – an hour spent with them in their natural habitat is a true privilege.
Mountain gorillas are only found in the equatorial highlands of East Africa; encompassing Uganda, Rwanda and the Democratic Republic of Congo.
Whilst the gorillas are wild, they have been habituated to humans over time. Furthermore, the revenue from gorilla tourism has helped conserve these endangered animals, and in many places their numbers have increased in recent years. A real conservation success story!
Gorilla Trekking safari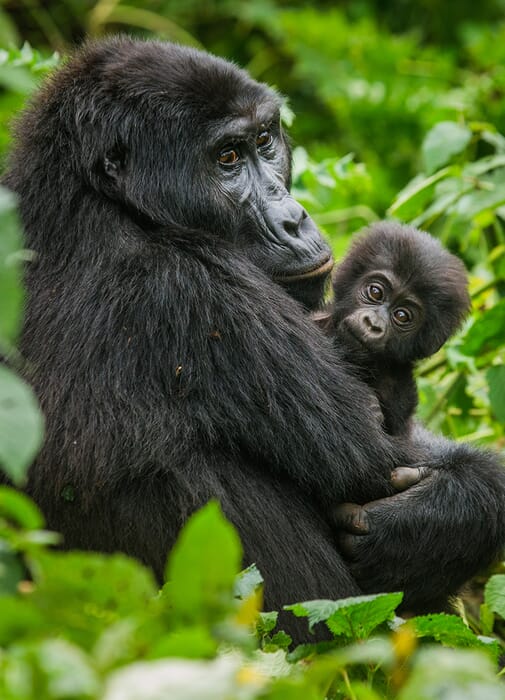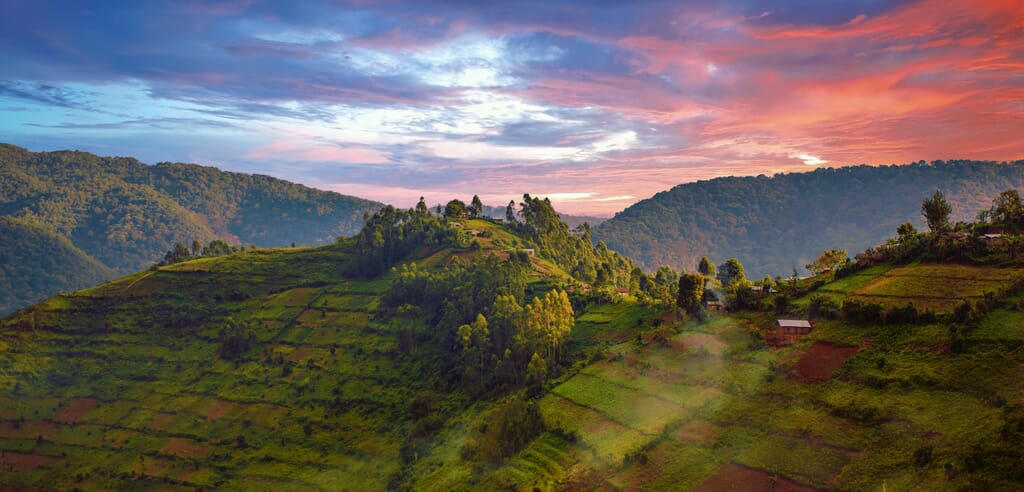 Where to experience a gorilla trekking safari?
There are few places left in Africa where it is possible to see mountain gorillas in the wild. They are endangered and only found in the equatorial mountain forests of East Africa.
Without doubt, the two main destinations for gorilla trekking safaris are Bwindi Impenetrable Forest in Uganda, and Volcanoes National Park, Rwanda. Both of these locations have thrived and contributed significantly to gorilla conservation tourism over recent decades. They also combine perfectly with either Kenya or Tanzania for a Big Five safari holiday.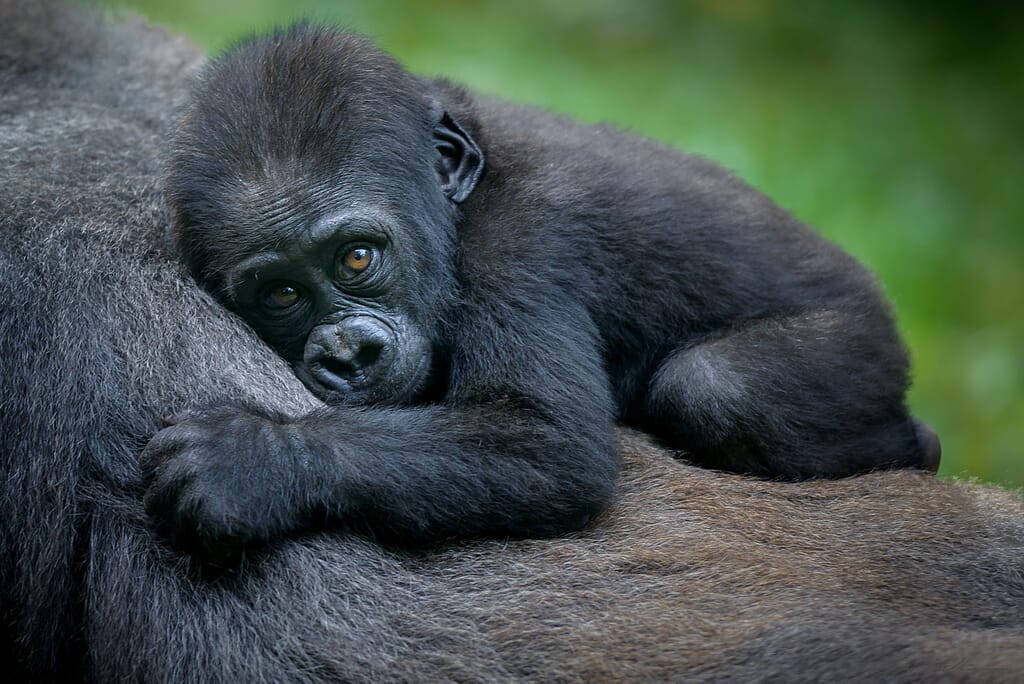 How to experience a gorilla trekking safari?
As the gorillas live in the montane forests of East Africa, a visit to see them necessitates trekking into the forest to find them. The trek can be short, or it can take several hours – all will depend on where the gorillas are that day.
Early in the morning, scouts are sent out to look for them, who then communicate the location back to the rangers at base. Tourists are split into small groups of 6-8 and begin the trek into the forest. This often involves steep terrain and dense rainforest.
The journey itself is all part of the magic of the experience. Don't be surprised to spot other primates, countless birds, butterflies and many other interesting creatures.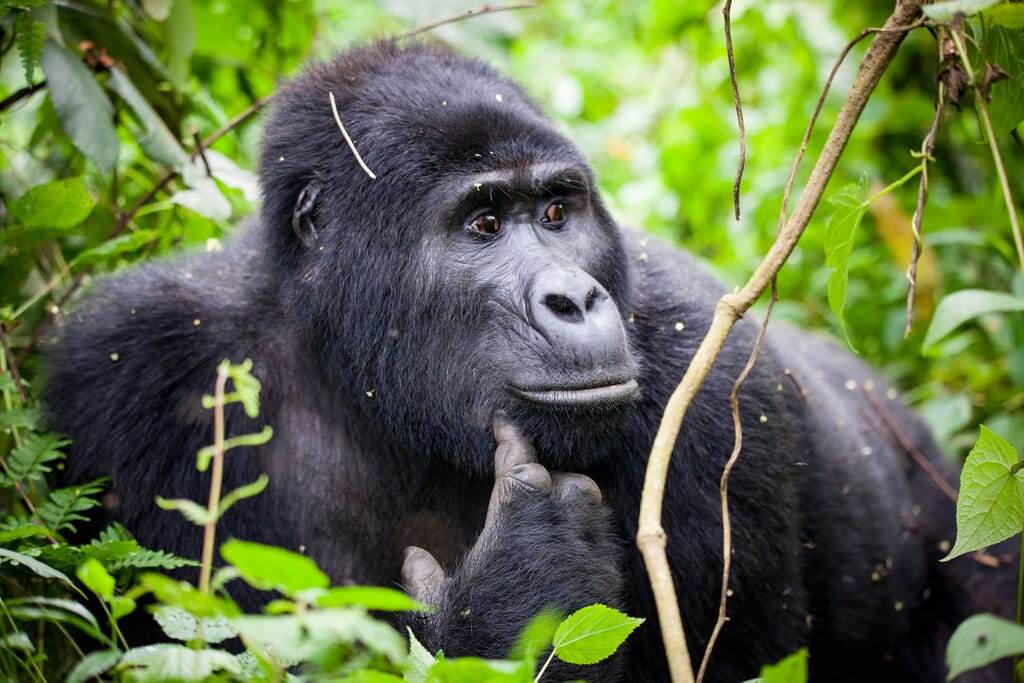 How do the gorillas behave?
Mountain gorillas live in family groups, usually led by one dominant, silverback male. Adult males can weigh up to 300kg / 405lbs, they are very impressive to behold!
Families consist of up to 20 members. The males and females look after their young, until they are old enough to fend for themselves. When they are old enough, most offspring leave the family to form new groups, thus reducing the chances of interbreeding.
Your gorilla trekking experience will include an hour spent with one family. Time is limited to one hour in order to respect their environment and limit the chances of us passing any viruses to them. Gorillas share 98% of our DNA, so they are susceptible to the same illnesses but don't have the immunity we do.
During the hour with them, they are likely to be spending a lot of time eating, whilst also playing and nurturing any young ones in the family.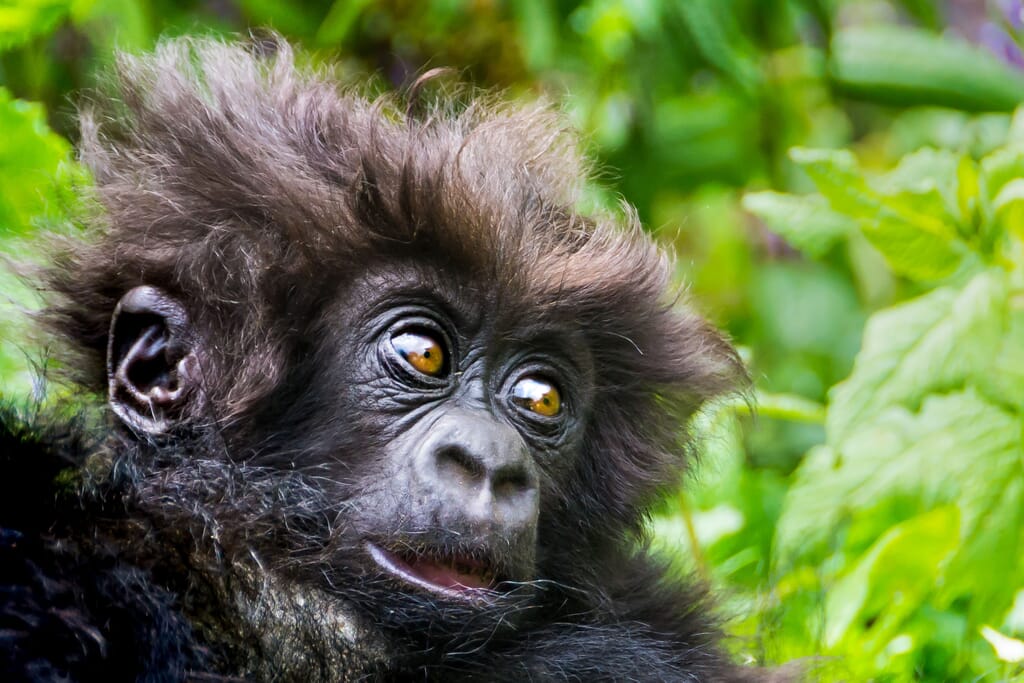 How difficult is the trek? Can anyone do it?
Whilst you don't need to be a mountain climber to complete a gorilla trekking safari, a basic level of fitness is required.
We always recommend hiring a porter to help carry bags, water, cameras, etc. Not only will this make the journey easier, the money paid directly supports the agricultural communities surrounding the forests, helping to reduce human-gorilla conflict.
Gorilla trekking does have a minimum age. Only children aged 15 and above can take part in the experience in both Uganda and Rwanda.
For those with mobility issues who would still like to experience the dream of seeing gorillas in the wild, the wildlife authorities have developed what they call the 'helicopter'. This is essentially a sedan chair with supports and harness, to allow less able travellers to be carried into the rainforest.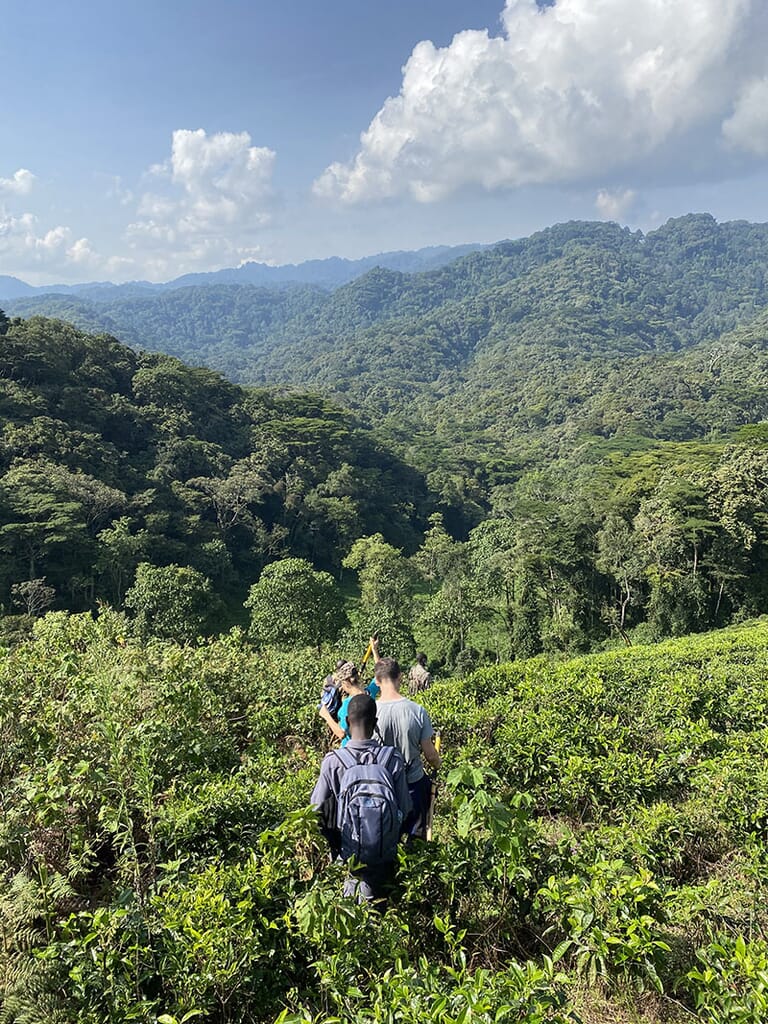 What should I wear and take with me?
Some things to consider before going on a gorilla trek are:
You'll need a sturdy pair of walking/hiking boots – break them in before you go
Wear long sleeves and long trousers, as you'll be walking through dense vegetation.
Lightweight waterproof jacket, as it can rain at any time in the forest
Gardening gloves are good for protecting hands from branches
Take plenty of water – you'll be provided with at least 3 litres
You'll be given a packed lunch to take with you
Take suncream and a hat
You'll be offered a walking stick – we always recommend taking one
Camera with spare batteries
During the Covid pandemic, you'll be required to wear a mask when in the presence of the gorillas.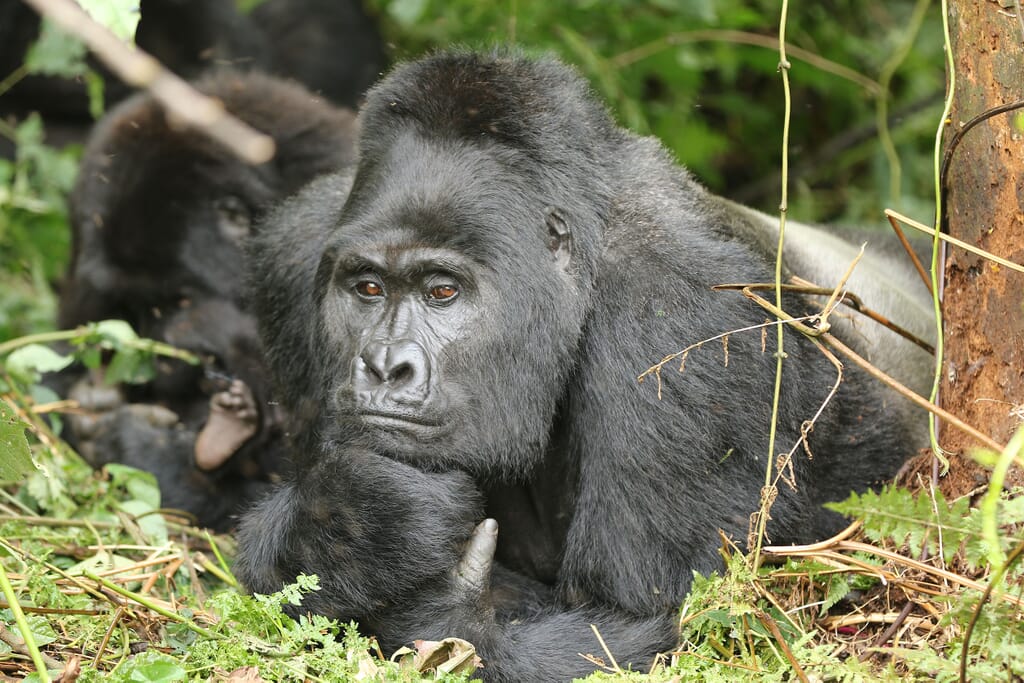 When is the best time of year to go gorilla trekking?
The best time to visit is usually the dry season in East Africa, which runs from June to October, and then again in January and February. This is when the forests are most accessible and terrain is easiest for trekking.
However, trekking is possible all year round, and in the wet months of April and May, the gorillas often come down from the mountains, which makes things easier.
As with all our safaris, everything is completely tailor-made around your wishes. If you'd like to start planning your own gorilla trekking safari, please get in touch.
Request a quote
Recommended locations for gorilla trekking
Learn more about the best places to experience mountain gorillas in the wild.
Why travel with Coral Tree?
We are the specialists in luxury Africa family safari holidays
We are Africa experts and also parents. We understand what makes a memorable family adventure.
Our knowledge and connections are unsurpassed
We have been living and working in African tourism for over two decades.
Every journey is tailored with your specific wishes in mind
No off-the-shelf packages or cookie-cutter itineraries. Unique family safaris.
Each trip funds grassroots conservation and girls education projects
You pay no more for the privilege, we support causes close to our hearts.