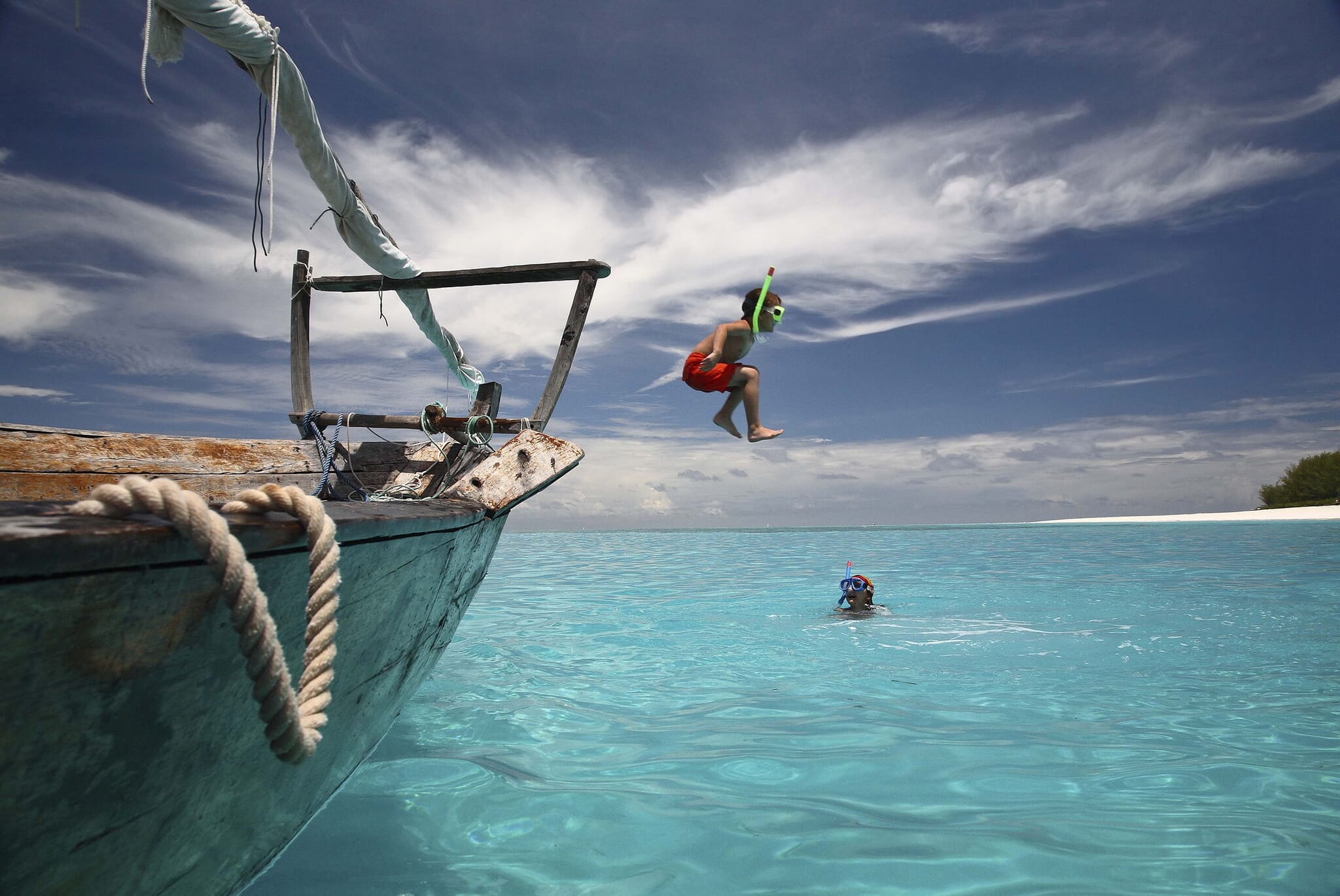 Snorkeling and SCUBA diving
Dive into the deep blue to open up a whole new world
Snorkeling and SCUBA diving
Dive into the deep blue to open up a whole new world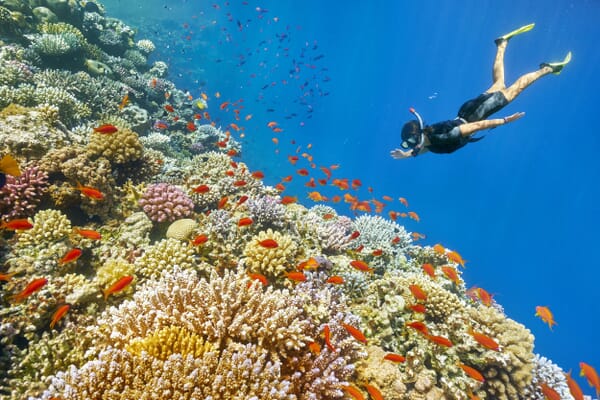 Snorkeling and SCUBA diving are both wonderfully unique ways to explore the natural world as a family.
The East African coast and the islands of the Indian Ocean are home to some of the most diverse and beautiful coral reefs in the world. Exploring them can add some exciting activity to the beach part of your family safari holiday. The adventure doesn't have to end when you leave the savanna behind.
SCUBA diving can also be an incredibly rewarding skill to learn for younger family members, and one that will open up a different world to them as they grow up.
Once you've discovered the underwater world as a family, you'll likely want to do so time and again on future adventures.
Snorkeling and SCUBA diving
Dive into the deep blue to open up a whole new world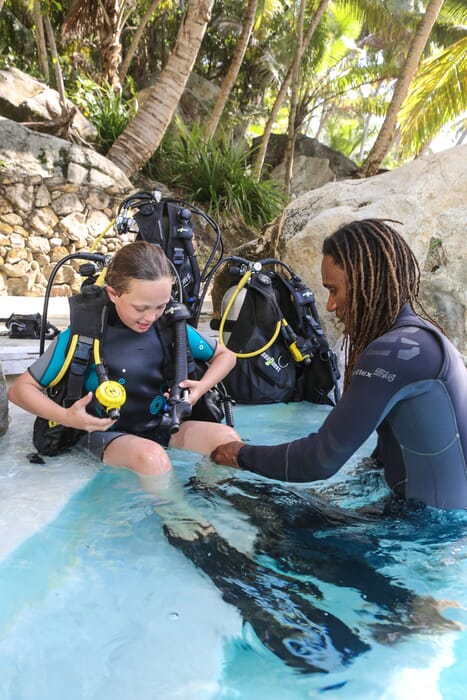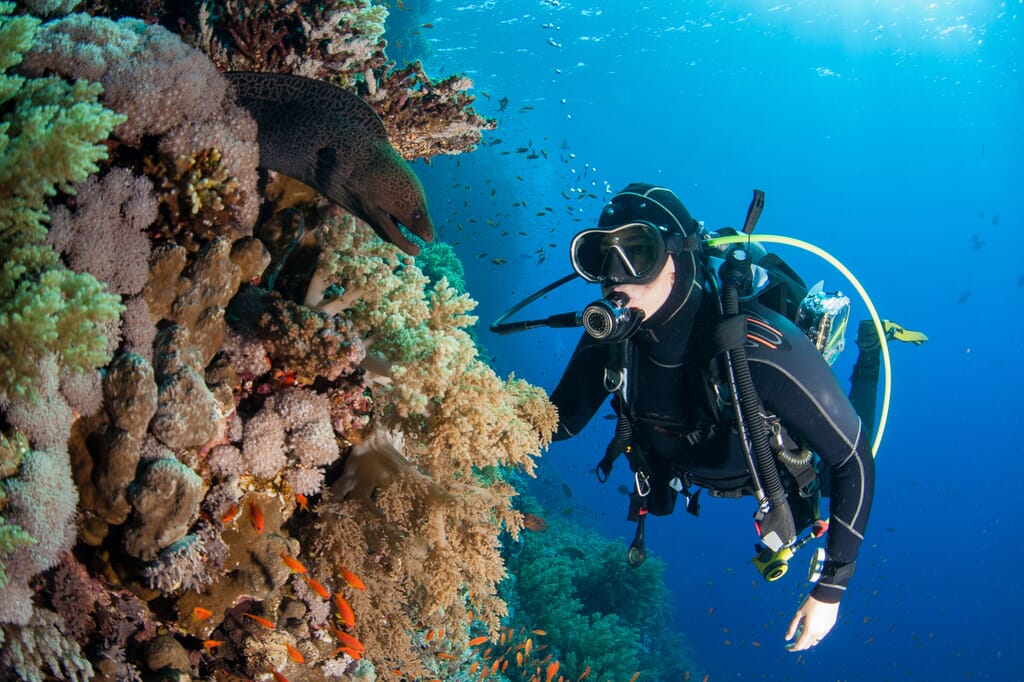 Add some marine adventure to your family safari holiday
A family safari to East Africa combines perfectly with the islands of Zanzibar or the Kenyan coast.
Further afield, families can explore the tropical islands of the Seychelles and Maldives. Private islands, in particular, boast some of the most spectacular reefs imaginable.
In southern Africa, Mozambique is a snorkeling and SCUBA diving paradise. The country has 2,500km of coastline, which varies from the white-sand equatorial beaches of the north, to rugged, golden-sanded, dune-backed beaches of the south.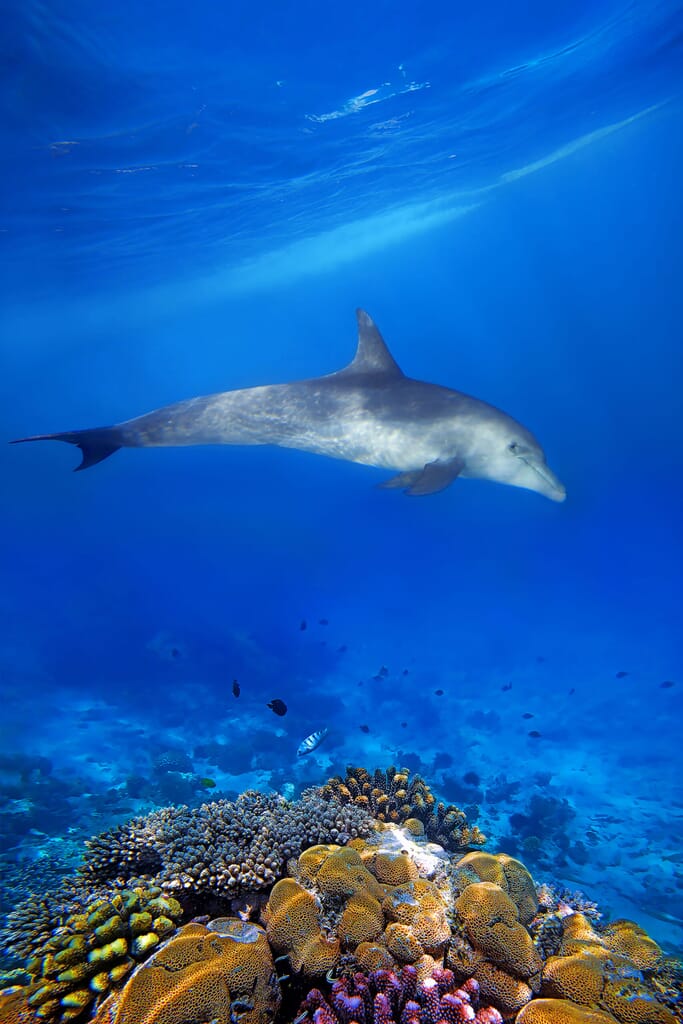 The Indian Ocean is home to a bounty of weird and wonderful creatures
The Indo-Pacific region is home to the greatest diversity of marine life in the world. The average Indian Ocean coral reef can support over 4,000 marine species. The Serengeti, by comparison, houses 300 types of mammal and 500 bird species.
Whilst snorkeling and SCUBA diving, expect to see countless reef fish, including many you may know, such as clownfish, stingrays, moray eels and turtles. Along with some you may not, such as frogfish, ghost pipefish, scorpion fish and clown trigger fish
Sightings of dolphins are common in Zanzibar and Wasini Island National Park in Southern Kenya. Eagle rays and reef sharks are more common around the private islands and atolls of Seychelles and Maldives.
Green and hawksbill turtles nest on various beaches and islands in the Zanzibar archipelago and the Seychelles.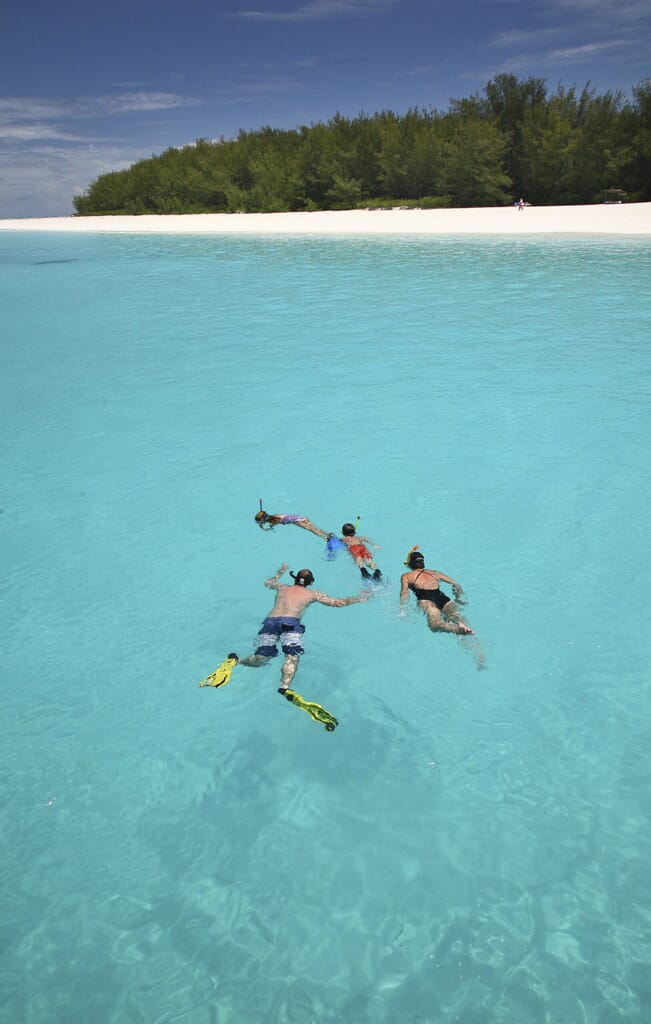 When is best to dive in?
The equatorial region of the western Indian Ocean, which includes Zanzibar, the Kenyan coast and Seychelles, has a climate governed by the trade winds. These seasonal winds blow strongest from July-September (southeast) and then again from December to February (northwest).
Outside of these periods the western Indian ocean is calmest, which makes March/April and October/November the best months for snorkeling and SCUBA diving. The dropping wind also tends to improve visibility, although run-off from rain can make the waters murky after the long-rains of April and May and the short rains of November.
Thankfully, for ocean-goers, the water temparture in the equatorial regions of the Indian Ocean doesn't drop below mid-20s (centigrade) and sometimes gets over 30C in February and March.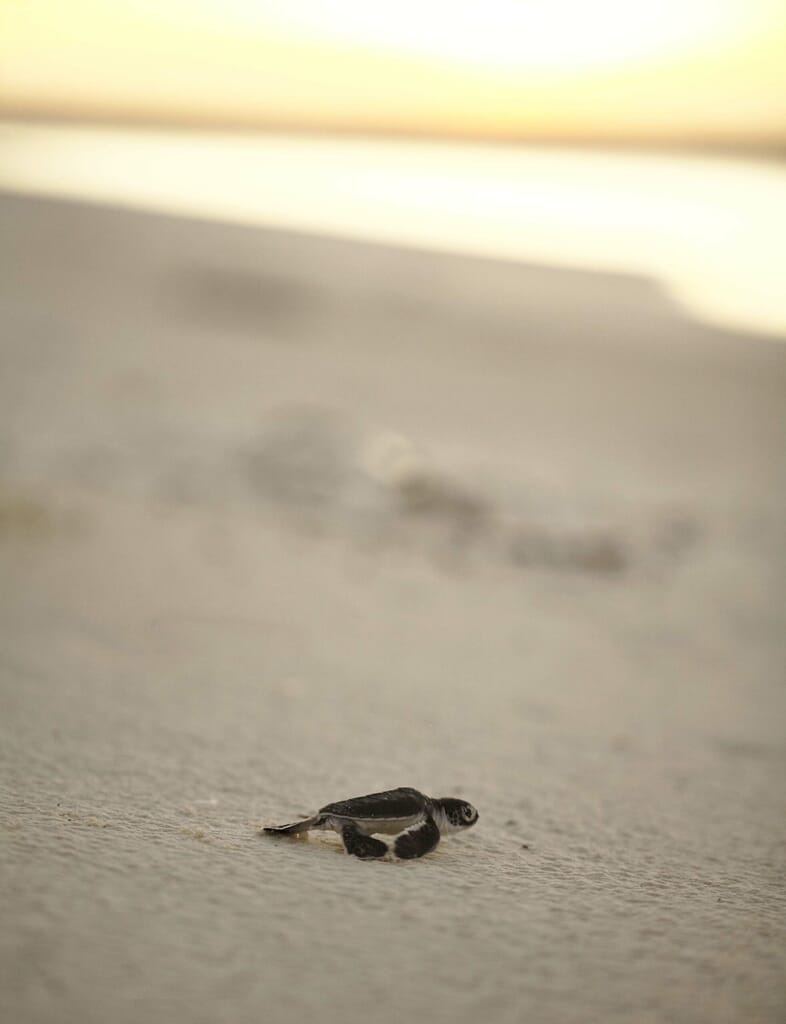 In southern Mozambique and South Africa, temperatures can drop below 20C in the southern hemisphere winter months of July-September. The best time to snorkel and dive in southern Mozambique is at the end of summer from February to April.
The annual humpback whale migration, which can be spotted from the coast of Southern Mozambique and South Africa occurs from June-October.
Sea turtles can nest on the beaches of Zanzibar and Seychelles all-year round, but the peak time for laying is from December to April with the babies hatching approximately eight weeks after nesting.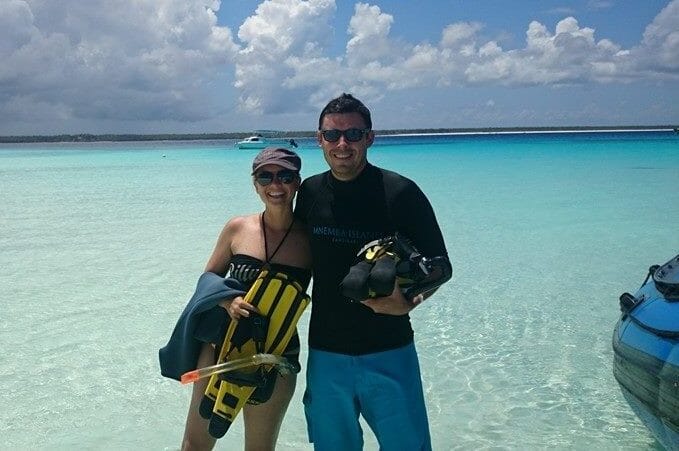 Why we love it...
Mike and Tess both used to work as dive instructors in Zanzibar and Mike ran a PADI 5* dive centre in Mozambique. We believe wholeheartedly that some of the most incredible experiences in nature are to be found in the underwater world.
Mike ran the green turtle conservation program on Mnemba Island for five years. Conservation of the marine environment is a subject we are passionate about.
We love sharing our enthusiasm for the ocean with families looking to experience the beauty of Africa's coral reefs for themselves.
If you'd like to add some snorkeling and SCUBA diving to your family's next adventure, get in touch and we'll plan a unique family safari just for you.
Start planning
Itinerary ideas
Suggested itineraries for Snorkeling and SCUBA diving
Tanzania safari and beach holiday

Experience the ideal combination of safari and beach that Tanzania has to offer.

| | |
| --- | --- |
| Guide Price | From £3,095 | $4,210 per person (based on 2 adults and 2 children under 12) |
| Duration | 9 Nights |
| Best Months | July - October |
| Region | Nyerere National Park, Zanzibar Islands, |

More Info

Kenya safari and beach holiday

Combine the world-famous Masai Mara with some time on Kenya's gorgeous coastline with our signature Kenya family safari and beach holiday.

| | |
| --- | --- |
| Guide Price | From £3,680 | $5,000 per person (based on 2 adults and 2 children under 12) |
| Duration | 10 nights |
| Best Months | July - October |
| Region | Nairobi, Masai Mara, Kenya Coast, |

More Info

Kenya safari and sandcastles holiday

20% OFF SPECIAL OFFER - This exceptional, great-value itinerary combines a stay at the sumptuous Angama Mara, with the beautiful Alfajiri villas.

| | |
| --- | --- |
| Guide Price | From £3,845 | $5,335 per person (based on 2 adults & 2 under 12's) |
| Duration | 7 nights |
| Best Months | January - May; November - December |
| Region | Kenya Coast, |

More Info
Inspiration
Experiences
Browse more of our favourite family safari experiences
Inspiration
Experiences
Browse more of our favourite family safari experiences
Why travel with Coral Tree?
We are the specialists in luxury Africa family safari holidays
We are Africa experts and also parents. We understand what makes a memorable family adventure.
Our knowledge and connections are unsurpassed
We have been living and working in African tourism for over two decades.
Every journey is tailored with your specific wishes in mind
No off-the-shelf packages or cookie-cutter itineraries. Unique family safaris.
Each trip funds grassroots conservation and girls education projects
You pay no more for the privilege, we support causes close to our hearts.
Tess & Mike, Coral Tree founders
Meet our founders
We believe in expert advice and exceptional service
No half measures allowed.
Over the last twenty years, we have lived and worked in the luxury African tourism sector developing partnerships across the continent.
We know what makes a memorable family experience, and as parents, we understand what's important to you.
More about us