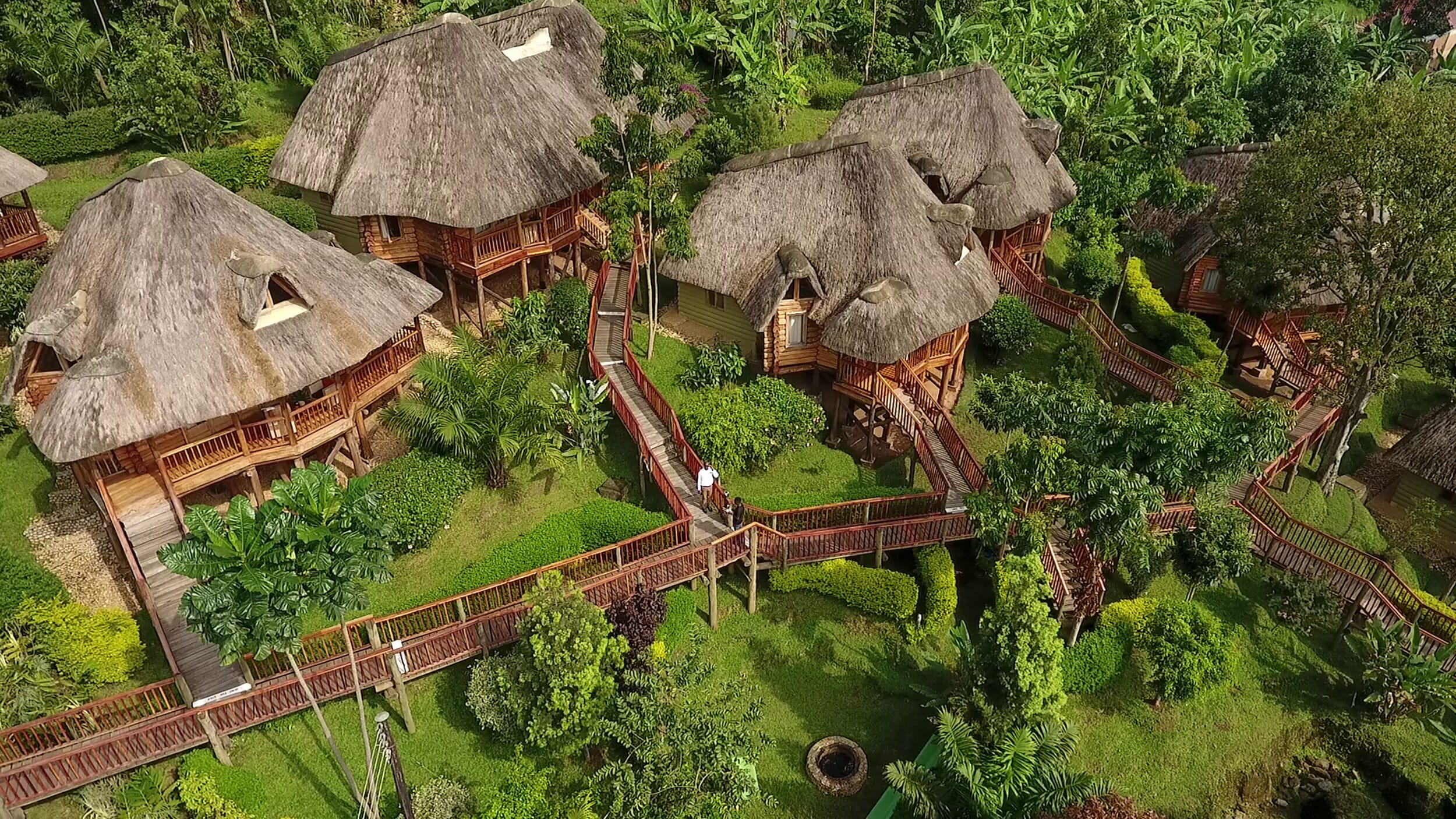 Trackers Safari Lodge
Modern, log-cabin lodge sat atop a hill, overlooking Bwindi Impenetrable Forest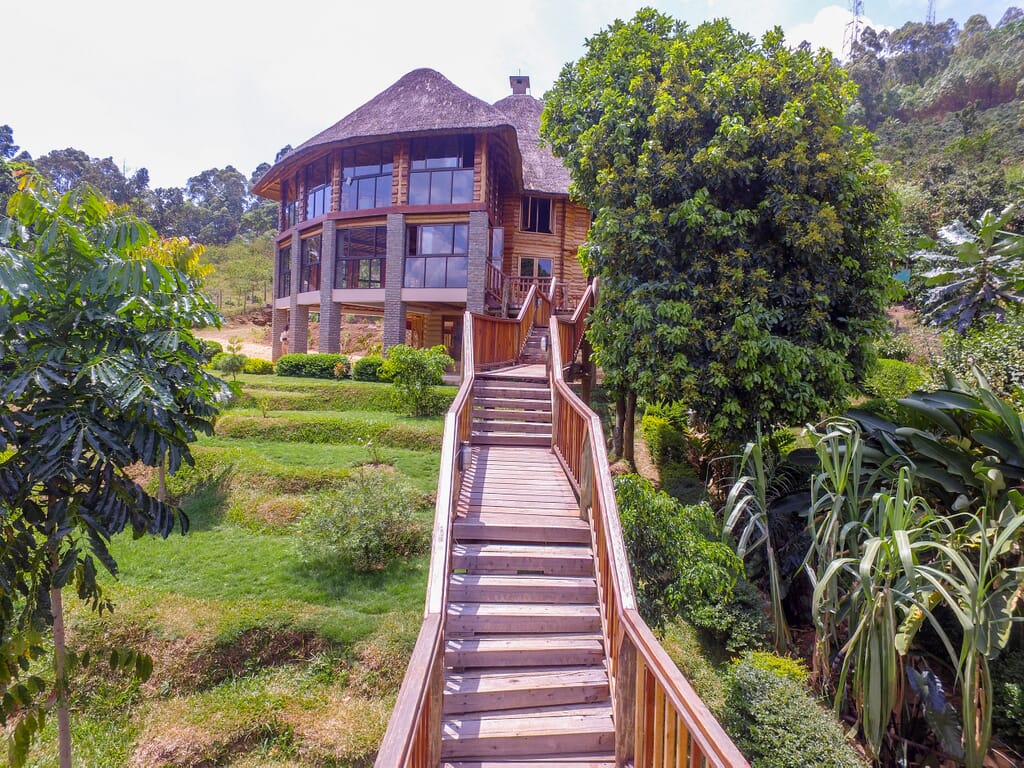 Trackers Safari Lodge
Trackers Safari Lodge is a modern, luxury property situated on a hilltop overlooking Bwindi Impenetrable Forest, just five minutes drive from the park gate.
Accommodation is provided in log cabins with thatched roofs and wooden floors. Each is equipped with modern amenities and bathrooms, and a terrace overlooking the verdant forest floor. The superior rooms even have their own private jacuzzi.
A big benefit for those travelling as a family is the large swimming pool. At the time of writing, this is the only swimming pool in Bwindi and is for exclusive use by lodge guests.
The poolside clubhouse is furnished with a bar, gym, steam room and massage sala.
At the lodge's highest point sits the expansive bar and restaurant area. Perched on the top floor, the bar has a huge fireplace as its centerpiece. Outside the balconies have panoramic views of the forest below. A wonderful spot to unwind after a day's gorilla trekking.
Activities from Trackers Safari Lodge include, of course, gorilla trekking. Guests staying a little longer will likely enjoy exploring the nearby trails, spotting the many species of primate and bird that call this part of Uganda home.
Golfers can be driven 45 minutes to the 18-hole golf course near Kihihi airstrip. The lodge also has strong links with many of the local community projects established in this area, including Ride 4 a woman and a tree nursery project.
Plan your stay
Coral Tree luxury rating
Number of rooms
4 double chalets, 3 twin chalets, 1 family chalet and 2 superior chalets
Location
Bwindi Impenetrable Forest
Child Policy
Age 6 and above.
Why we love it
"This is a charming property in a lovely location with lots of facilities. The only swimming pool in Bwindi makes it a great choice for families."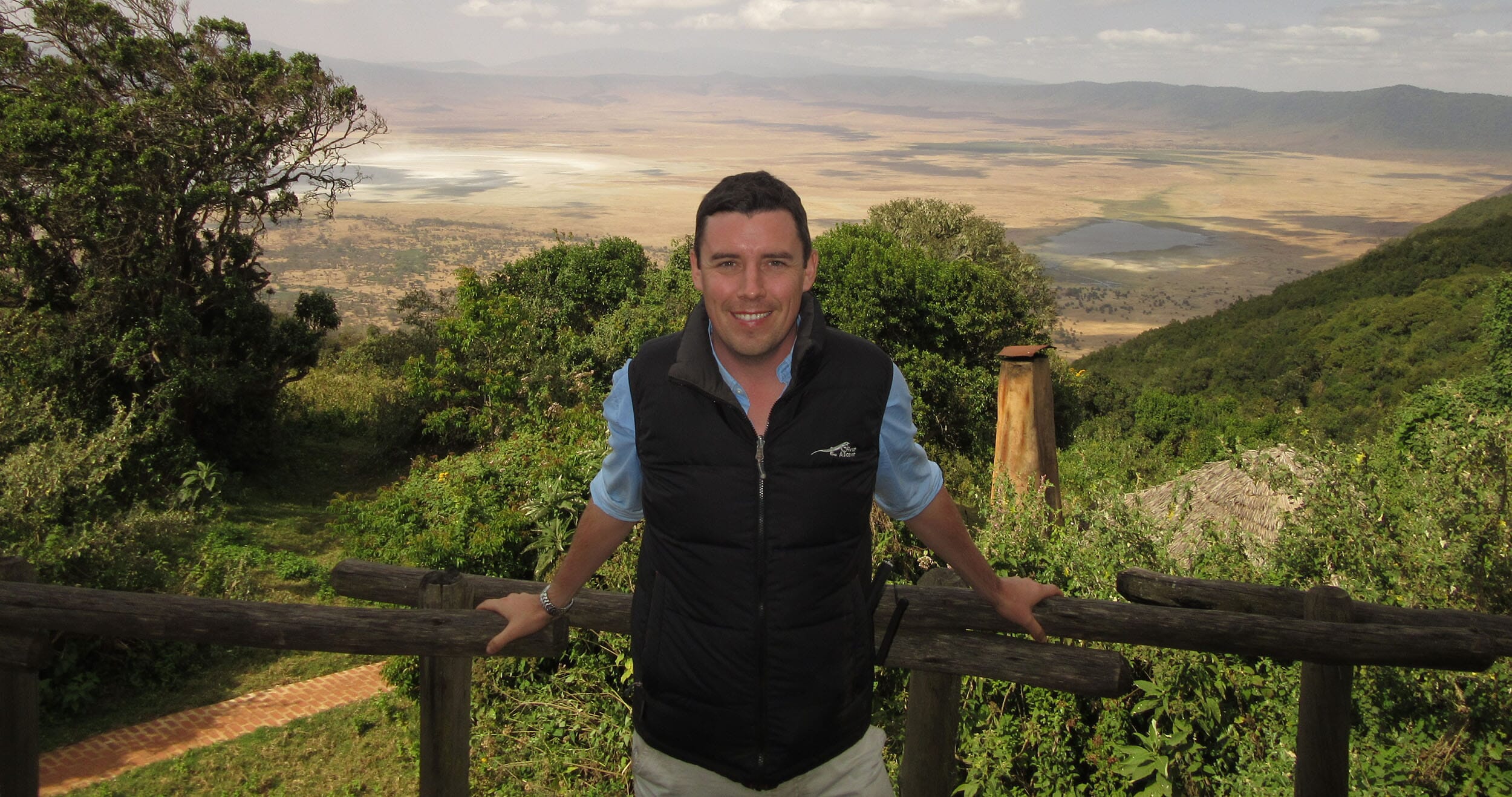 Key Highlights & Amenities
Spacious log cabins, of varying size, all with views over the forest from an elevated position
Lots of facilities, including a gym, spa, and the only swimming pool in Bwindi
Five minutes drive from the gorilla trekking point
Friendly, hospitable service
Seedlings are grown at the lodge for planting in the community forest
18-hole golf course, 45 minutes drive away
Why travel with Coral Tree?
We are the specialists in luxury Africa family safari holidays
We are Africa experts and also parents. We understand what makes a memorable family adventure.
Our knowledge and connections are unsurpassed
We have been living and working in African tourism for over two decades.
Every journey is tailored with your specific wishes in mind
No off-the-shelf packages or cookie-cutter itineraries. Unique family safaris.
Each trip funds grassroots conservation and girls education projects
You pay no more for the privilege, we support causes close to our hearts.