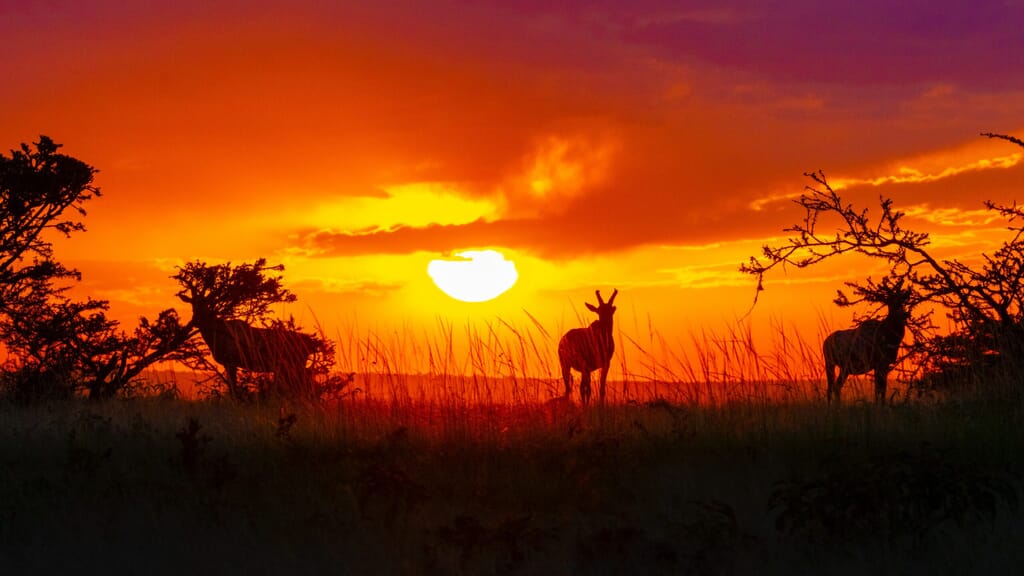 Where to Stay in Masai Mara with Families
Find the perfect accommodation for your family in this magnificent landscape, with our top recommendations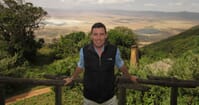 Mike
Where to Stay in Masai Mara with Families
One of the most highly sought-after wildlife conservation and wilderness areas in Africa, the Masai Mara is a fantastic destination to visit for families looking to explore unique landscapes and see extraordinary animal species.
Located in southwestern Kenya, the landscape in the Masai Mara is home to some of the most exceptional wildlife species on the planet. A stealthy population of African leopards, cheetahs and African bush elephants live here, not to mention spotted hyenas, wildebeests, zebras and hippos. 
Seeing these fascinating creatures in real life can be a wonderful way to bond and forge unforgettable memories together as a family, as well as teach the little ones about the world's unique ecosystems and wildlife species.
However, a visit to Masai Mara with the family also comes with an extensive list of things to consider, including safety, childcare, and entertaining those of varying age ranges.
So, where is the best place to stay in Masai Mara with kids? We have curated a list of the most wonderful camps and lodges to stay in the area with children.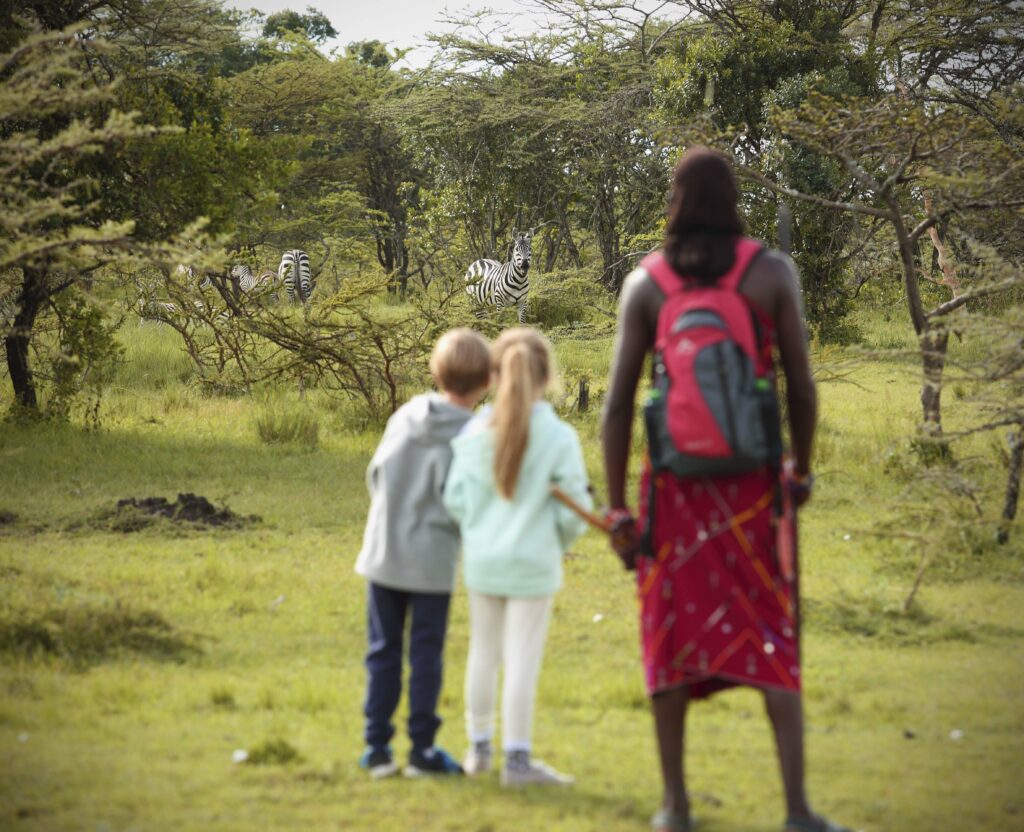 1. Cottar's 1920s Safari Camp
Nestled right within a 7,608-acre family-owned conservancy bordering the Masai Mara National Reserve, Cottar's 1920s Safari Camp combines the lavish allure of luxury stays with the decadence of the twenties; the golden era of safari travel.
Cottar's 1920s Safari Camp has four double tents and three family tents on offer, each with en suites. The family tents are open-plan and have cosy living rooms with fireplaces and historic decor indicative of the 1920s.
With a pool, spa and traditional canvas baths overlooking the plains, there are plenty of relaxing and recuperating experiences to appeal to parents as well as areas where the kids can splash about and have fun. 
Having worked with the local Maasai community for years, the elegant camp retains a wonderful authentic edge and has funded numerous community projects and supported work to protect the environment in the area. It's not only one of the best luxury camps in Masai Mara, but a wonderful supporter of local ecotourism.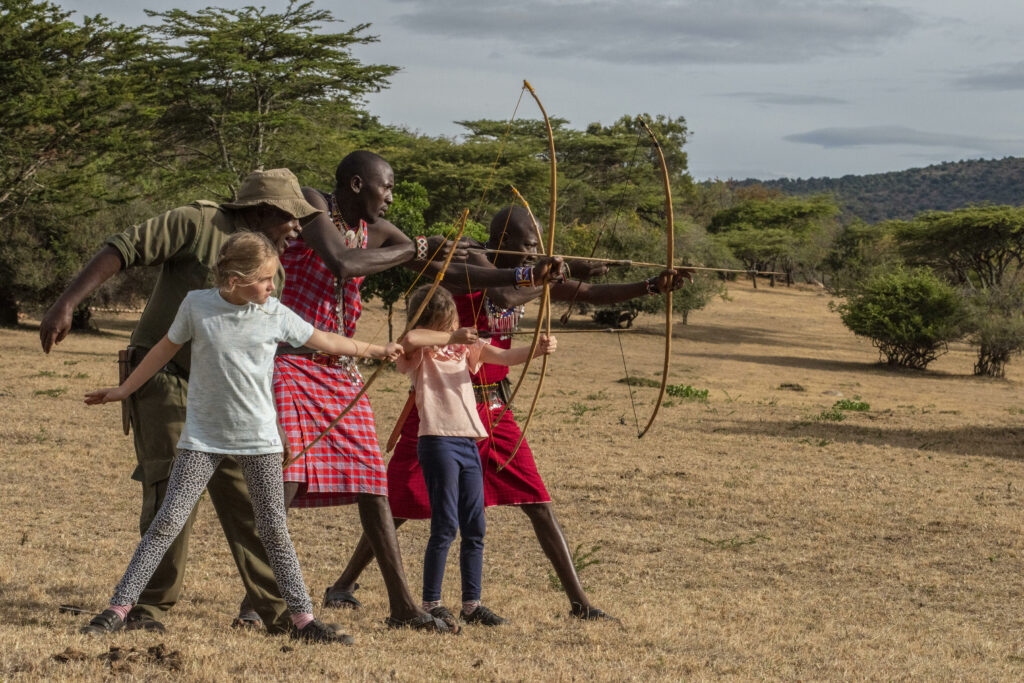 2. Angama Mara
Inspired by the Swahili word for 'suspended in air', Angama Mara sits 1,000 meters above the Masai Mara Plains. It offers awe-inspiring views over the remarkable landscape of Masai Mara and is sure to capture the attention of even the most difficult-to-impress adolescents in no time. 
With two small camps of just fifteen tented suites, the lodge caters perfectly to families looking to get away from it all and take in some of nature's finest creations in peace and tranquillity. Tented suites and the library also come equipped with their own fireplace, where you can spend the evening toasting marshmallows and reliving the wonderful experiences that you shared together during the day.
A seamless merging of outdoor and indoor space is put at the forefront of the design of the lodge, and floor-to-ceiling windows mean you'll never feel too cut off from the breathtaking nature you came to see. This also allows kids the pleasure of being able to keep an eye out for their favourite creatures.
The on-site pool was designed with families in mind, meaning that it is very safe for the kids to enjoy. As one of the best safari lodges in Masai Mara and Kenya as a whole, you will also find plenty of opportunities to teach the little ones about local culture, with an elegant stand-alone library that is filled with African literature and film.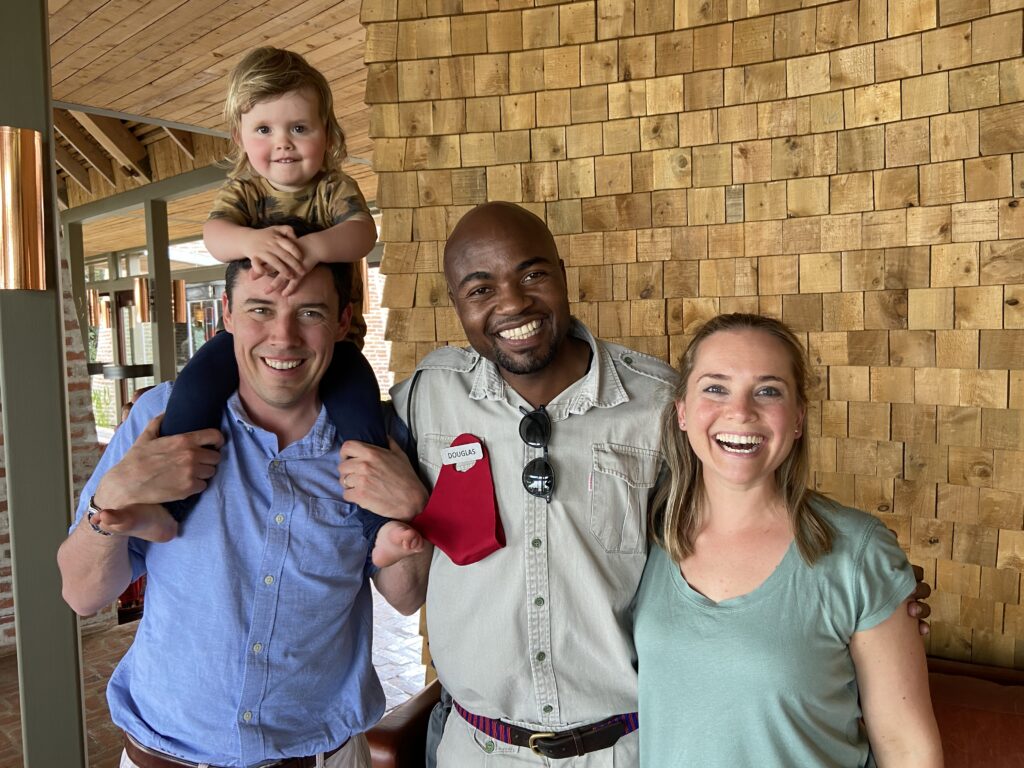 3. Sala's Camp
Situated in the heart of the Masai Mara National Reserve, overlooking the northern Tanzanian corridor and Serengeti National Park, Sala's Camp's secluded location is a prime spot for witnessing the iconic 'Great Migration' where wildebeests journey from Serengeti into the Mara. 
As this incredible sight is a huge draw for most visitors in the area and the shaggy-maned creatures are a hit amongst the little ones, Sala's Camp is commonly regarded as one of the best places to stay in Masai Mara. 
An excellent choice for those visiting Masai Mara with kids, Sala's Camp offers a babysitting service for children of all ages and even provides a welcome package for children of all ages containing games, paint sets and quizzes about the area's wildlife and activities that teach them the secrets of the bush.
For utmost comfort and pleasure, each room comes with its own private plunge pool where you can cool off after a long day of exploring before indulging in delicious meals prepared with seasonal ingredients locally sourced from Maasai farms. Packed lunches are even available so you can bring delicious meals along with you on your explorations.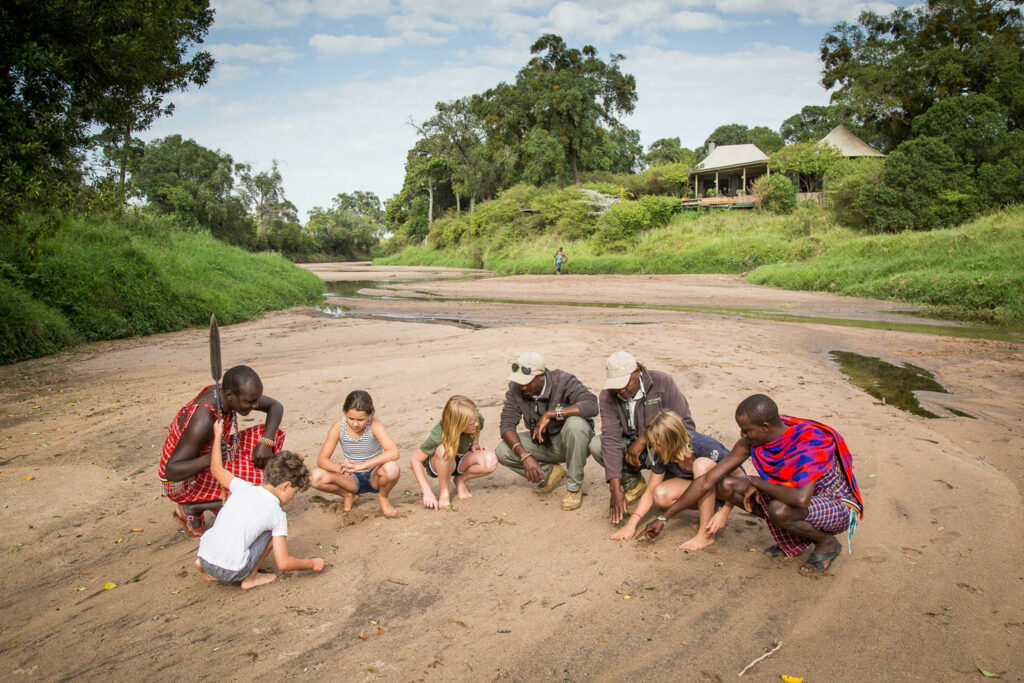 4. andBeyond Kichwa Tembo Tented Camp
Delivering family-friendly amenities without compromising on style, Kichwa Tembo Tented Camp is a natural contender for being the best luxury camp in Masai Mara for those bringing along little ones. 
With 40 safari tents, Kichwa Tembo is one of the larger camps on this list. It lends itself perfectly to those travelling in large groups as well as those seeking a more affordable option that delivers elegance while accommodating all members of the party during your holiday to Masai Mara.
The highlight of this camp is no doubt its wonderful pool area. Let the kids play in the water while you take in the marvellous backdrop of the Mara triangle behind them.
In the landscape around this camp, you will find the confluence of riverine forest and sweeping plains of the Masai Mara. You will also be able to enjoy a delicious organic menu and on-hand childminders to make your trip as relaxing and enjoyable as possible.

5. Sanctuary Olonana
Sanctuary Olonana is a luxurious safari lodge located on a private stretch of the Mara river. With 14 glass-sided suites, staying at the lodge will never feel too cut off from its glorious natural surroundings.
The camp's beautiful perch by the riverbank near the Mara Triangle is a fantastic spot for spotting the annual Great Migration, a sight that is sure to astound adults and children alike. 
And the little ones will certainly be well catered for at Sanctuary Olonana. Here they can join a Kid's Club that will take them out on game drives and to the nearby Maasai village where they can learn all kinds of new skills including how to make and shoot a traditional bow and arrow, craft their own beadwork, or make a fire.
The club also offers kids the incredible opportunity to bond with local children through football games and learning traditional Maasai songs and dances together. For you adults, there are state-of-the-art game viewing vehicles available to take on full-day explorations of the landscape. 
You will also be able to relax and luxuriate in the hotel's spa. Expect to be treated to everything from facials to body massages before coming out feeling rejuvenated and ready to go on another adventure.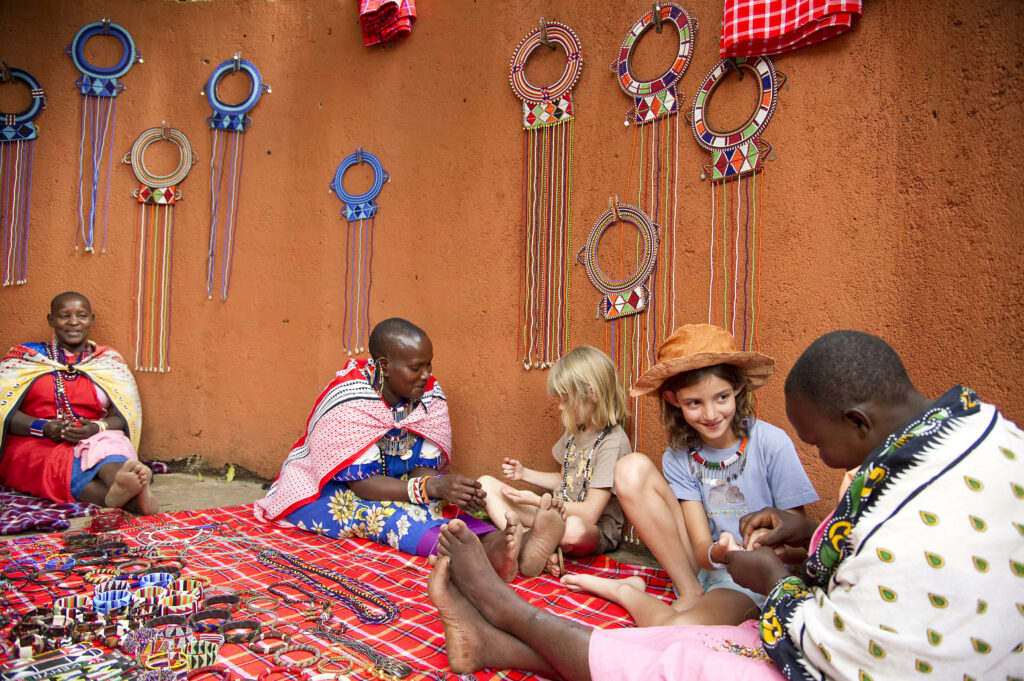 6. Naboisho Camp
Another delightful option is Naboisho Camp. Located in the eponymous Mara Naboisho Conservancy, the camp's location makes a fantastic place to stay for families on a Masai Mara holiday as it is home to one of the highest concentrations of lions in the world.
Naboisho strikes the perfect balance between adventure and relaxation. Its peaceful location and on-site pool offer a touch of tranquility while the activities on offer, such as night game drives and walking safaris, provide a fantastic sense of adventure.
There are only 9 tents in the camp including 2 family options. So, there is certainly enough space for everyone to enjoy their own privacy in peace and quiet (at least from the other guests – not guaranteed from family members!).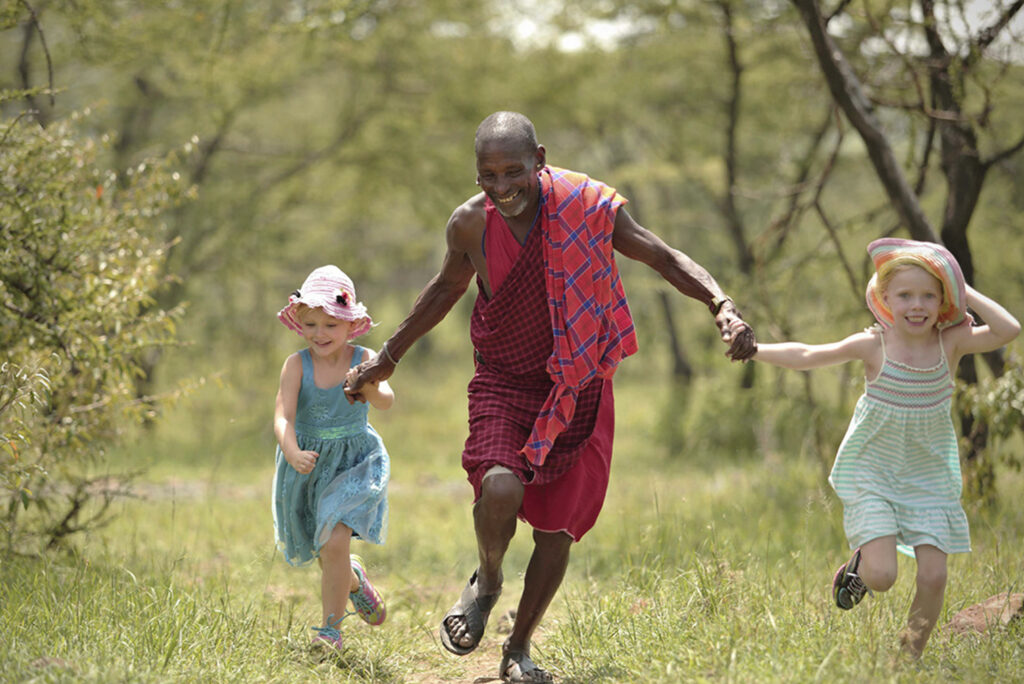 7. Elewana Sand River Masai Mara
Elewana Sand River is an excellent place to stay for those seeking a family-friendly adventure in one of the best camps in Masai Mara. 
Nestled amongst the southernmost border of the Masai Mara Game Reserve, the iconic Great Migration of wildebeests is known to thunder across the river just above the camp and can even be witnessed from the comfort of the pool area or family tent.
The whole family can set out on a remarkable game drive adventure while staying at the camp. The area is known to be home to an abundance of wild cats, including cheetahs, lions and leopards. So, there is certainly enough to keep everyone entertained along the way.
Unwind with a swim in the pool, before sitting down to a delightful pool-side meal in the evening. When it comes to sleeping arrangements, there are 16 tented-accommodations, including a family tent, which are split into two zones along the banks of the Sand River.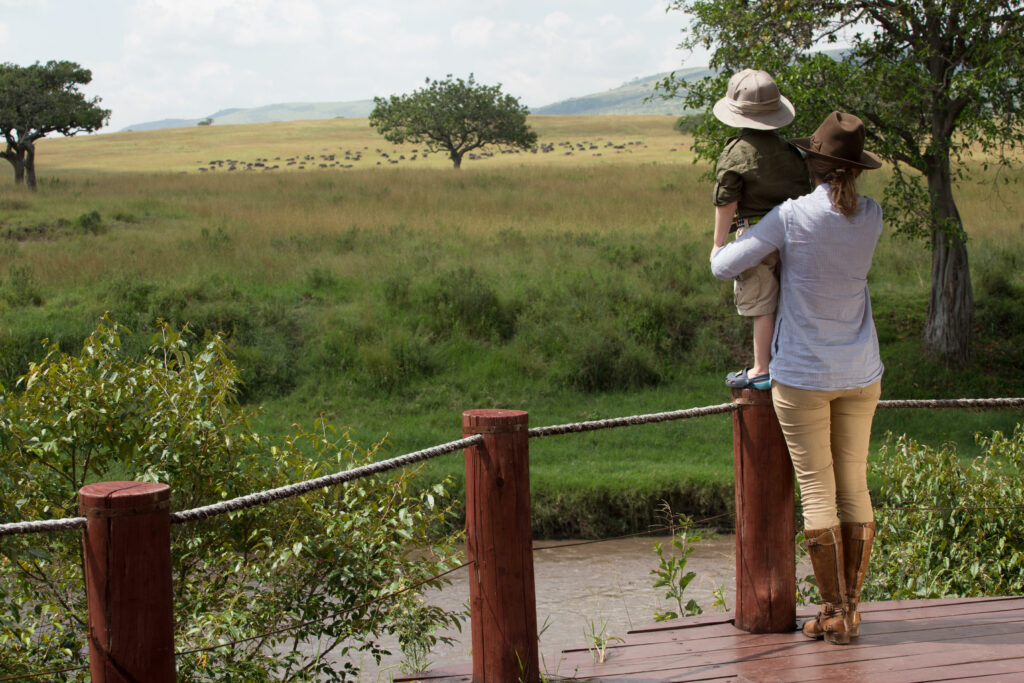 8. Hemingways Ol Seki Mara
In the enviable position of the breathtaking Mara Naboisho Conservancy, Hemingways Ol Seki Mara is an intimate camp with only ten tents. Its peaceful ambience makes a wonderful environment for families to relax and enjoy some quality time together.
Expect jaw-dropping views from the moment you make up as the tents boast 270° panoramic vistas over the wild surrounding landscape, thanks to their elevated position on ridges and platforms. And there is much to see, especially considering the camp is in a prime location for seeing huge volumes of wildlife.
As if this doesn't sound thrilling enough, you can also embark on walking safaris, night drives, hot-air balloon safaris, cultural excursions and hikes to the N'dorobo caves below the camp.
When it comes to sleeping arrangements, the Simba family suite is perfect for families with younger children. Its two full-sized bedrooms have their own ensuites and are connected by a spacious living and kitchen/dining area.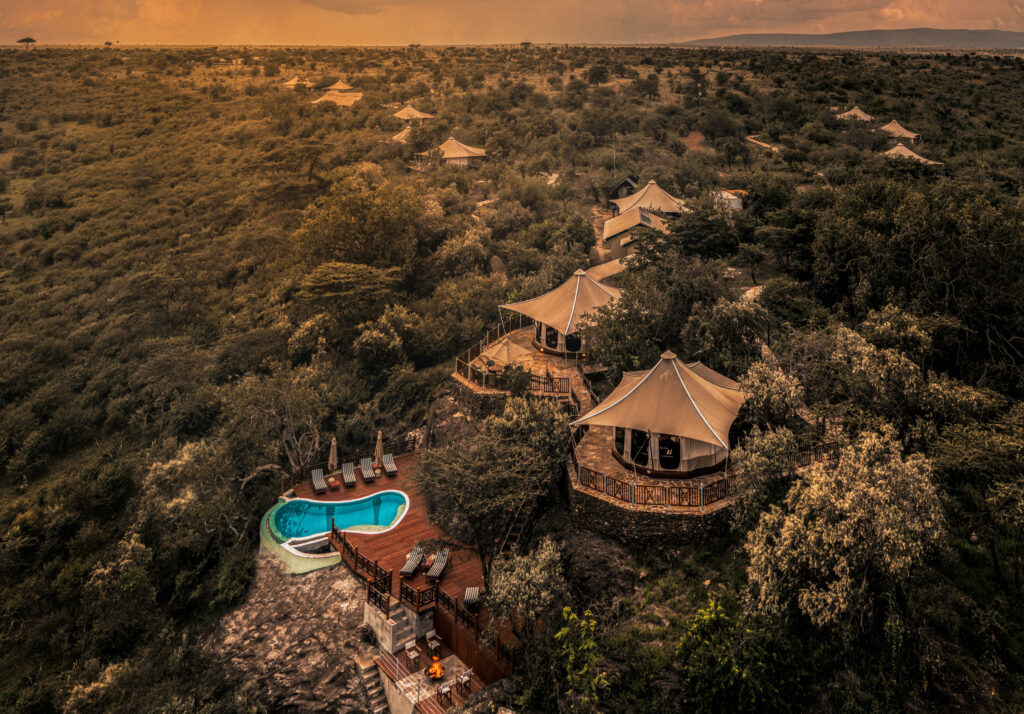 Summary
Exploring the extraordinary landscapes of Masai Mara with the whole family is set to be a sensational experience. Yet, embarking on such an adventure with varying age groups (especially the little ones) in mind also involves considering many things. 
Whether you're on the lookout for childcare services or a touch of privacy, there is a plethora of child-friendly accommodations where you can indulge in a spot of luxury while also catering for the little ones while visiting Masai Mara with the kids.
If you're dreaming of investigating Africa's extraordinary wildlife scene with family, we have a marvellous range of tailor-made safari packages on offer that are sure to impress.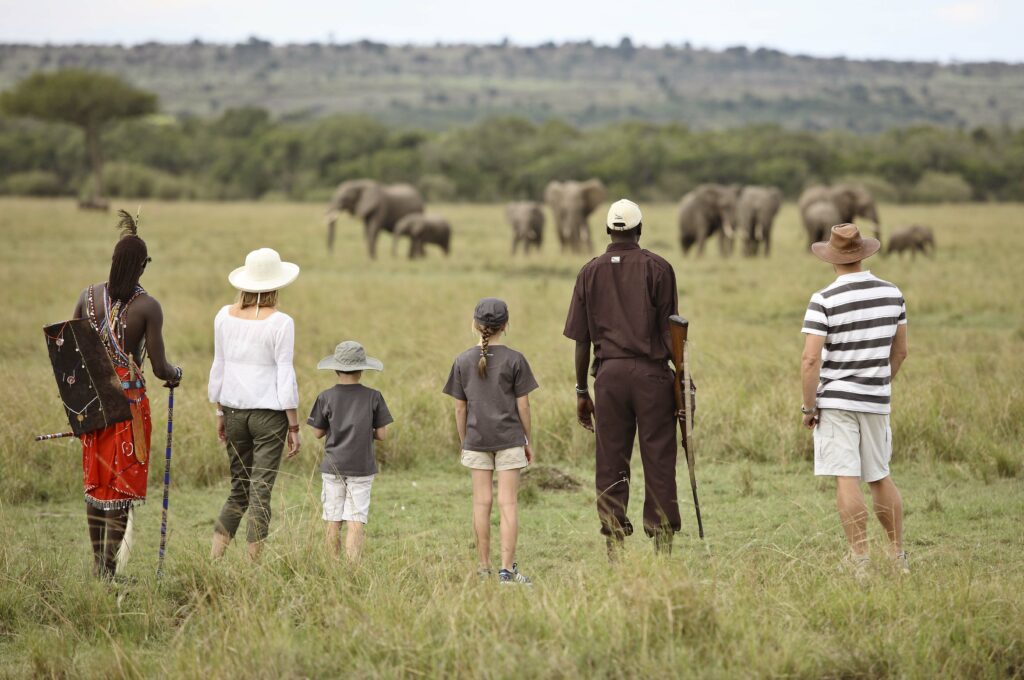 Some images used in this blog are the property of our partners. Please contact us for more details.
Related destinations
Tales from the Coral Tree
Our expert knowledge makes it possible.