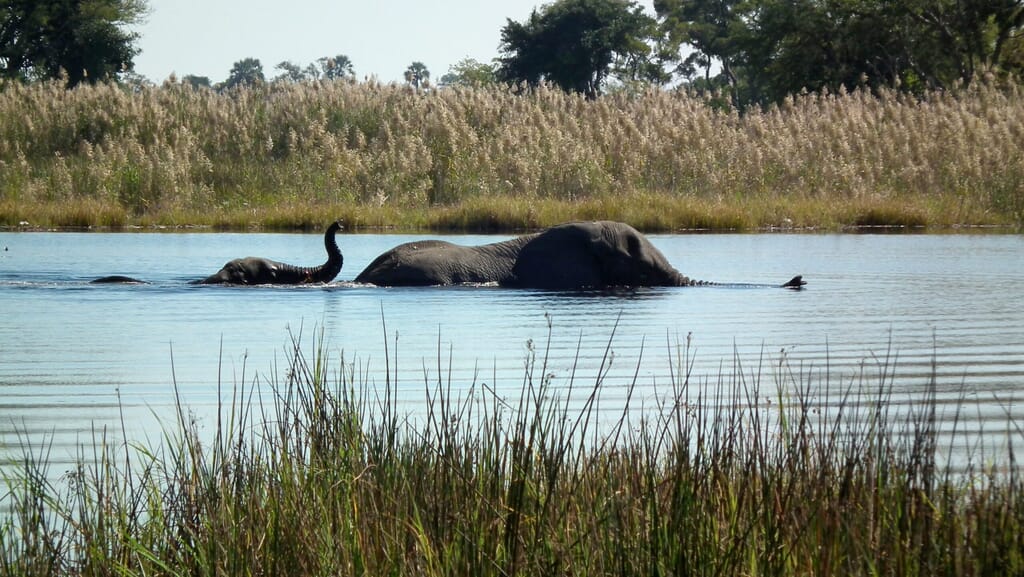 The 6 Best Places to Visit in Botswana
Explore the wonderful landscapes and wildlife of Botswana.
Rosanna
Botswana is a landlocked wildlife haven in the centre of Southern Africa. The country's sprawling expanses are protected spaces, where some of the world's most remarkable natural species run free in abundance.
Welcome to the land of lions, leopards and antelopes, where you will come face-to-face with creatures and landscapes that you have thus far only encountered in movies and television programmes. An expert guide will lead you through the most spectacular areas and top wildlife-spotting locations on a Botswana  safari.
In the north of the country lies the glimmering waterways and verdant floodplains of the Okavango Delta. In this tranquil oasis, you will find creatures such as crocodiles, hippos and a wonderful array of birdlife. 
The Central Kalahari Game Reserve serves up a completely different landscape to explore. Located in the heart of Botswana, it is a sandy sea of wilderness studded with salt pans and vast plains, home to black-maned lions, cheetahs and zebras. 
These gorgeous areas are among the top places to visit in Botswana and make fantastic destinations to explore on an African safari. With so many terrific reserves to fit into your trip, planning a holiday to this remarkable country can seem like a daunting task. 
You might be struggling to work out where to start and which game reserves to prioritise when crafting your itinerary. To make matters easy and have you organising your wildlife escape in no time, we have put together a list of the six best places to visit in Botswana.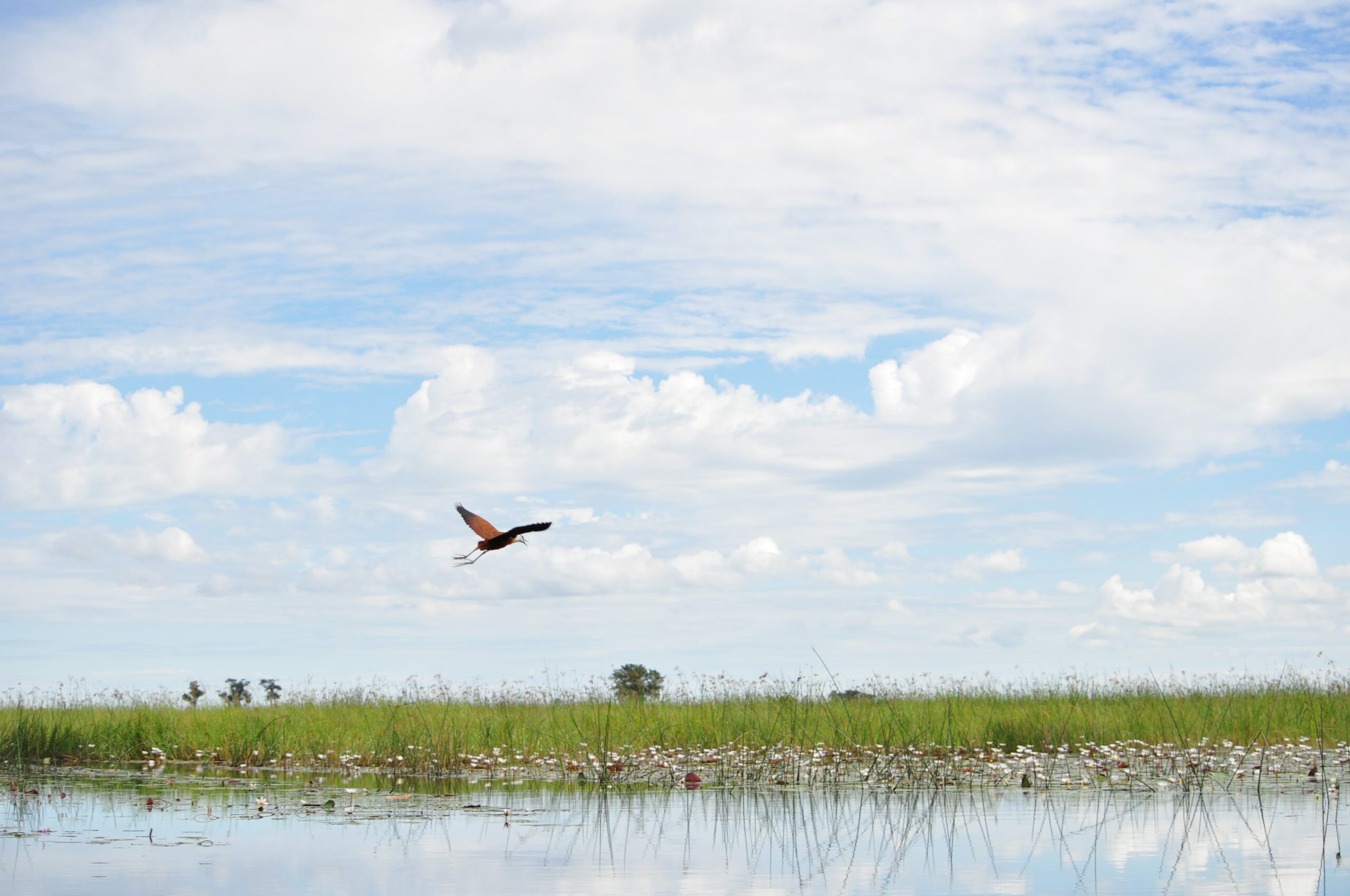 1. Okavango Delta
The Okavango Delta is one of the most amazing must-see places in Botswana. The vast, inland basin has been nicknamed the "Jewel of the Kalahari" as it is a glimmering oasis amidst the arid terrain of the Kalahari Desert. 
Rain pours down over the Angolan highlands every summer, causing the Okavango River to swell and eventually overflow into the surrounding desert. The phenomenon creates a stunning spectacle as the river overspills to fill the delta and form a mesmerising maze of sparkling channels, lagoons and islands that cover up to an area of 20,000 square kilometres. 
Easily one of the best places to go in Botswana, the Okavango Delta is nothing short of breathtaking, offering an unspoilt and untamed display of wilderness at its finest. In fact, it is the world's largest inland delta and makes a wonderful destination for a family safari.
Teeming with wildlife, you will encounter a mirage of unique creatures during your visit,  including a sensational array of birdlife and endangered species such as the African wild dog, cheetahs and white rhinoceros.  
To explore these wondrous waterways in all of their glory, you might want to book a boat safari. Float alongside waterlilies, butterflies and reed banks in areas inaccessible by road or foot, as some of the world's most incredible creatures come to greet you by the waterside.
Offering a fantastic blend of adventure and serenity, boat safaris provide a terrific way to explore this remarkable corner of the world. Alternatively, you may wish to reel in the sights of the Okavango Delta on a fishing safari, bringing the family to take home a new skill along with unforgettable memories.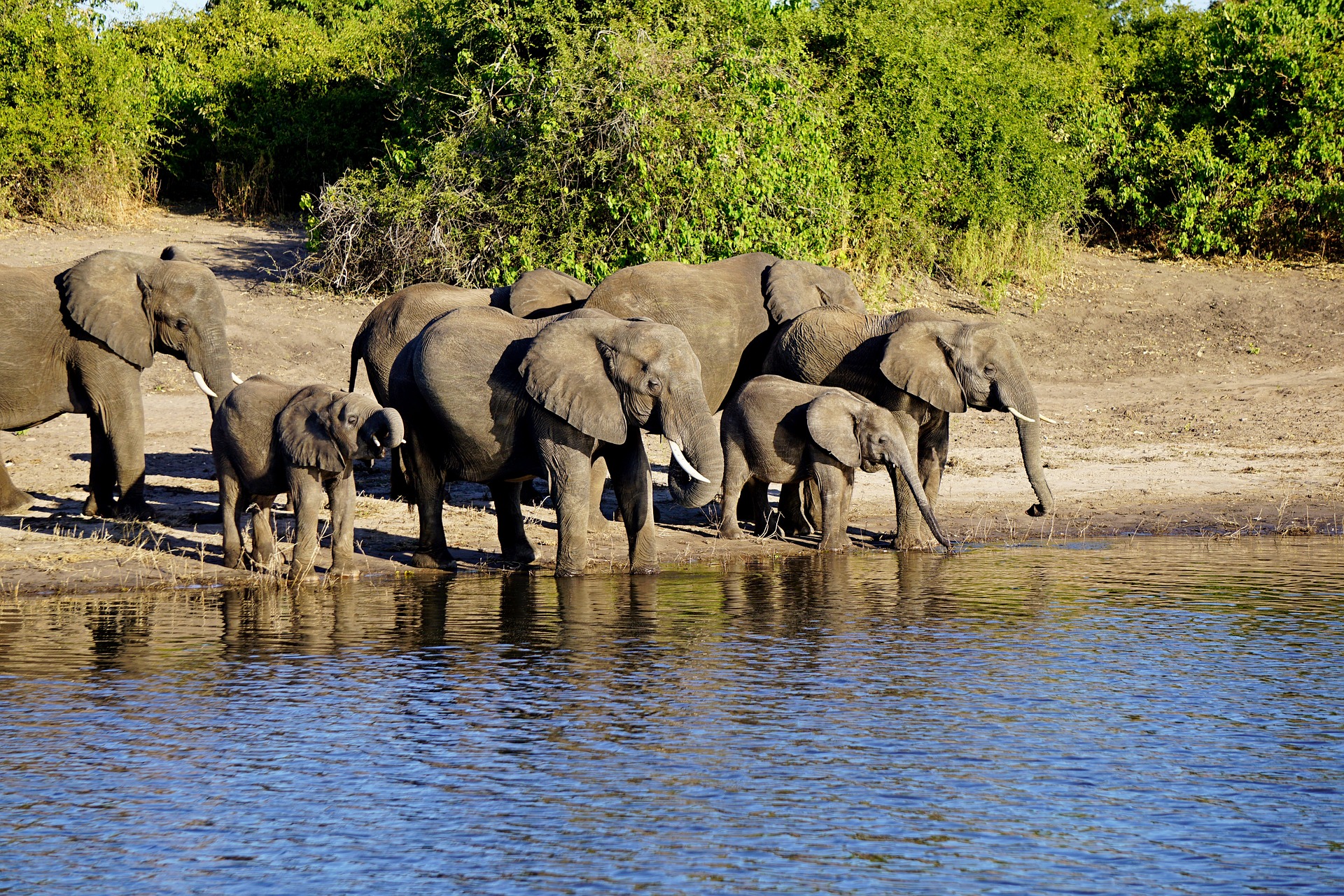 2. Chobe National Park 
As the country's first national park, Chobe is one of the most interesting places to visit in Botswana. It is home to one of the largest concentrations of rare game species in the whole of Africa. The area is named in homage to the Chobe River, which runs along its northern border.
Bursting with wildlife, you can expect to cross paths with hippos, buffalos, cheetahs, antelopes and crocodiles during your visit to this natural paradise. Yet, it is the elephants that often steal the show as they show up in their masses, with numbers reaching tens of thousands during the dry season. 
Chobe is brimming with these spectacular trunked creatures, creating a magnificent place for all of the family to explore. The park spreads over 10,700 square kilometres and comprises four distinct ecosystems including rivers, flood plains, marshland, grasslands, savannah and woodland.
Whichever animals you are looking to see during your trip, you are sure to find them amidst the wonderful landscape of Chobe National Park, as it is one of the finest Botswana safari holiday destinations.
Take a boat safari through Chobe National Park to enjoy the surreal experience of ticking off the Big Five – lions, leopards, elephants, rhinoceros and Cape Buffalo – from the area's most iconic feature, the Chobe Water. The majestic waterway provides a wonderful route during the dry season between April and October, as many of the area's most glorious creatures can be spotted by the water's edge. 
Fantastic predators also dominate Chobe National Park. The area is famed for its big cat population, home to cheetahs, lions and leopards, as well as wild dogs, hyenas, giraffes and huge numbers of hippos.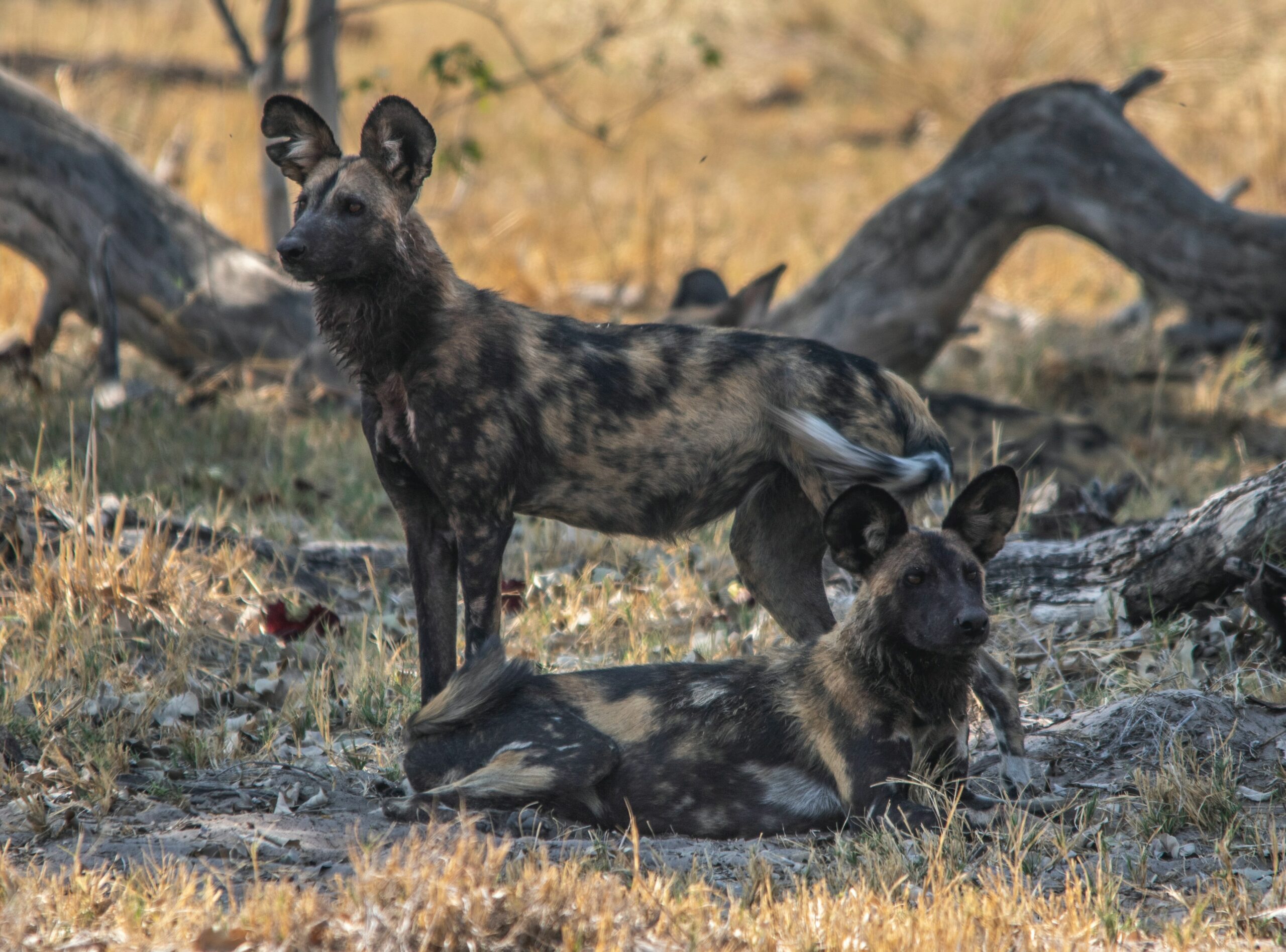 3. Moremi Game Reserve
Situated in the heart of the Okavango Delta, Moremi Game Reserve is a wildlife lover's paradise. Renowned for being one of the most beautiful protected sites in the continent of Africa, the park stretches for 5000 square kilometres and is one of the oldest protected areas of the delta.
The local BaTawana people founded the reserve in 1962 out of concern over the impact that natural and man-made threats were having on the environment and wildlife. They maintained it for many years, protecting it to ensure the landscape and its creatures could endure and thrive.
Moremi Game Reserve boasts a rich and diverse ecosystem, with residents including antelopes, wildebeests, zebras and hyenas. Elephants, wild dogs and jackalopes are also often seen in the area. 
What's more, an incredible array of animal residents extends from the ground to the sky. Bountiful species of birdlife soar above including southern carmine bee-eaters, salty egrets and green-winged pytilia. You will also find geese, ducks and herons waddling around. 
Truly one of the most breathtaking places to see in Botswana, Moremi is a spellbinding tapestry of mopane woodland, acacia forests, lily-covered wetlands, floodplains and lagoons. Exploring these magnificent landscapes offers a magical wildlife experience like no other.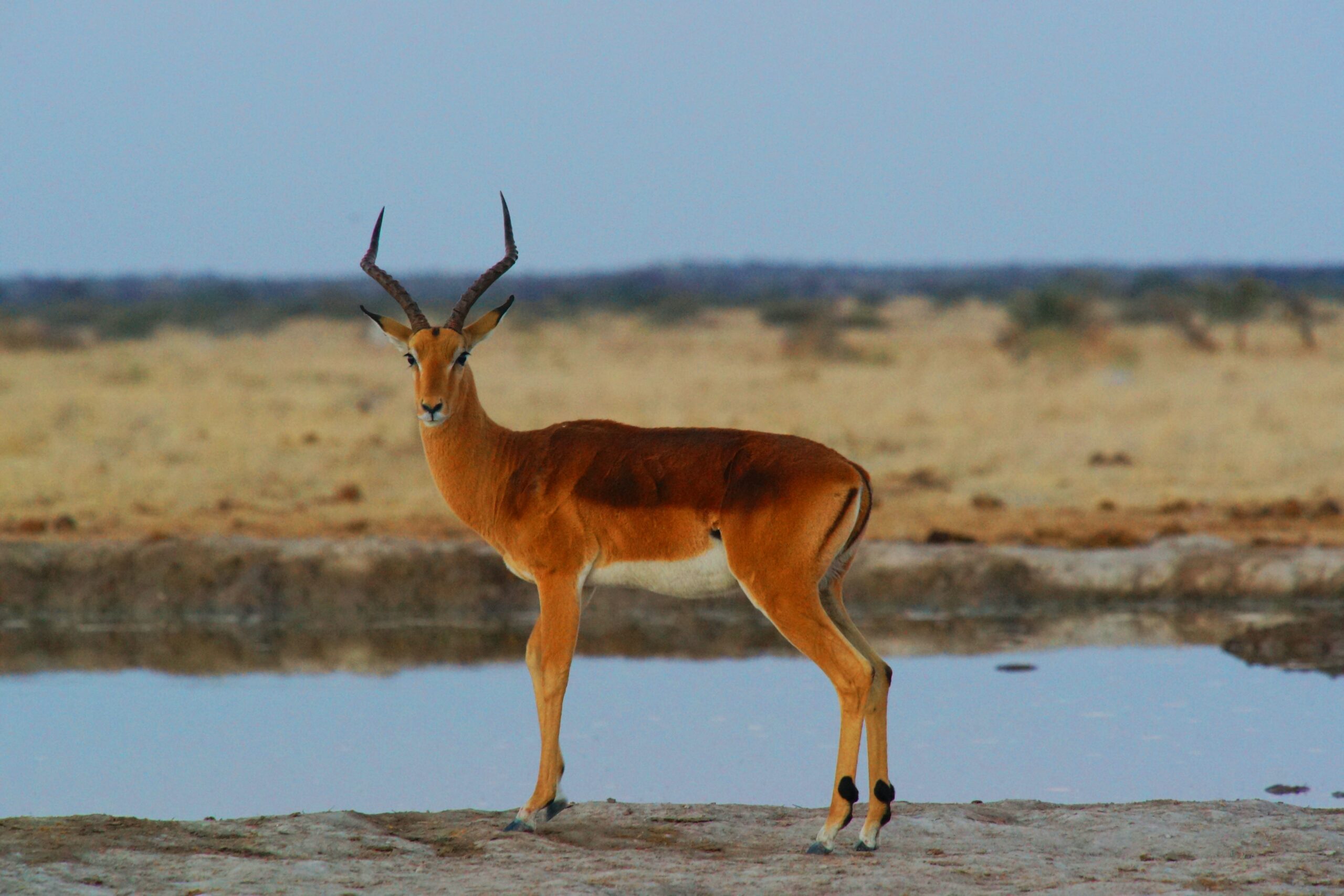 4. Central Kalahari Game Reserve
Central Kalahari Game Reserve is one of the most beautiful places in Botswana and a dream-worthy place to explore on an African safari holiday.
The Central Kalahari Game Reserve covers a dazzling area in a largely unpopulated area in the middle of the Kalahari Desert where the delta meets the desert. Thanks to its remote position, it sees a fraction of the number of visitors as other reserves in the country.
What's more, only a select number of visitors are permitted to enter the park every year to protect the landscape and the balance of the ecosystem. So, you can expect to feel like you've hit the jackpot by embarking on what might as well be a private exploration of one of the world's most sensational landscapes. 
At 52,800 square kilometres, the park is one of the largest game reserves on the planet and certainly one of the best places to go in Botswana for a glimpse of its glorious wildlife scene. Glimmering salt pans and fossilised river valleys cross paths with semi-arid grassland and bushveld in this unique spot. 
Within these fascinating landscapes, you'll find flourishing herds of antelope, black-maned lions, meerkats and hyenas, along with thousands of other creatures as they live undisturbed in this peaceful oasis. Prepare to see everything from zebras chomping on fresh grass to cheetahs sprawling out to catch the sun's rays.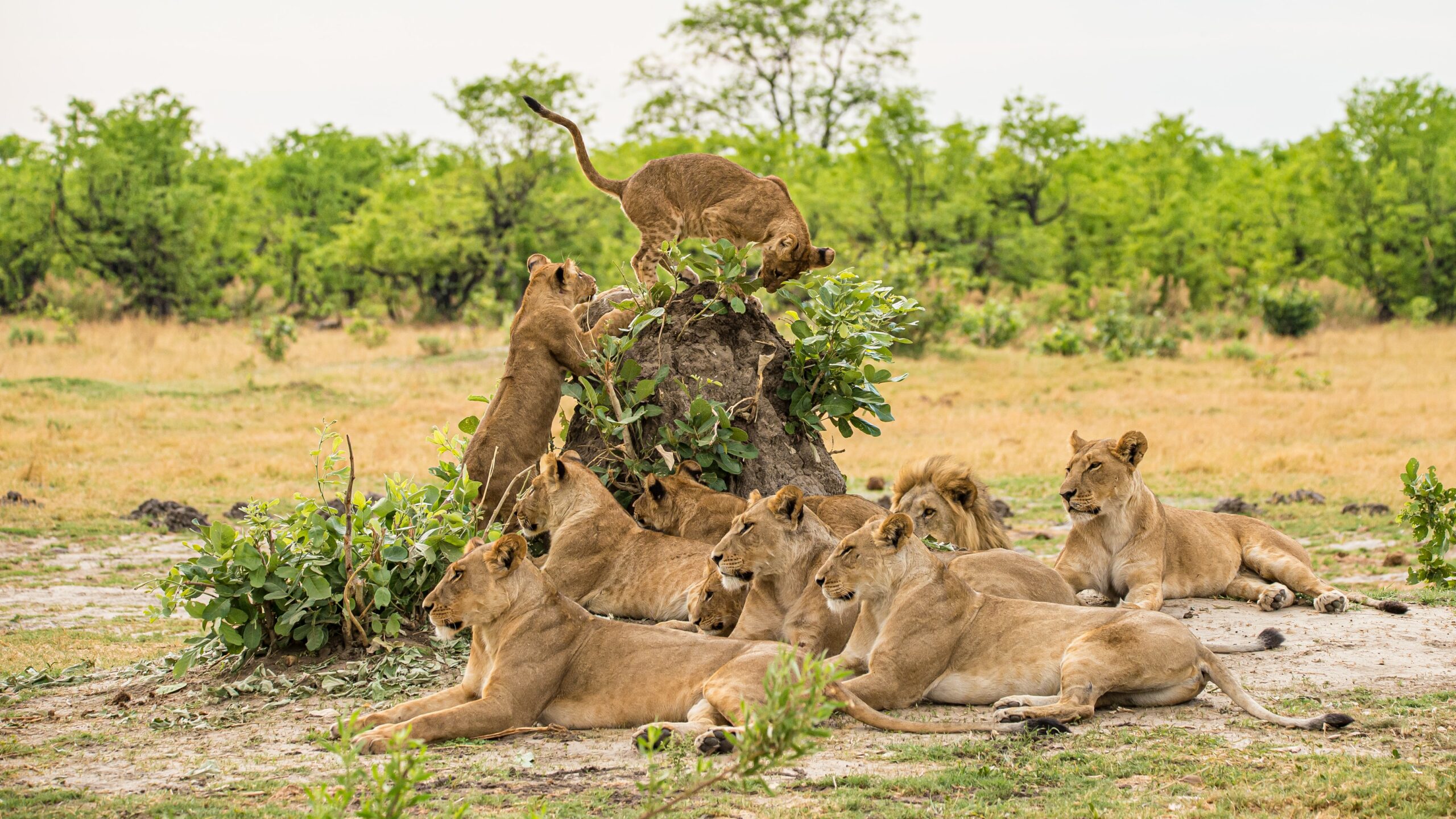 5. Linyanti Wildlife Reserve
If you're looking to really get away from the crowds on your African safari holiday, Linyanti Wildlife Reserve might just be the place for you. It is one of the most exclusive and least visited concessions on the continent. 
The picturesque private reserve extends over 308,000 acres of swampland in a rather under-the-radar and difficult-to-reach area in the North East of the country. Those who venture to this unspoilt haven will be treated to an incredibly tranquil and authentic safari experience. 
Offering a medley of swamps, riverine forests and sprawling grassland, Linyanti is one of the most fascinating holiday destinations in Botswana. Within this serene landscape lives a profusion of wonderful wildlife, including herds of elephants and buffalos that often gather by the river to welcome you to the area.
Linyanti is also renowned for its numerous lion prides and home to one of the country's largest elephant populations. You may also cross paths with wild dogs and leopards on a wonderful adventure in one of the most incredible places to visit in Botswana.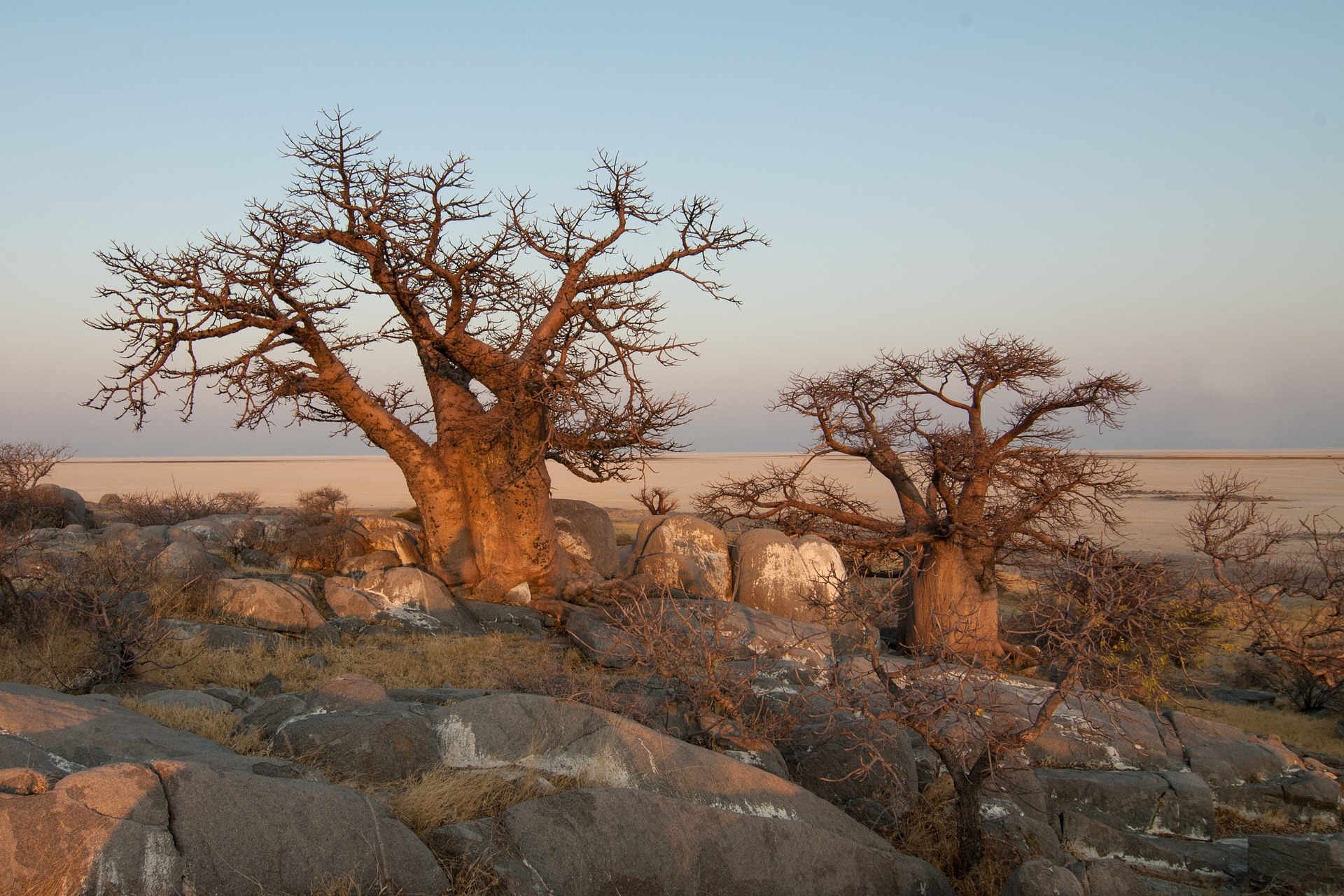 6. Makgadikgadi Pans National Park
Makgadikgadi Pans National Park is an extraordinary landscape situated in the middle of the dry savanna of northeastern Botswana. Translating to "vast lifeless land", this quiet paradise is one of the largest salt flats in the world and a sensational place to explore. 
While the ethereal white expanse appears as dry as a bone but once stood as a huge lake several centuries ago. The salt-encrusted landscape now lies largely bereft of vegetation, bar clumps of beautiful baobab trees huddling together and punctuating the arid landscape. 
Offering unique, lunar-like terrain, Makgadikgadi Pans National Park is without a doubt one of the most interesting places in Botswana. While you might not encounter as many animal creatures as in the other parks on the list, you will see one of the most extraordinary natural sites in the world. 
What's more, you can still encounter an impressively diverse variety of wildlife species depending on when you visit. During the rainy season from December until March,  the Boteti River turns into a wildlife haven as the landscape springs to life as the area begins to flourish with emerald vegetation and the pans fill with water. 
The rain and green pastures draw in vast herds of oryx, impalas and springbuck, along with water birds such as flamingos. What's more, the conditions also trigger the annual migration of wildebeests and zebras. Catching this phenomenon is certainly one of the most dazzling things to see in Botswana. 
Summary
Botswana is brimming with spectacular landscapes and incredible wildlife species that offer phenomenal displays of nature at its finest. From the shimmering waters of the Okavango Delta to the otherworldly terrain of Makgadikgadi Pans National Park, the country offers a highlight reel of the world's most magnificent creations. 
Wherever you decide to explore on your African safari, prepare to be left in awe by the phenomenal range of animals and scenery that you encounter during your stay. 
What are you waiting for? Get in contact with experts at Coral Tree to start planning your luxury family adventure and turn dreams of seeing these glorious creatures into a reality. We have a fantastic range of safari experiences and packages to choose from.
Some images used in this blog are the property of our partners. Please contact us for more details.
Related destinations
Tales from the Coral Tree
Our expert knowledge makes it possible.