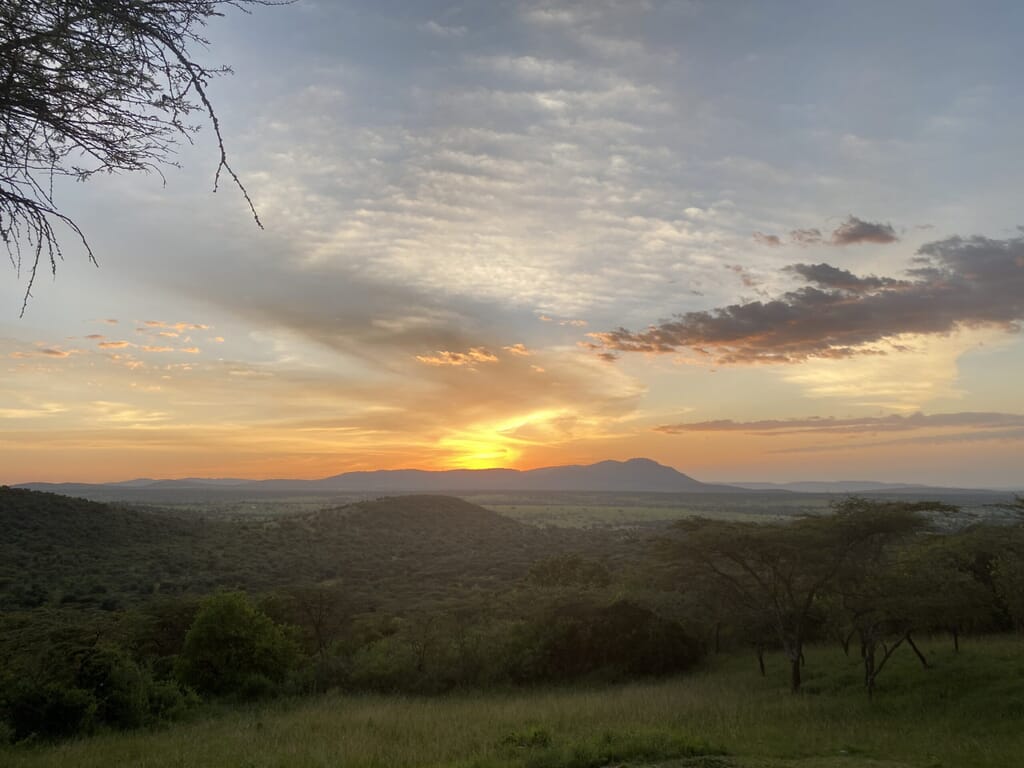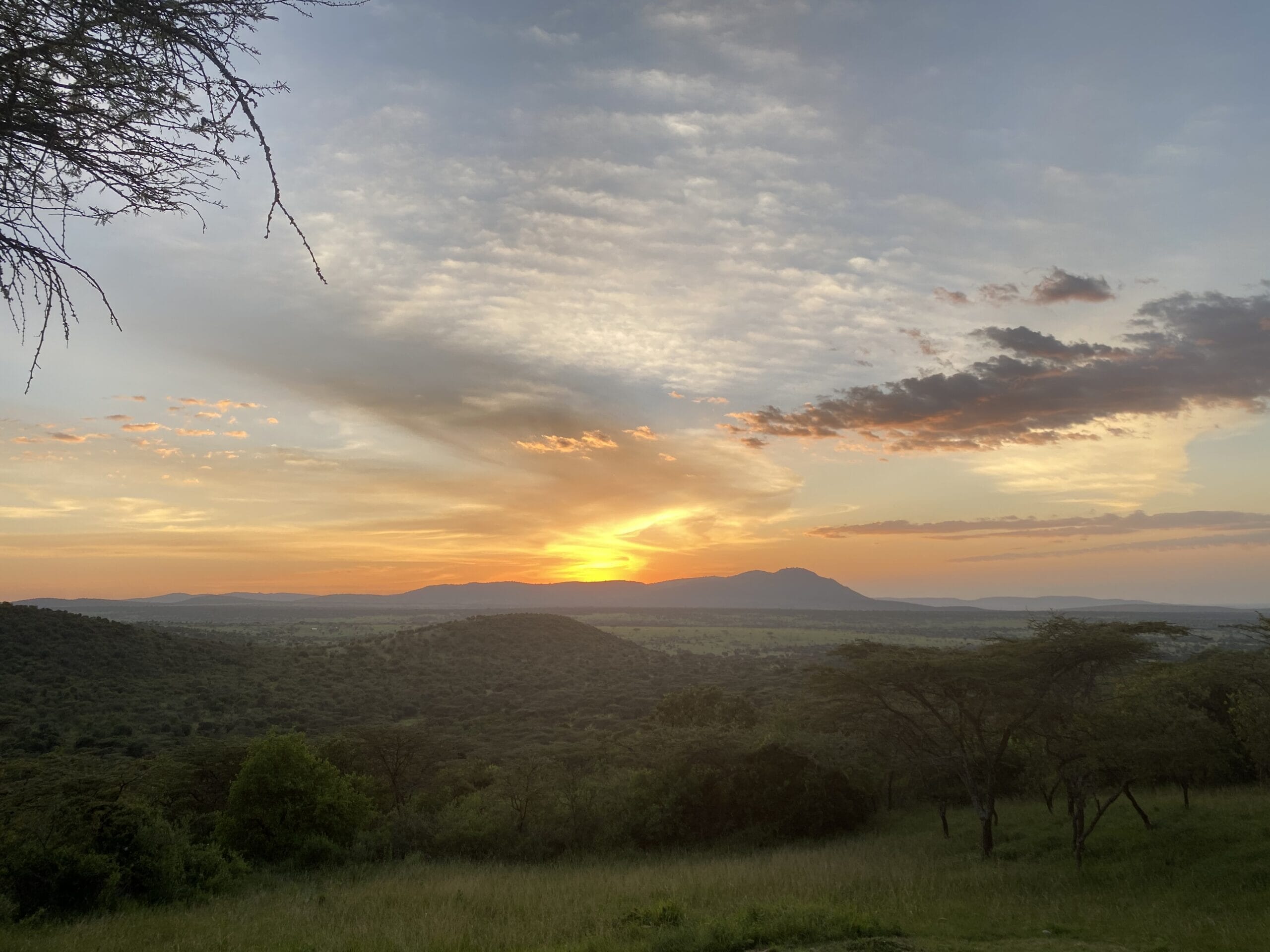 How to plan a Masai Mara Safari Holiday with a toddler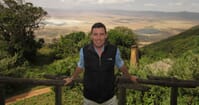 Mike
How to plan a Masai Mara Safari Holiday with a toddler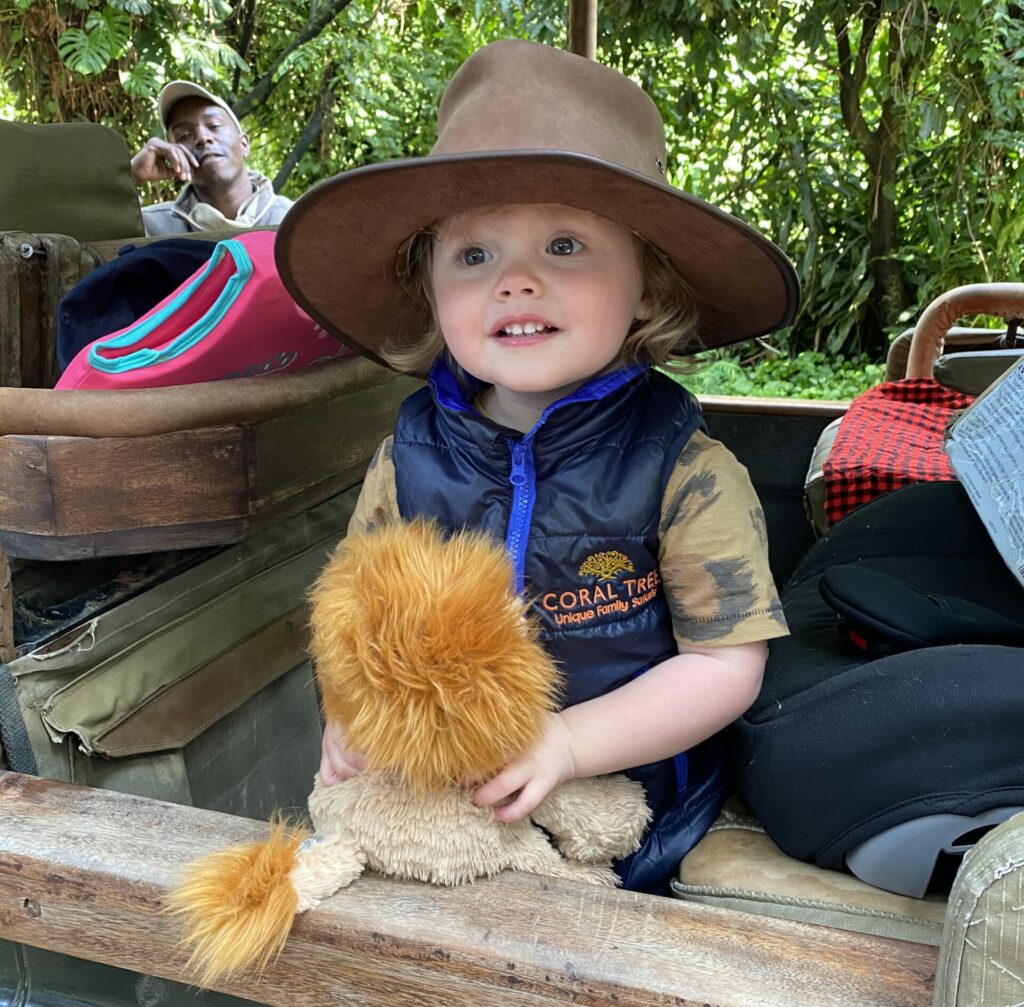 Bubble baths looking out to the open bush. Close-up encounters with a herd of elephants. Afternoons in the pool watching nearby warthog. Sundowners atop an ancient hill. All make for a life-changing Masai Mara safari holiday.
Here at Coral Tree, one of the most important things we do is visit luxury safari camps and lodges on behalf of our clients, to make sure they live up to our standards and theirs.
As family safari holiday specialists, we try to always take our daughter, Elsa, with us, to ensure we can experience the stay through the eyes of parents.
During the Covid-19 pandemic, we were lucky enough to plan a Masai Mara safari holiday with a toddler, visiting Kenya's world-famous Masai Mara, along with a quick visit to Nairobi beforehand. It's not secret that Kenya is top of our list of family safari destinations, and this visit firmly reinforced that view. Below is our report on the incredible locations and properties we visited.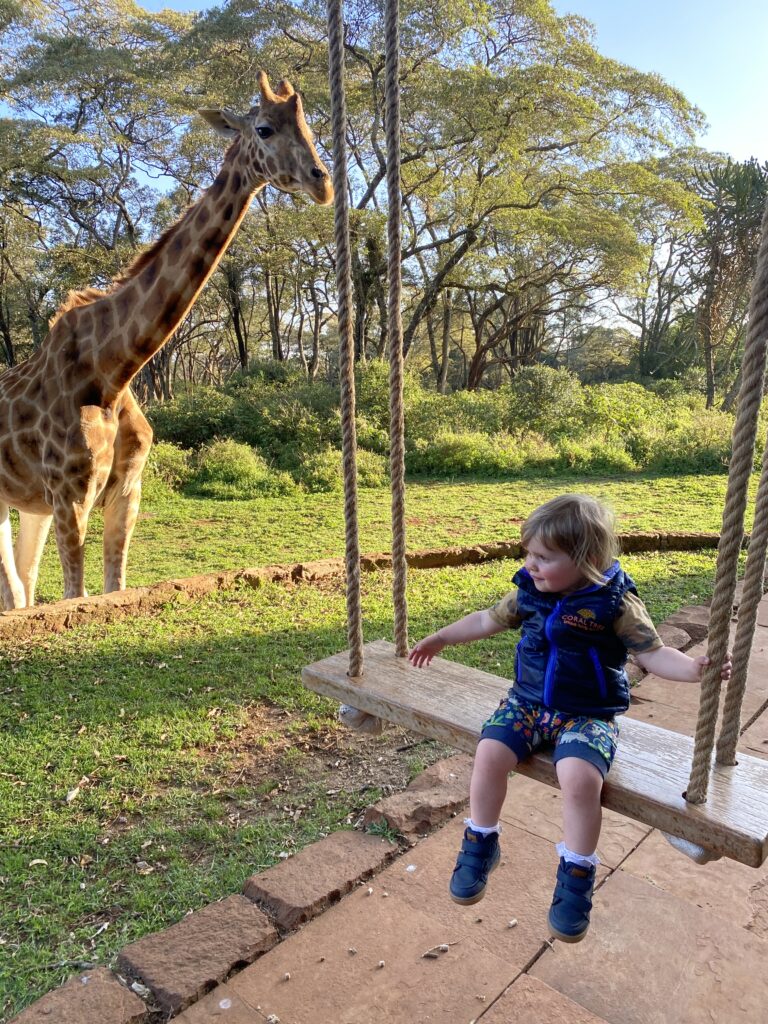 One of the most famous, and Instagram-friendly, luxury safari lodges in all of Africa, Giraffe Manor is hard-to-beat as a stopover before a Masai Mara safari holiday with a toddler.
We were lucky enough to have visited Giraffe Manor previously, on our engagement trip to the Masai Mara (more about that later), but this was our first time with Elsa. Needless to say, she was mesmerised by the resident giraffe (and warthog) from the moment we arrived.
We checked into the newly renovated, and expanded, Karen Blixen suite, which is one of the most spacious family rooms we've ever stayed in. And, has the added benefit of a balcony with 'giraffe access'.
In the evening, we were treated to a very memorable giraffe-feeding experience, as our long-legged friends made their way up to the manor house for their usual afternoon tea. Our family portrait efforts were not quite as smooth…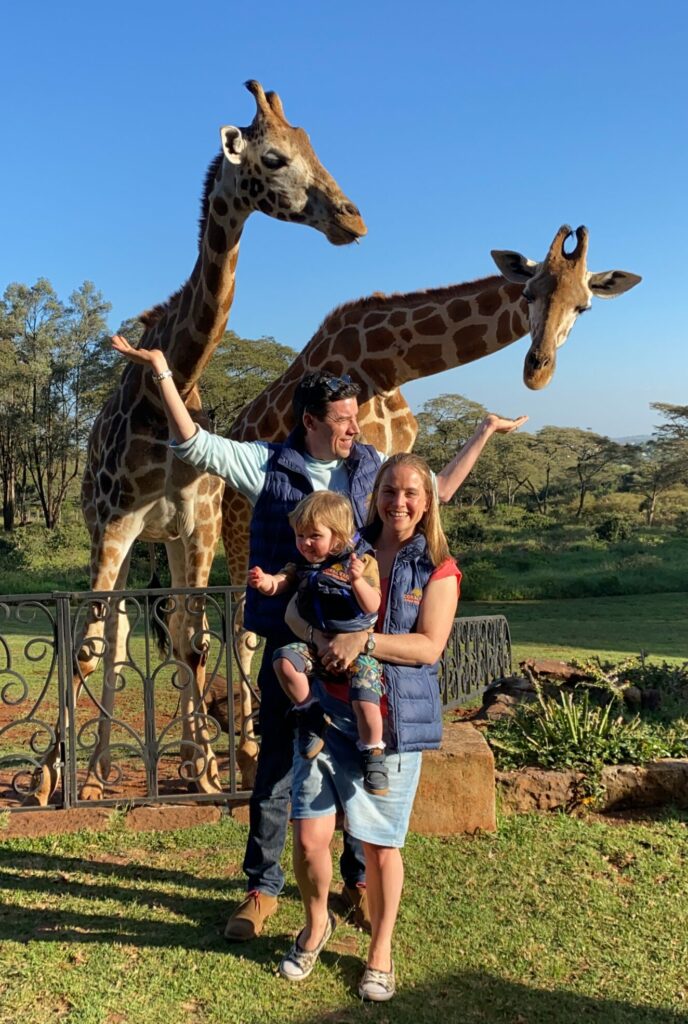 The following morning, we woke up at sunrise and fed the giraffe from our balcony, which Elsa loved. She casually remarked "Hi 'Raffe" as we went out to see them at first light, as if this was a normal morning experience. This was followed by a lovely breakfast in the manor dining room, as the giraffe walked about outside and occasionally poked their long necks in through the windows.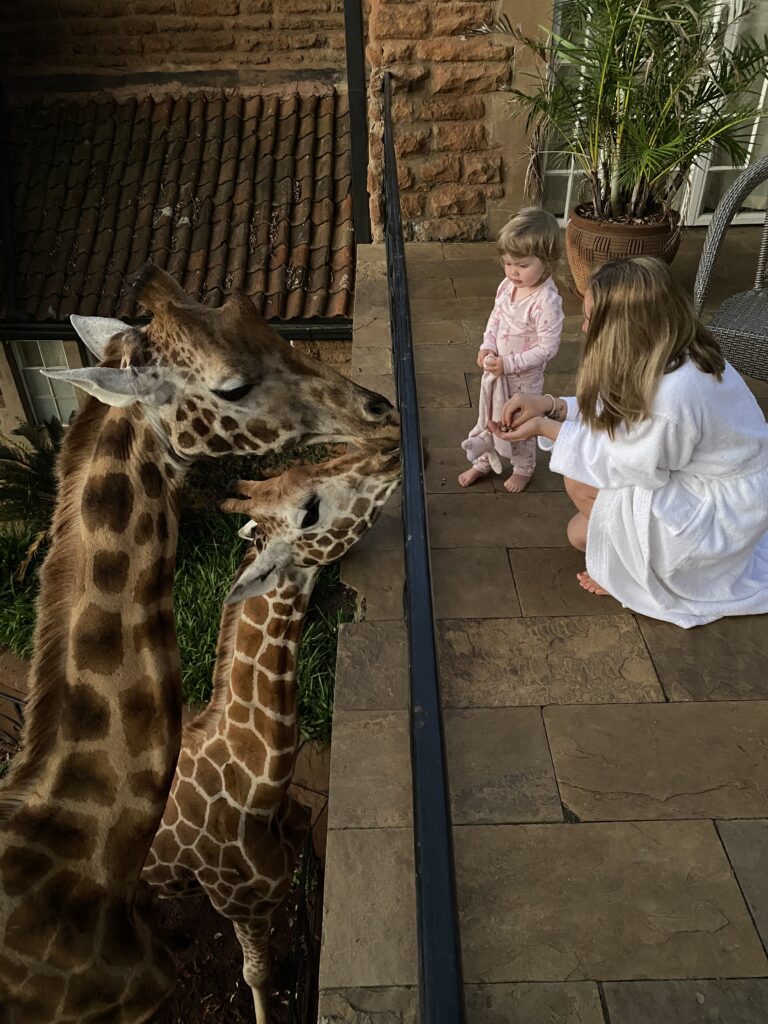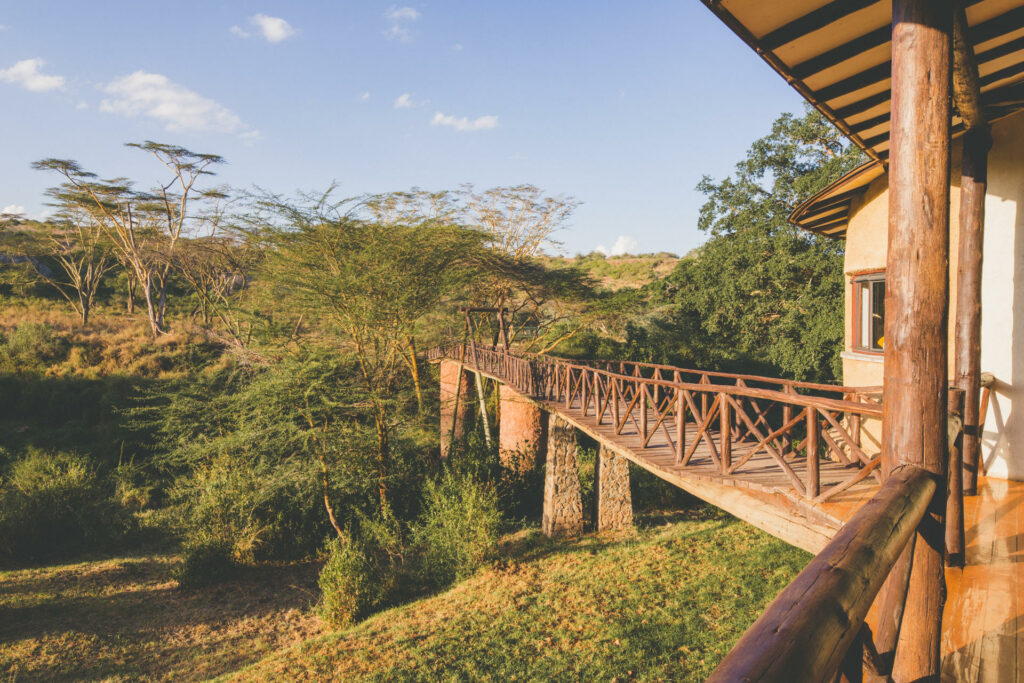 Our next stop on our family safari holiday with a toddler was The Emakoko, located in the heart of Nairobi National Park.
Nairobi is the only city in Africa, which has a safari reserve within the city. For those who arrive to Nairobi in the morning, or would like two days to acclimatise before heading off on their Masai Mara safari holiday, The Emakoko offers a wonderful experience and the opportunity to see the fabled Big 5 within a short drive from the international airport.
The lodge itself is set in a valley over-looking a small river. We saw plenty of birdlife and adorable rock hyrax in and around the lodge, as well as a genet that came to visit the bar before dinner.
In the national park, we saw three endangered black rhino, a male lion, numerous giraffe, zebra, buffalo and antelope. Not bad for less than 24 hours, and all within a twenty minute drive from the city!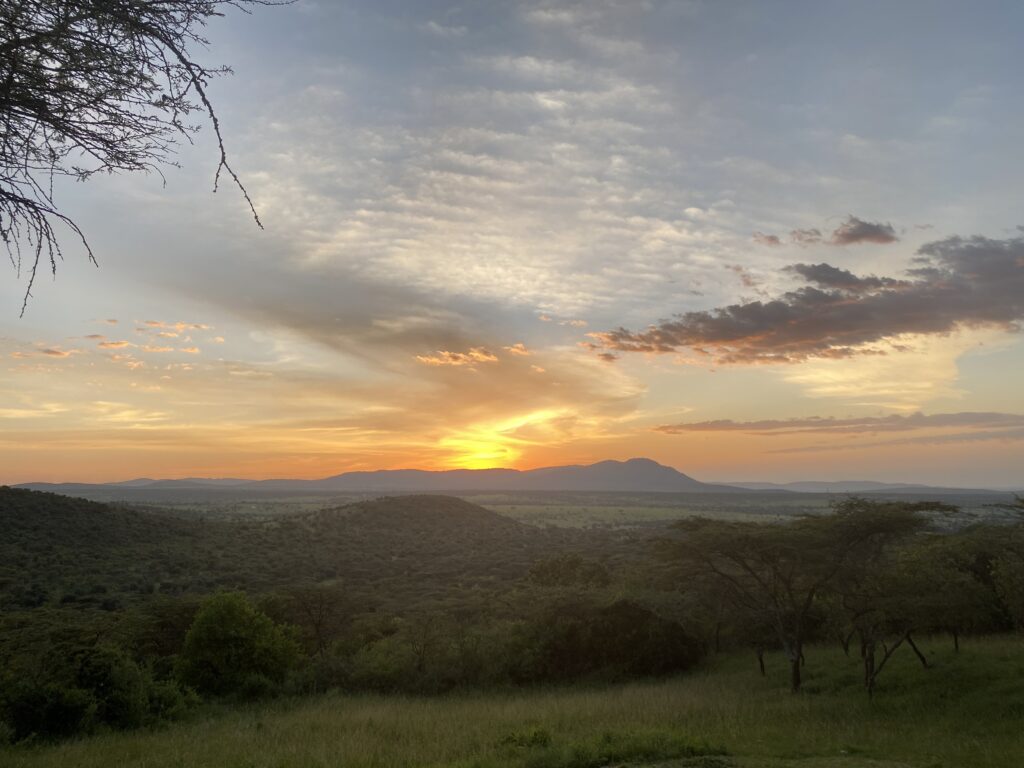 Few luxury safari camps have the history and quality of Cottar's 1920s Camp, so we were very excited to spend the first two nights of our Masai Mara safari holiday at this iconic camp. Tess last visited as a child, and it was a first for Elsa and me.
We had high expectations, but they were met, and then some.
The team at Cottar's are amongst the very best we have come across anywhere in Africa, if not the world. We were made to feel incredibly welcome from the moment we arrived and nothing was too much trouble. It was such a pleasure to see Elsa feel immediately at home and welcomed as one of the family. If you're planning a Masai Mara safari holiday with a toddler, Cottar's is a must.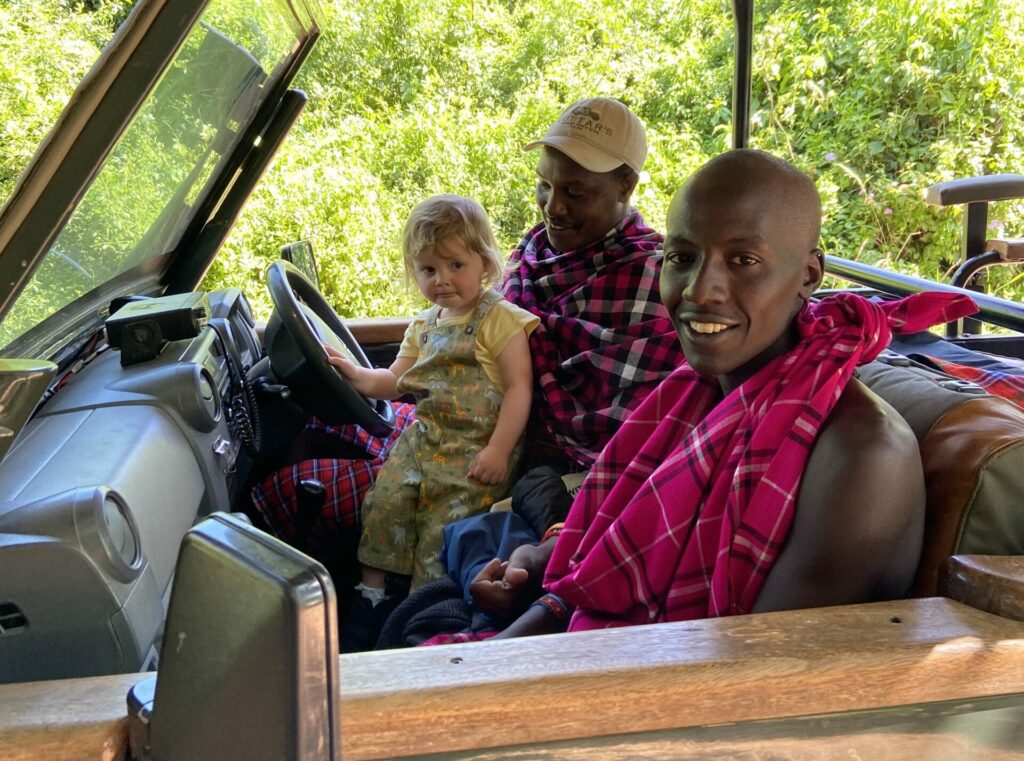 The Cottar family have been running family safari holidays in Kenya for over 100 years and they have been instrumental in defining the modern luxury safari experience. The camp is situated on the side of a hill, looking down over the Masai Mara plains, which in this part of the greater Mara are particularly beautiful. They also have the benefit of being the only camp in the Ol Derikesi conservancy, which means you're not likely to see another vehicle whilst out on your family safari game drives.
That afternoon, we took Elsa on our her first real safari drive and we were fortunate enough to have an incredible sighting of a leopard and her cub in a tree with a warthog carcass she had recently killed. Talk about first-time lucky!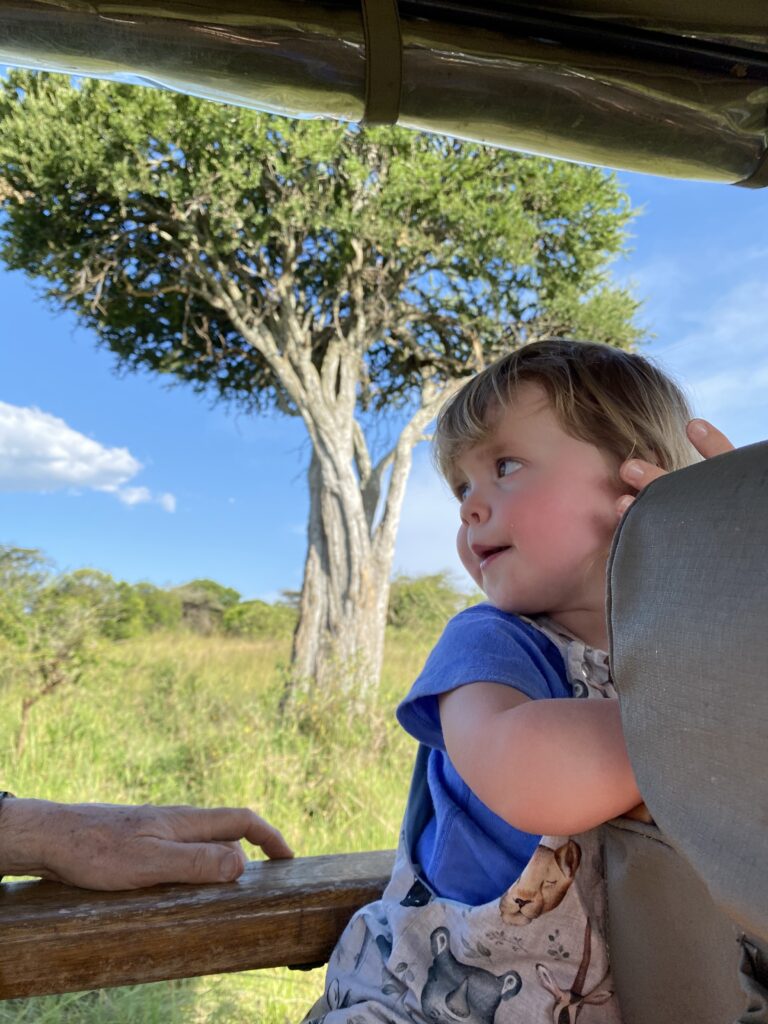 As Elsa is only two, we always book a private vehicle, so that if she gets tired or noisy we can drive away without disturbing the animals, or other safari-goers. We highly recommend doing this when on any family safari, but especially a family safari holiday with a toddler, as it offers much more flexibility within your day.
Over the next couple of days, we were treated to more amazing drives, a lovely bush breakfast, delightful sundowners, and much more. On our final evening, we were very spoiled and had one of Cottar's signature bush baths outside our tent. Elsa enjoyed playing with the bubbles, and Tess enjoyed the champagne!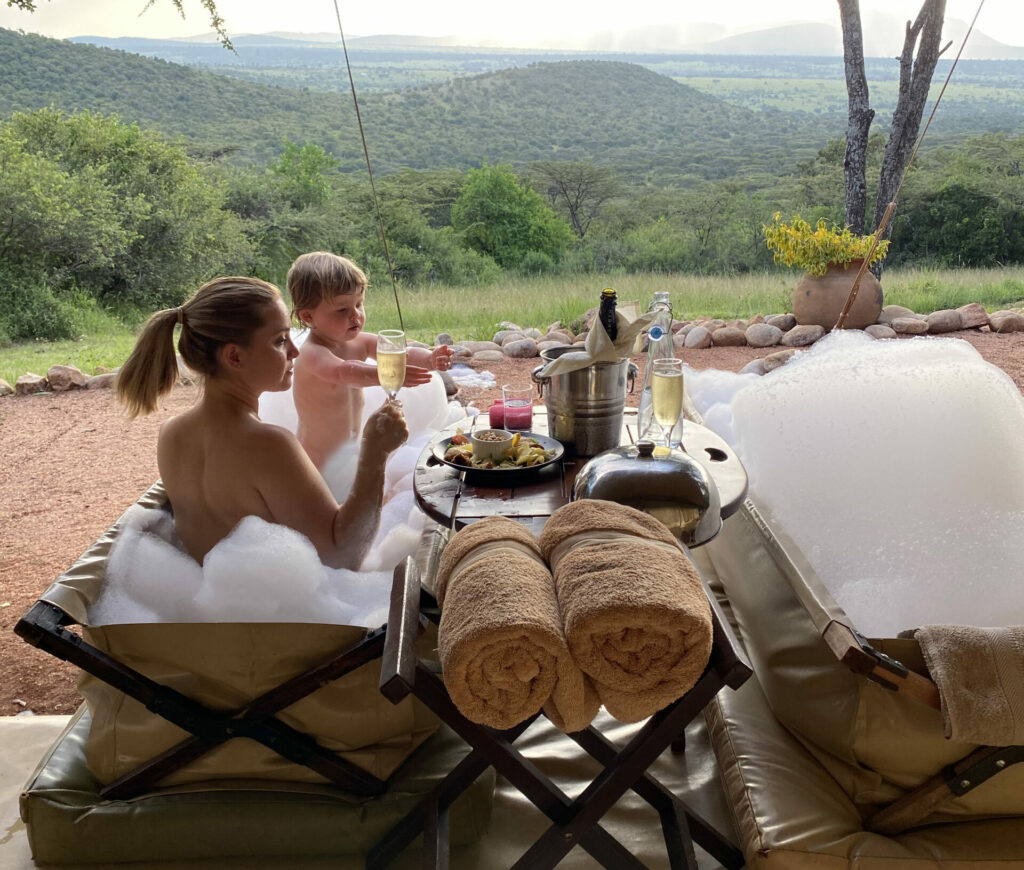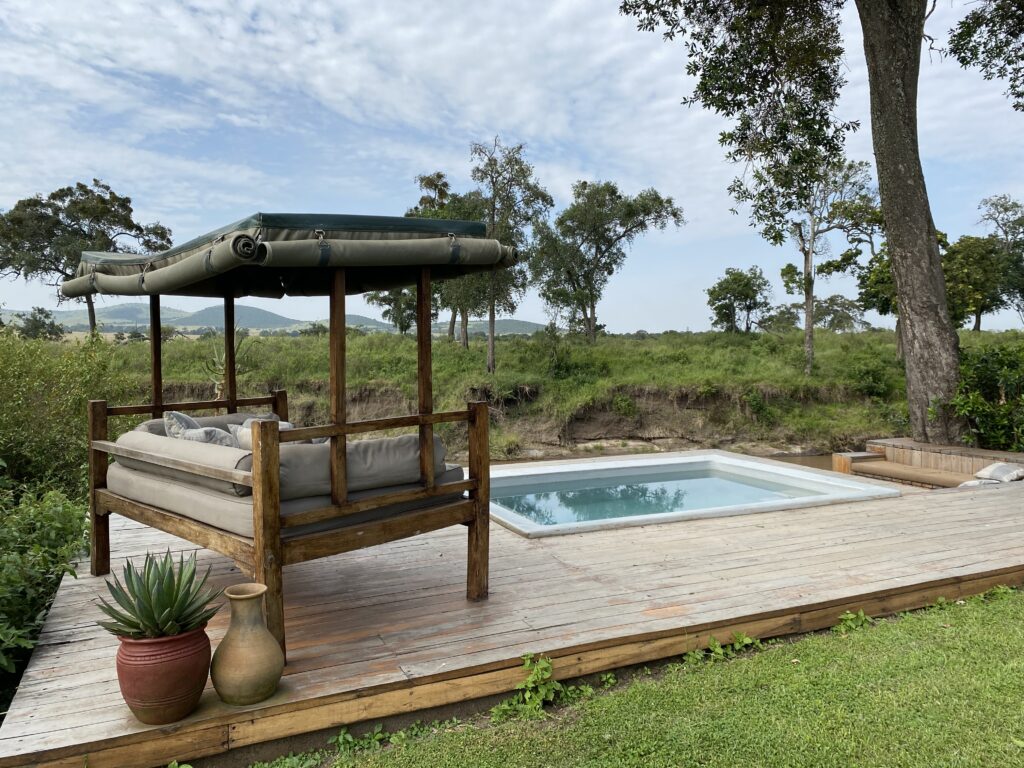 The next stop on our journey was Giraffe Manor's sister property: Sala's Camp.
Sala's Camp is situated in the heart of the Masai Mara reserve, overlooking the sand river, which acts as the border with Serengeti National Park in Tanzania. From July-October, this area is packed with wildebeest, zebra and countless other wildlife, as the great migration makes its way from Tanzania to Kenya, and back.
The camp itself is impeccably stylish and full of unique and quirky features. For instance, the table in the mess area is constructed from one gigantic piece of wood from the trunk of a tree that the owner saw fallen in a forest whilst flying over northern Kenya. Or there's "Eleanor" a safari vehicle that's been re-modelled as a vintage car and comes with its own mobile bar in the back!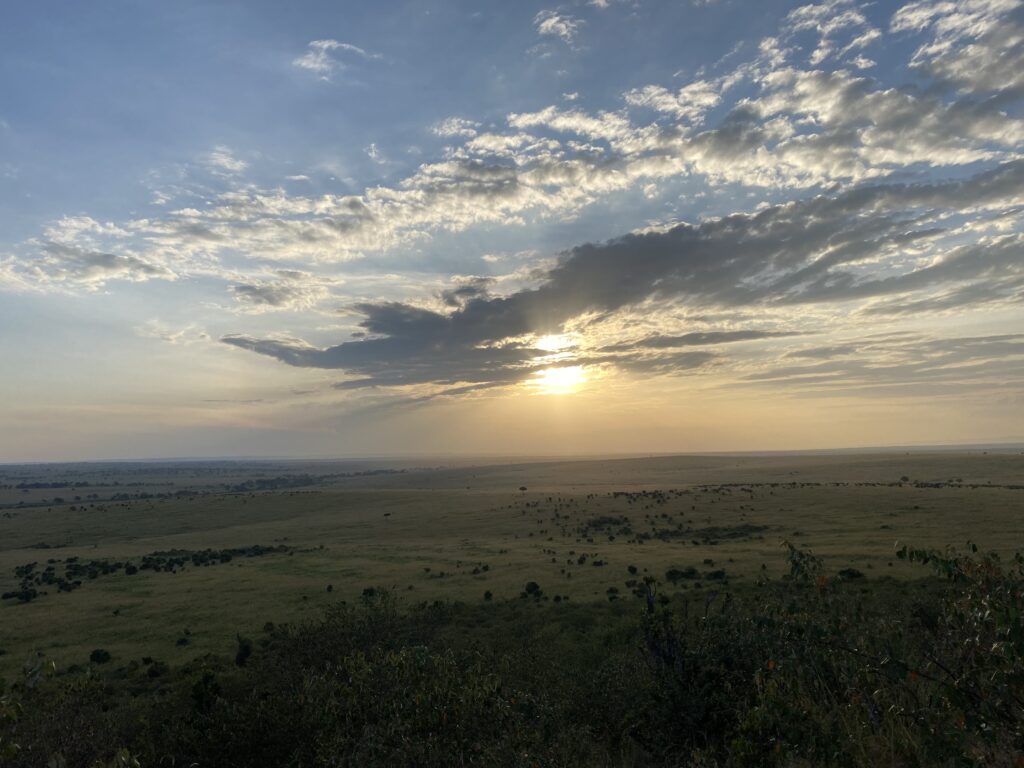 One of the highlights of our trip to Sala's was a sundowner stop atop a hill with 360 degrees across the Masai Mara in one direction, and Tanzania in the other. This part of East Africa is where our earliest ancestors first evolved and upon the hill on which we stood, people have found evidence of early tools. Standing there watching the sun go down and the wildlife roam the plains, really gave a feeling of being somewhere ancient.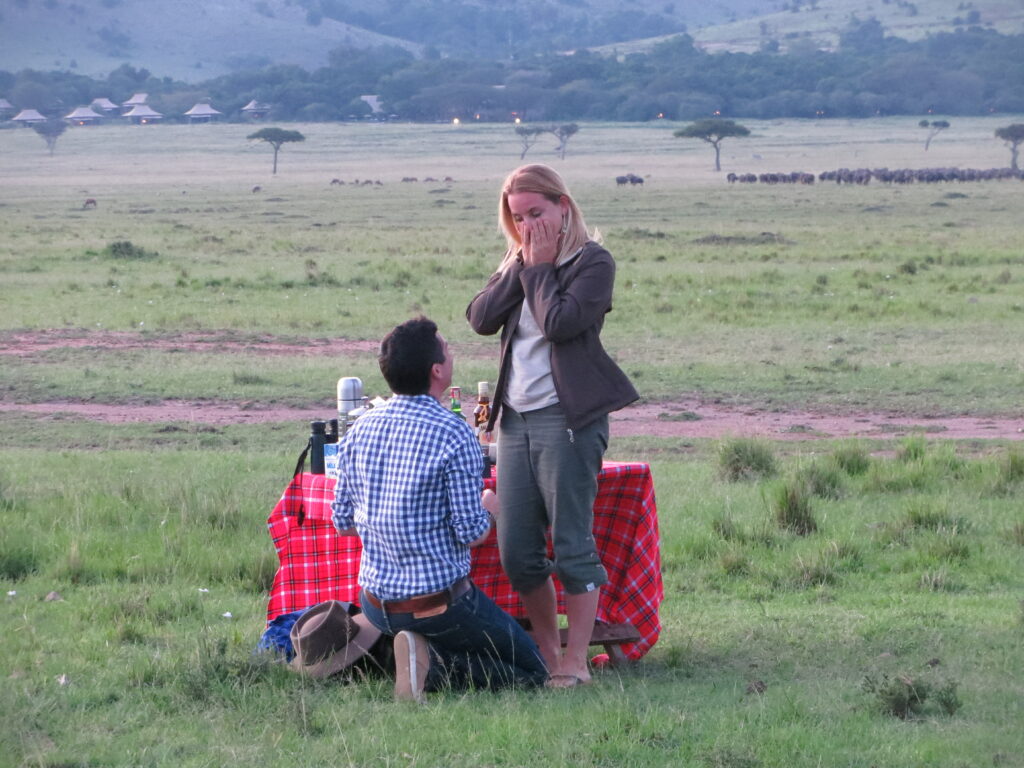 Bateleur Camp holds many special memories for us as a family, as this is where Tess and I got engaged on our first visit to the Masai Mara together (see above pic!). We also took our extended family here after our wedding in the Rift Valley.
This was our first visit since the camp was renovated in 2018 and the new version looks excellent. Split across two camps, the focus is on attention to detail and personalised service, as with all andBeyond properties. Elsa soon made herself at home and we struggled to convince her to get out of the pool!
Our guide, Jeremy, was excellent, and the best we had in the Mara. andBeyond really focus on their guide training and every time we visit one of their properties, it shows. Jeremy has an infectious enthusiasm for his craft, and not only did he take the time to get to know us and tailor the experience our way, he was also fantastic with Elsa, which, as a parent, just makes a family safari holiday with a toddler so much more relaxing.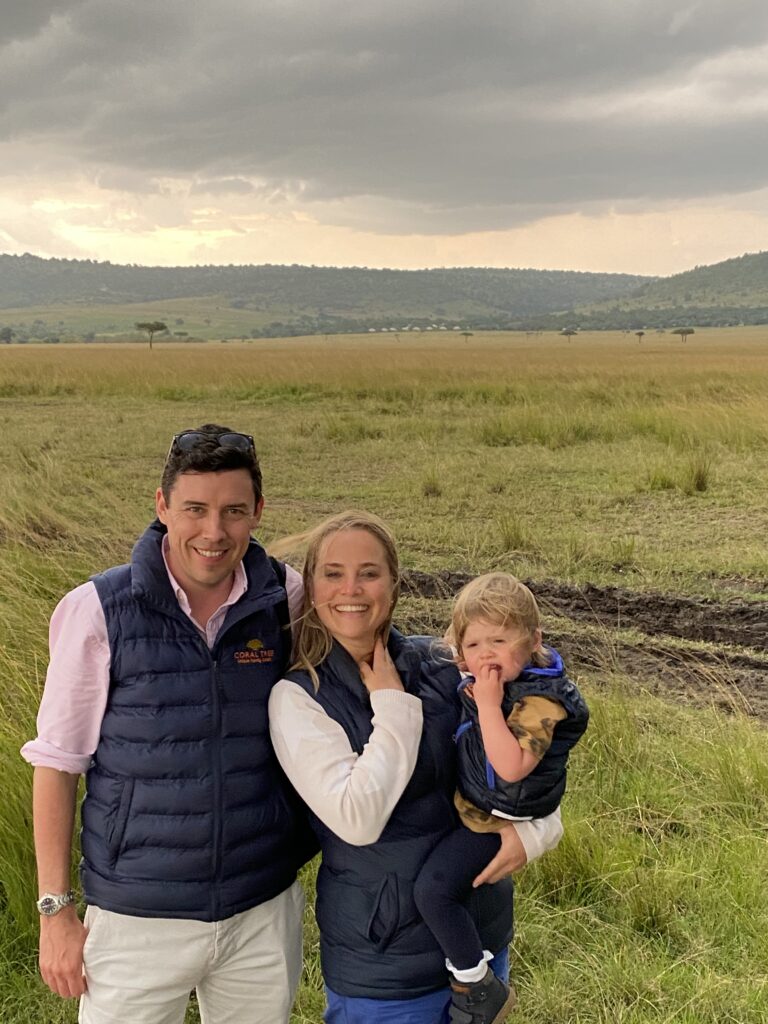 On our final evening there, the camp managers, Markus and Steph, organised for us to have a sundowner under the same tree where we got engaged. Unfortunately, after all their effort, the heavens opened five minutes after we arrived, but we still managed a (very windy!) family photo before running for cover.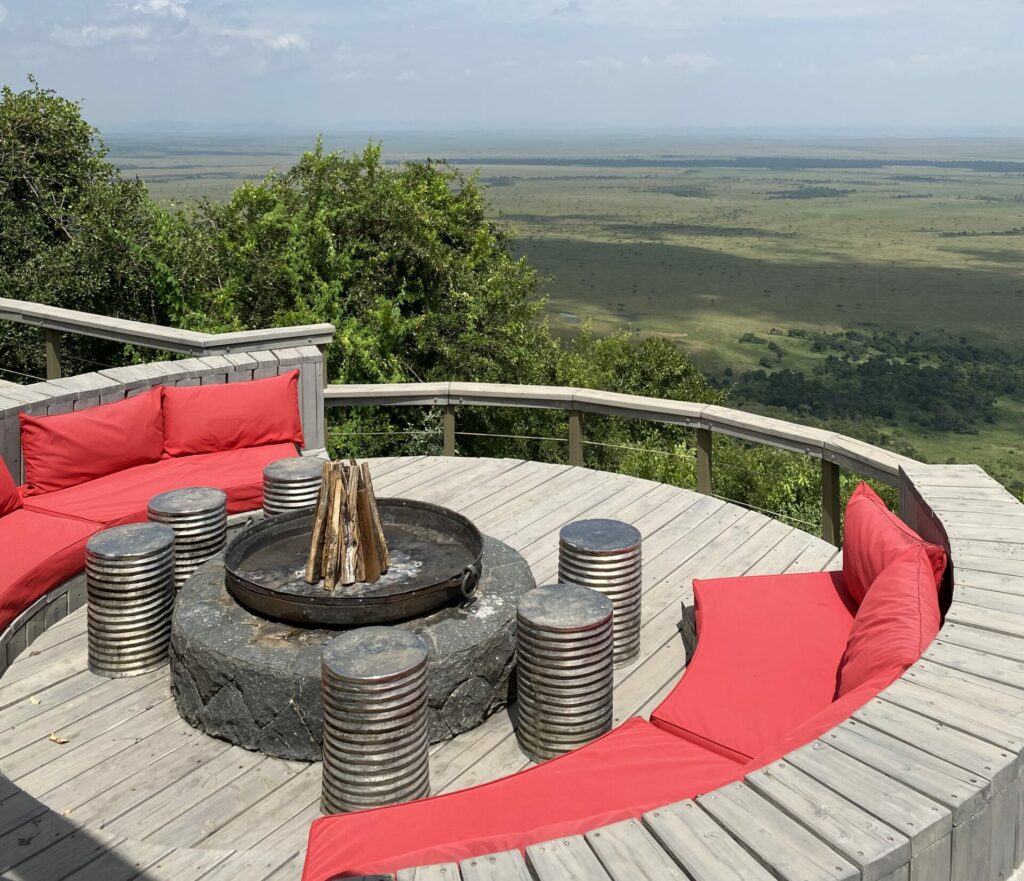 Angama Mara is just one of those places that has to be seen to be believed, and has been on our family safari bucket list for quite some time.
Perched high above the Mara triangle, atop the Olololoo escarpment, Angama has arguably the greatest views of any luxury safari lodge in the Masai Mara, if not Kenya.
We arrived in time for a quick tour and some delicious lunch, and were graciously hosted by one of the owners, Nicky, who told us all about what's been happening and some of their plans for future projects (watch this space…). Again, Elsa was made to feel so welcome, and enjoyed feeding the resident fish (domestic, not wild), whilst we chatted. We also bumped into Douglas Onsongo, an amazing guide who used to work at Bateleur Camp and took the photo of me proposing to Tess above.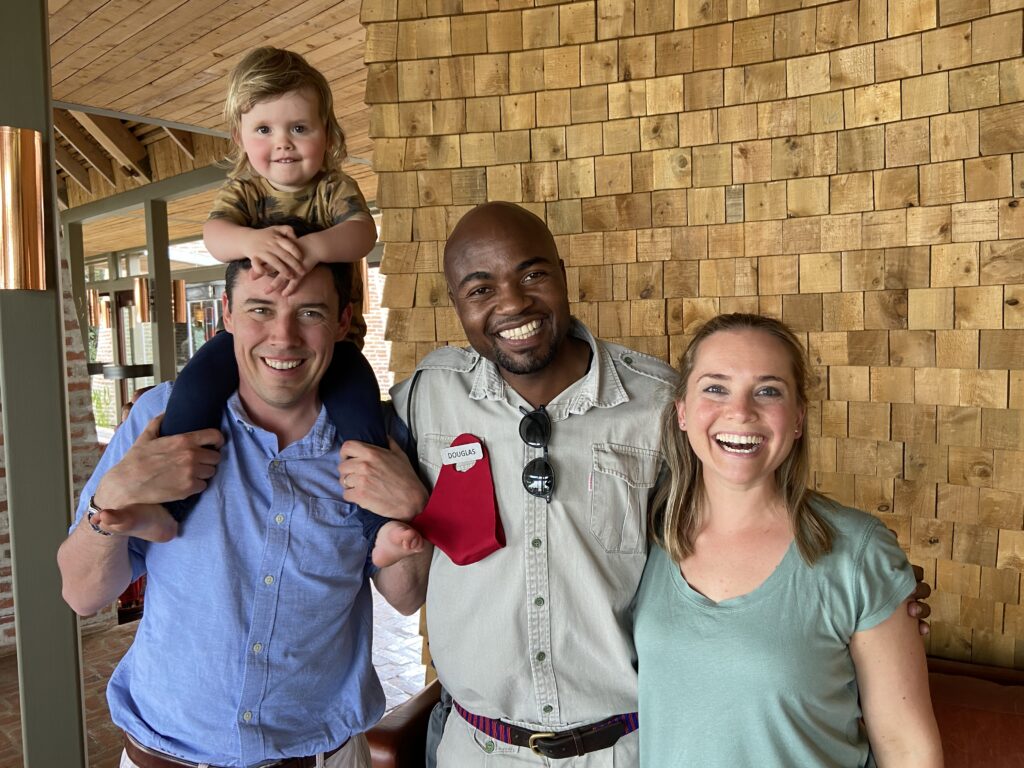 Angama is also split into two camps, and all the rooms and guest areas have enviable views of the plains below. This is where one of the most iconic scenes in Out of Africa was shot. As well as game drives amongst the plains below, walks and picnics along the escarpment are a treat. In the camp, we met the Maasai ladies who make beautiful beaded items, which are sold in the lodge shop, making an important contribution to the community.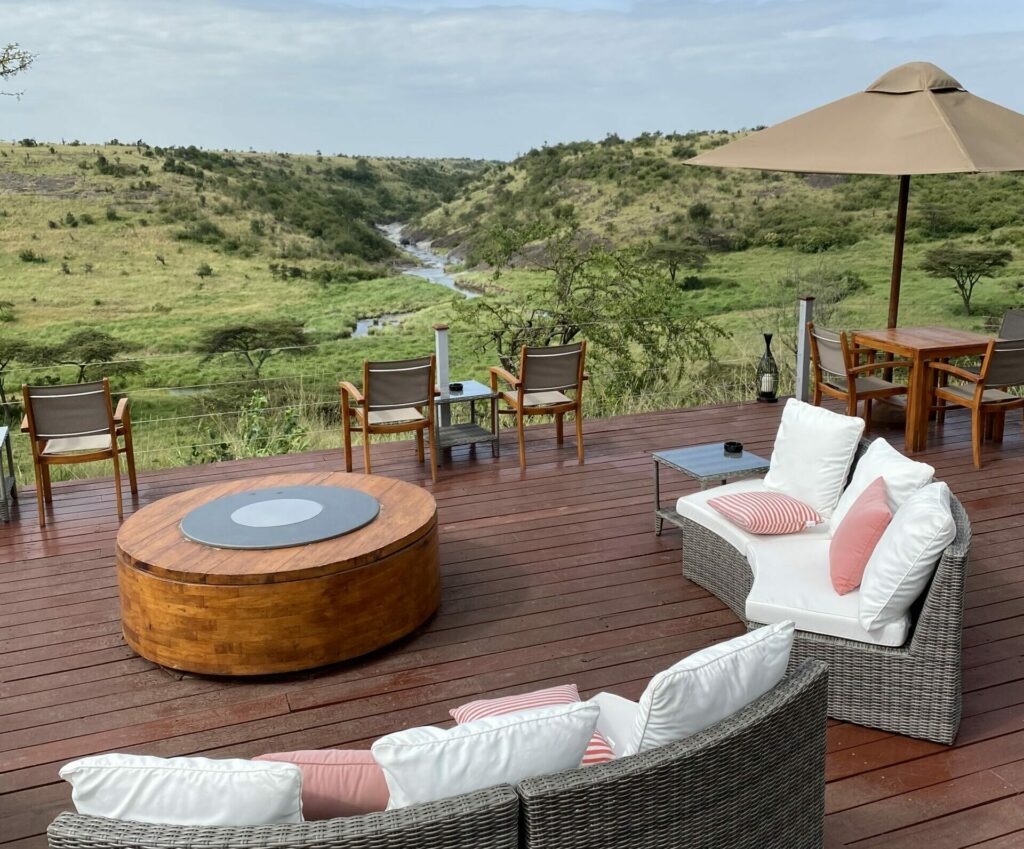 Few camps in Kenya have a reputation as stellar as Richard Branson's Mahali Mzuri ('beautiful place' in Swahili), and we were very excited to arrive here after a long day of driving.
One of the best features of this small and intimate camp is its location, which is in the heart of the Olare-Motorogi conservancy, bordering the main reserve. The big benefit of staying in one of the Mara conservancies is that there are much fewer camps and therefore much fewer people. The ecosystem and wildlife are the same as the main reserve, but you're likely to have it all to yourself, and we did.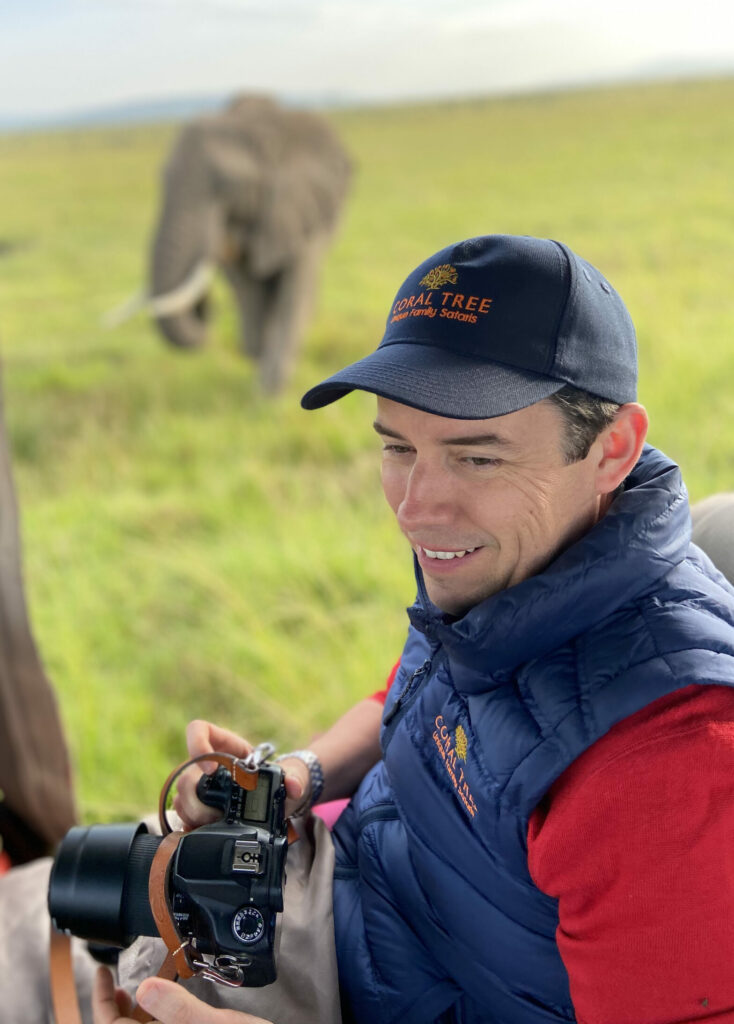 The following morning, Tess and I headed out for a private morning drive, whilst Elsa stayed behind at camp with her Babu (grandfather). We were out for two hours and didn't see another soul. We were treated to sightings of bat-eared fox, giraffe, a huge herd of buffalo, lions roaring in the distance and a plentiful amount of plains game. The highlight was being alone amongst a herd of elephants for around 30 minutes, watching the matriarch and her young move through the open plains.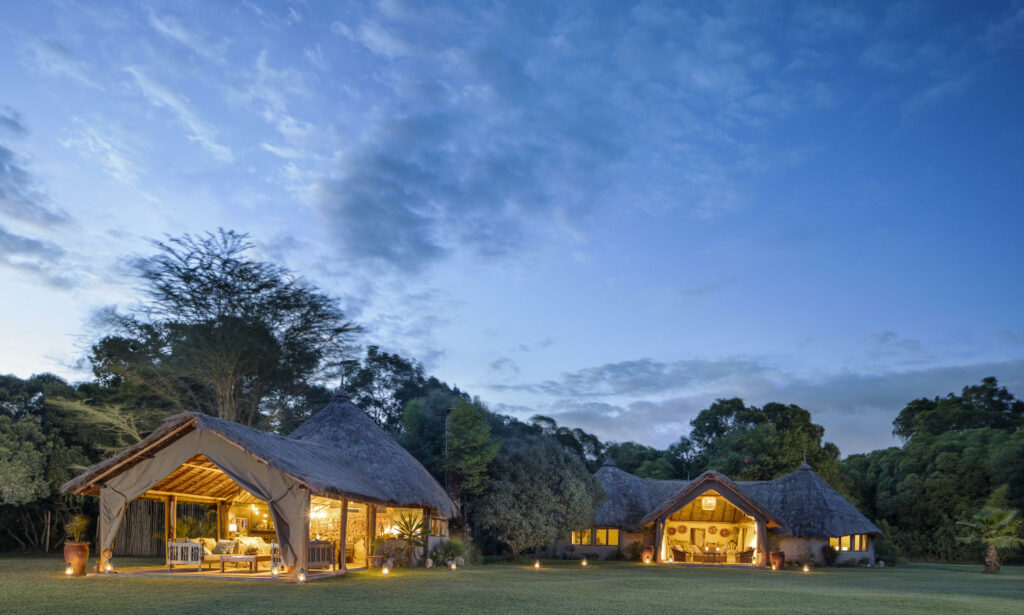 We ended our trip in a part of the Mara we hadn't seen before, and in a property we'd heard a lot about.
House in the Wild isn't very well-known outside of Kenya (yet!), but those in the know here had told us we must visit.
Popular with families, and in a private conservancy tucked away in the northwest region of the Mara ecosystem, far from the crowds, we knew we had to see it for ourselves.
We were welcomed by one of the owners, Tarquin, who lives on the property with his wife, Lippa. Their family have been cattle farming in this part of Kenya for generations, but their dream was to re-wild their farming land and provide an important wilderness space for the wildlife to thrive.
This part of the Mara ecosystem is crucially important, as it provides a buffer between the main reserve and the agricultural pressures that exist outside. It's therefore crucially important that House in the Wild constantly engage with the local community, to ensure cattle have sufficient grazing land and the Maasai way of life is maintained. This is something they evidently do very well.
The lodge is situated on a bend in the Mara river and we enjoyed a delightful lunch on arrival, watching the birds in the trees along the riverbed.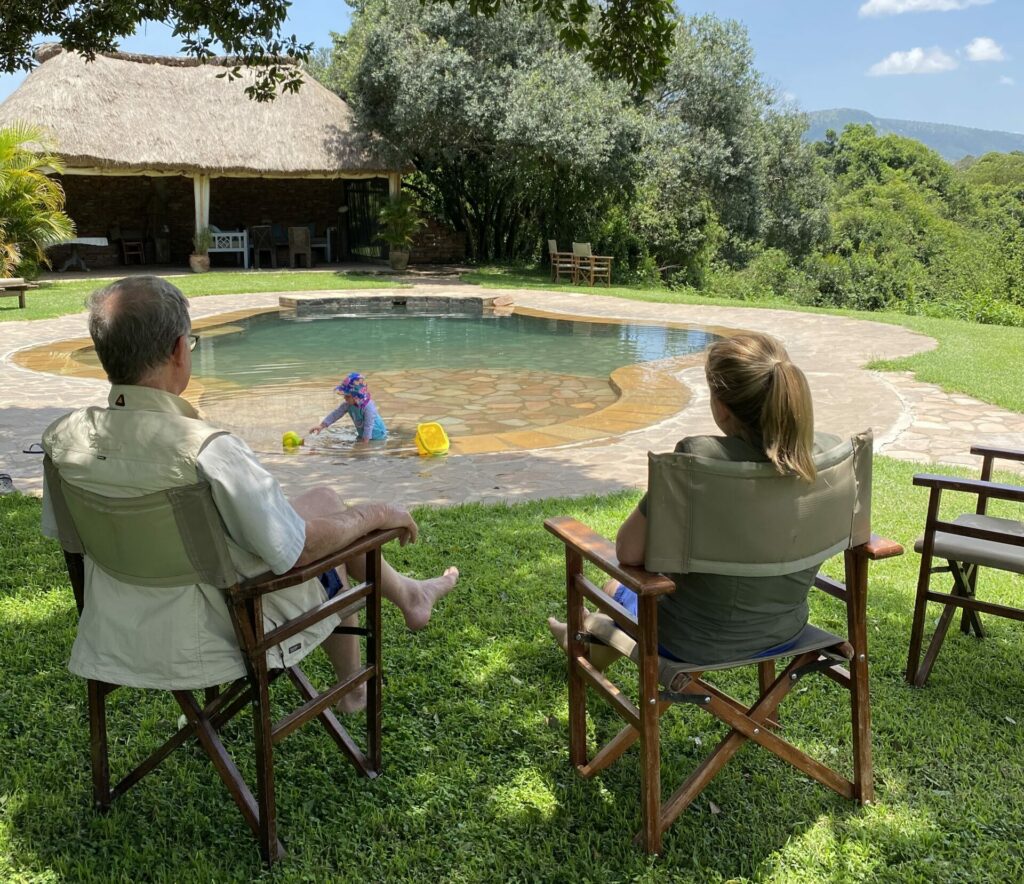 In the afternoon, Elsa got to enjoy the most kid-friendly swimming pool we have found in all of Kenya. It's obvious that Lippa and Tarquin bring their own children up here. Everything has been designed with families in mind.
Later, Tess and Elsa went to visit the 'shamba' (vegetable garden) where House in the Wild grow much of their fresh produce, whilst Babu and I went on a Land Rover adventure for sundowners on top of the highest hill in the Mara – 200m above the lodge.
And so concluded our incredible family safari holiday with a toddler through the Masai Mara. Most international travellers tend to only bring their children to Africa when they are bit older, which we understand. Family safari holidays are expensive, and it's imperative the children are old enough to appreciate.
However, we feel it's important to show that it's possible with children at any age.
No matter how old they are, a family safari holiday is sure to excite and enthral.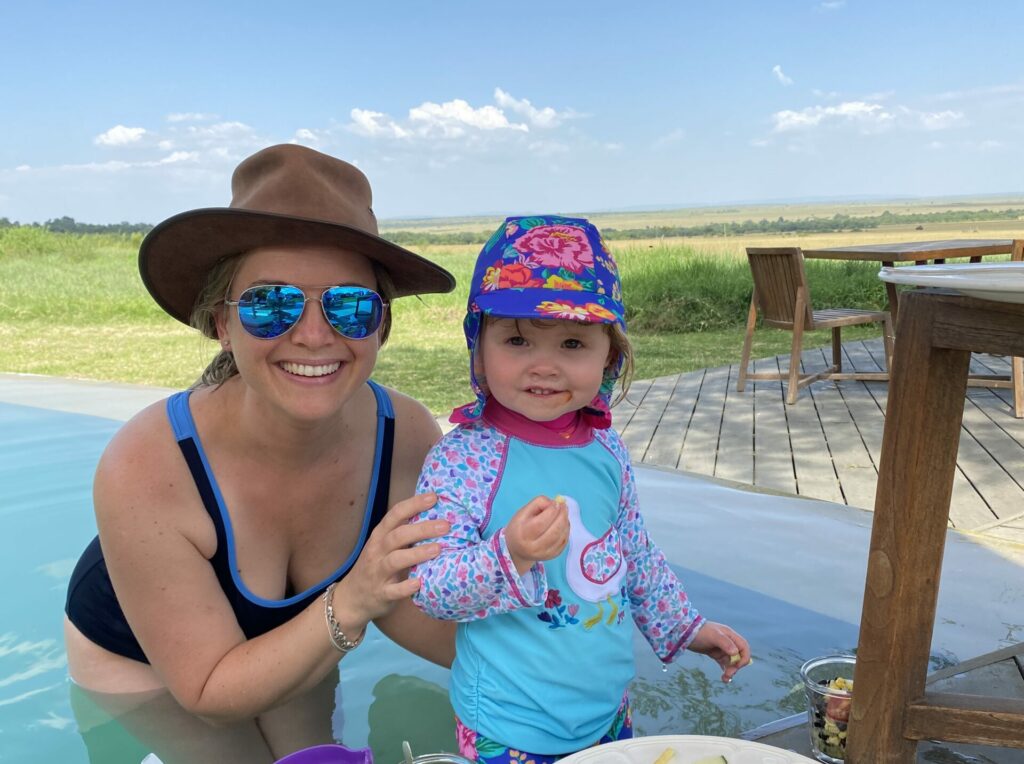 Related destinations
Tales from the Coral Tree
Our expert knowledge makes it possible.