Samburu safari holidays
Safari in Samburuland for a sensational Kenya family safari experience
Overview
Samburu safari holidays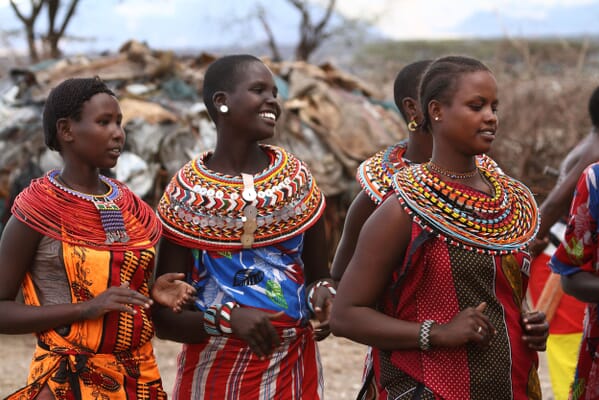 Fall under the spell of this enchanting landscape and the tribespeople who call it home.
The Samburu tribespeople make striking figures with their beautiful beaded jewellery, ancient customs and red robes akin to the Maasai – and the land they reside in is no less remarkable.
They roam the northern wilds of Kenya among a rich variety of wildlife and scenery that will take your breath away.
It's such a singular part of the planet that it truly adds a touch of the unique to a Kenya family safari.
Read more
The winding Ewaso Ng'iro river wends its way through the Samburu National Reserve, fringed by distinctive doum palms and the dappled shade of enchanting acacia forests. Away from the water's edge golden grasslands are underlain by the area's distinctive dark brown earth, just how the elephants like it.
Packs of pachyderms dominate the landscape, and there are over 900 elephants in the reserve. Birders will have their avian appetite sated, and being such a unique destination it's unsurprising that the Samburu has its own Big Five. Challenge the kids to spot gerenuk, Grevy's zebra, beisa oryx, Somali ostrich and reticulated giraffe – quite the collection of creatures to add to the tally on your family safari holiday.
Staying inside the Reserve keeps you close to the action, but for a Kenya luxury safari we like to set up just north of its bounds for utterly sensational views over the Mathews Range; you're still in Samburuland, and in easy reach of all the fun.
Wet season and dry, the Ewaso Ng'iro remains a constant water source for wildlife, which makes this a year-round family safari holiday option in game viewing terms.
Time with the Samburu communities brings warmth, smiles and cultural exchange; mix up riverside picnics and splashing about with game drives, walking safaris, camel rides and even helicopter flights… there's no shortage here of Kenya family safari fun.
Overview
Samburu safari holidays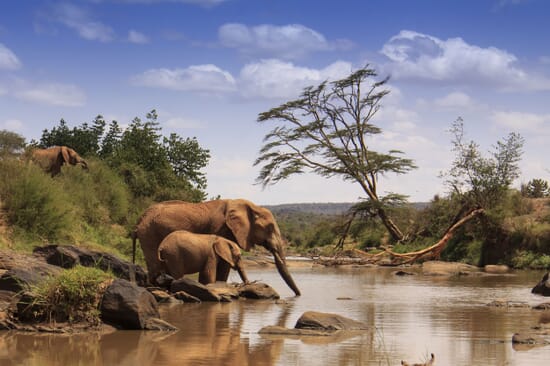 Experiences
Our favourite Samburu experiences
Looking out for the unique species found in this part of Kenya is sure to enliven any family safari holiday.
Walking safaris and camel rides are also key activities for this part of the world.
View all experiences
Itinerary ideas
Suggested itineraries for your Samburu family safari holiday
Kenya driving safari holiday

Experience incredible wildlife, vast wilderness and tranquil lakeside abodes on our Kenya driving safari holiday.

| | |
| --- | --- |
| Guide Price | From £3,865 | $5,250 per person (based on 2 adults and 2 children under 12) |
| Duration | 8 nights |
| Best Months | July - March |
| Region | Nairobi, Rift Valley Lakes, Lewa and Laikipia, Samburu, |

More Info
Places to stay
Recommended accommodation for your Samburu family safari holiday
Places to stay
Recommended accommodation for your Samburu family safari holiday
Why travel with Coral Tree?
We are the specialists in luxury Africa family safari holidays
We are Africa experts and also parents. We understand what makes a memorable family adventure.
Our knowledge and connections are unsurpassed
We have been living and working in African tourism for over two decades.
Every journey is tailored with your specific wishes in mind
No off-the-shelf packages or cookie-cutter itineraries. Unique family safaris.
Each trip funds grassroots conservation and girls education projects
You pay no more for the privilege, we support causes close to our hearts.