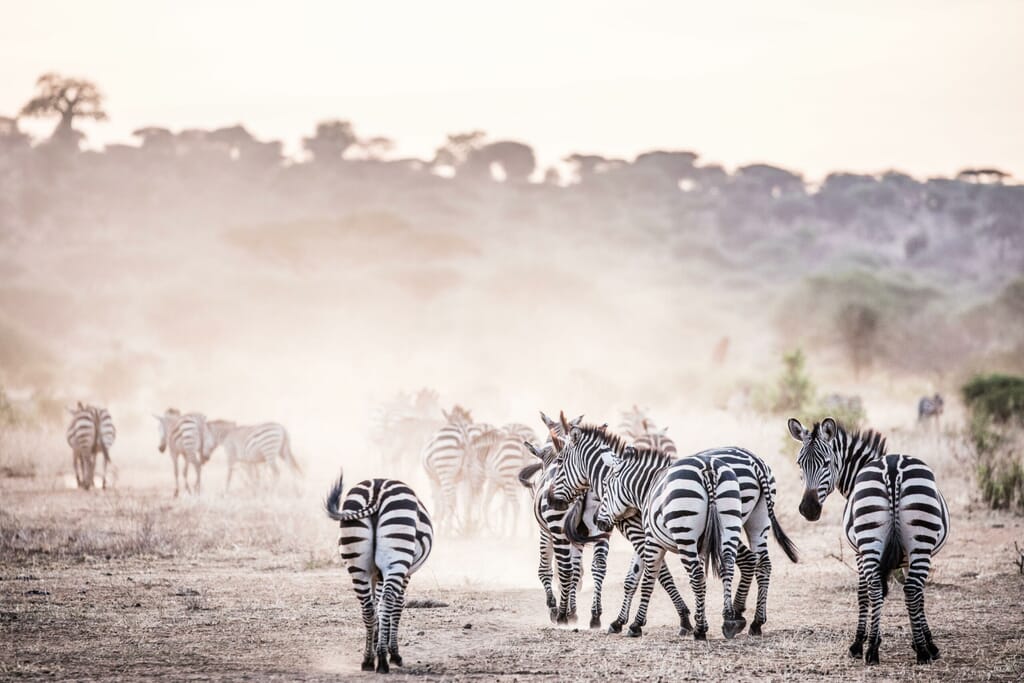 The 7 Best National Parks in Tanzania
Uncover the best national parks in Tanzania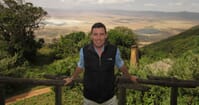 Mike
Tanzania has emerged as one of the top safari destinations in Africa, thanks to its diverse landscapes and abundant wildlife. From the untamed acacia forests to the vast shores of one of the continent's largest lakes, it's no wonder that this country has garnered such high acclaim for its natural beauty.
Amidst the extraordinary landscape, it's natural to wonder about the number of national parks scattered across Tanzania. The answer is a remarkable 22. 
Each park possesses its own unique characteristics but they all share one common thread: they provide a habitat for some of the world's most renowned wildlife species, ranging from majestic lions to elegant flamingos.
With so many sensational parks to explore and animals to see, many are left wondering where to go on a safari in the country. To make it as easy as possible to plan an unforgettable adventure to this wild paradise, we have put together a list of The 7 Best National Parks in Tanzania.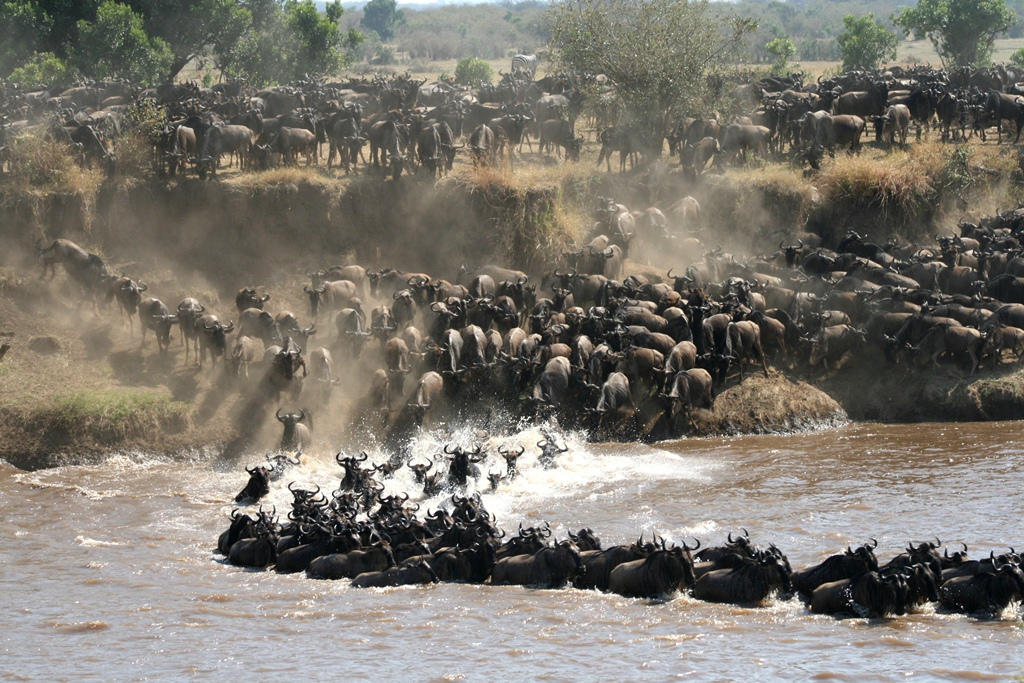 1. Serengeti National Park
Among the exceptional national parks in Tanzania, Serengeti shines strong as one of the most magnificent. It is one of the largest in the country and is world-renowned as one of the Seven Natural Wonders of Africa. 
The park lies nestled in northern Tanzania and spans the Mara and Arusha regions. It is home to one of the most fascinating ecosystems on the planet as its climate, plants and wildlife have remained virtually unchanged for millions of years. 
As a result, Serengeti National Park is said to be home to one of the world's most untouched and unspoilt ecosystems. With a staggering population of over four million wild animals calling it home, it's no surprise that this unspoilt oasis is widely regarded as one of Tanzania's most extraordinary national parks.
One of the most sensational things to see in Serengeti National Park is the Great Migration. Witness over two million wildebeests, zebras, and gazelles as they embark on their epic journey across the Serengeti, eventually reaching the Masai Mara in Kenya. 
As if this grand spectacle isn't impressive enough, the migration also attracts a multitude of predators including lions, crocodiles, and leopards. One of the best times to visit Tanzania for those eager to catch the Great Migration in the Serengeti is July to September.
The river crossings take centre stage during this period as wildebeests storm across the waters, while patient crocodiles lie in wait for their chance to strike. Tanzania offers unparalleled opportunities for wildlife spotting throughout the year.
From graceful giraffes to mighty buffalos and elusive white rhinos to majestic leopards, the park is a haven teeming with extraordinary wildlife.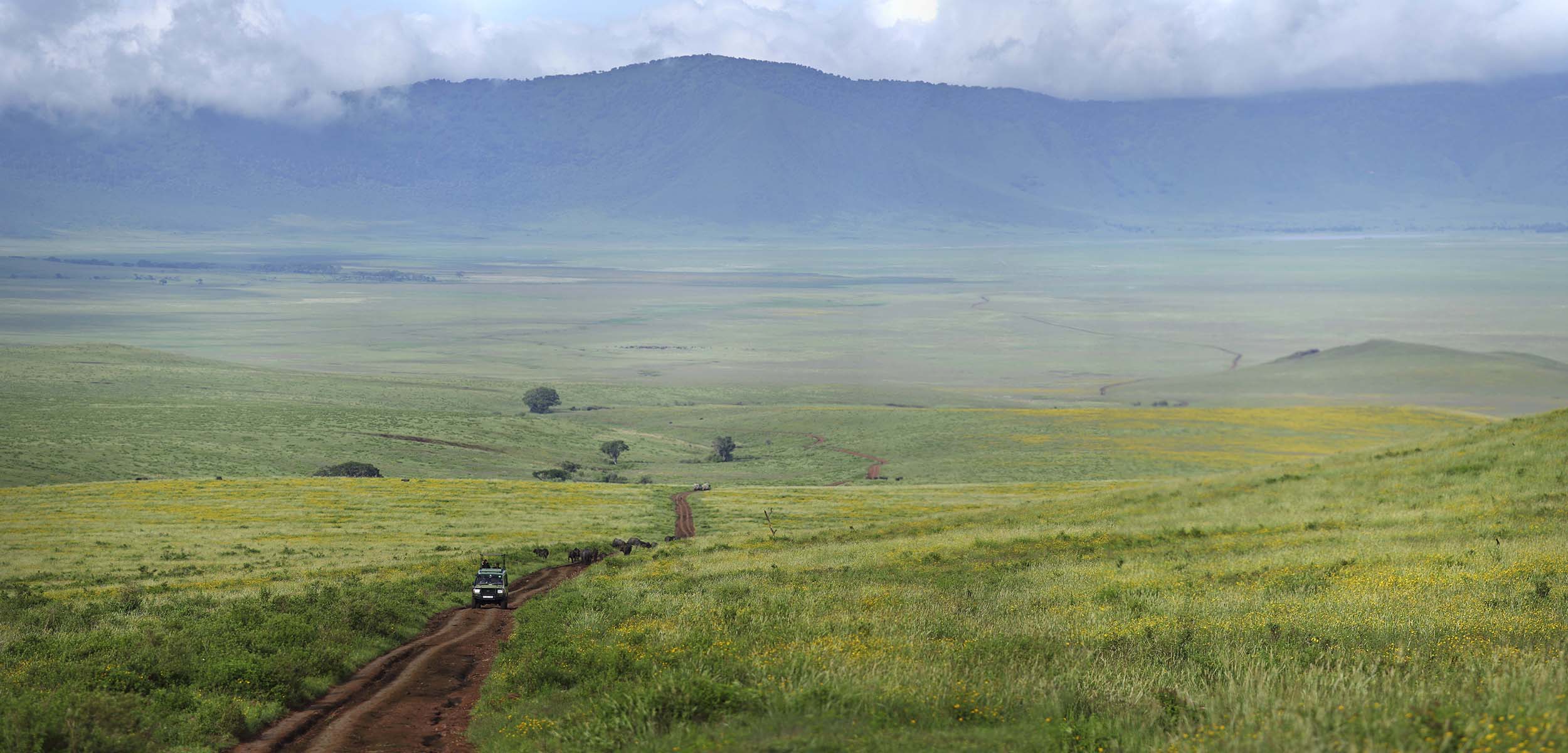 2. Ngorongoro Conservation Area

The Ngorongoro Conservation Area lies in the Crater Highlands in Northern Tanzania and is part of the Serengeti ecosystem. It is here that you will find one of the most incredible sites to see in Africa: one of the largest intact volcanic calderas on the planet.
The UNESCO-protected crater is believed to trace back to three million years ago and is believed to have once stood as a volcano, before ultimately exploding and collapsing in on itself. Flourishing with vegetation, the 16-kilometre-wide caldera is home to the Big Five, along with many of Africa's most famous large predators. 
Prepare to encounter hyenas, jackals and leopards in this untamed terrain. Despite the abundance of predators, other unique creatures can be found all over the park including buffalos, zebras and antelopes. 
In fact, this is one of the very few places in Tanzania where you can spot the Black Rhino.  The area is also famed for its flamingo population. There are few more incredible sights to see on a safari in Tanzania than these elegant, baby-pink birds flocking together in the park's shimmering lakes. 
If you time your visit right, you'll also be able to catch the Great Migration, when huge herds of wildebeest, zebra and antelope arrive during calving season. With such a unique landscape, Ngorongoro is one of the most fascinating ecosystems found in Tanzania.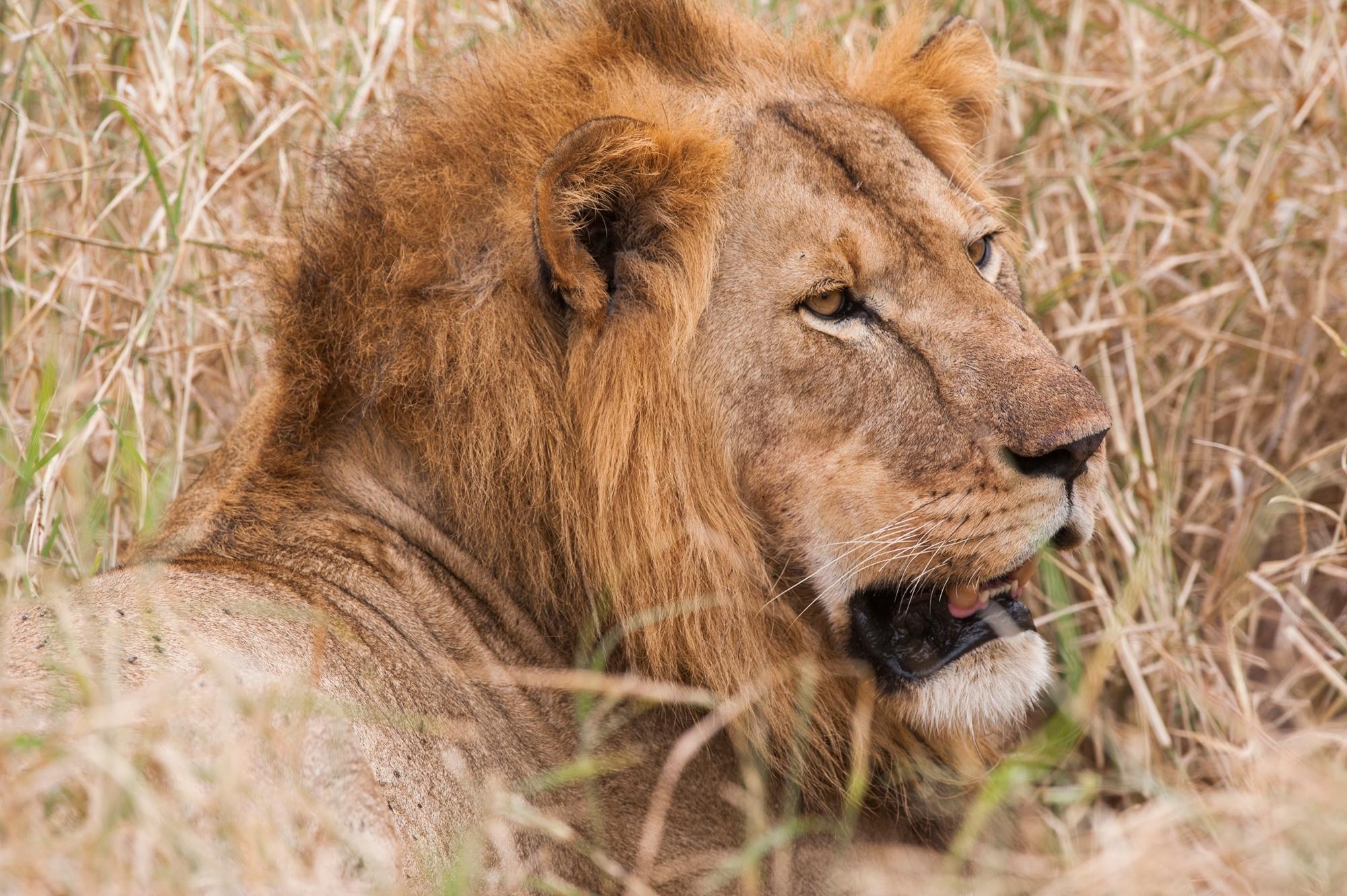 3. Tarangire National Park
Tarangire is one of the best national parks in Tanzania. Picture an untouched tapestry of savannah plains and ancient baobab trees. The site remains slightly more under the radar than other safari areas in Tanzania as it is located in the Manyara region, off the main circuit.
The park's landscapes are a picture of peace and serenity, with little to be heard beyond the sounds of the local wildlife. With a population of around 3,000 elephants, you'll never be too far from the resonant snorts and thumps of these glorious creatures. 
However, the diversity of wildlife in Tarangire National Park extends well beyond the impressive elephants. Lions can be seen climbing the trees in the park on a daily basis. Visitors are also likely to cross paths with zebras, Masai giraffes, impalas, blue wildebeests, bush pigs, waterbucks and buffaloes. 
July to October is one of the best times of year for safari in Tanzania for those looking to visit Tarangire National Park. The landscape transitions to a slightly drier state during this period, drawing animals to gather around the riverbed and creating a breathtaking spectacle of concentrated wildlife activity.
That being said, you can rest assured that a spectacular experience awaits you at Tarangire National Park no matter the time of year.  Even during the wet season, the site undergoes a remarkable transformation as the landscape flourishes into a vibrant green oasis. 
Exploring Tarangire during this period offers a unique opportunity to witness the park's rejuvenation, with lush vegetation and a renewed sense of life embracing the surroundings. While wildlife spotting may require a bit more patience amidst the abundant greenery, the reward lies in the breathtaking natural scenery.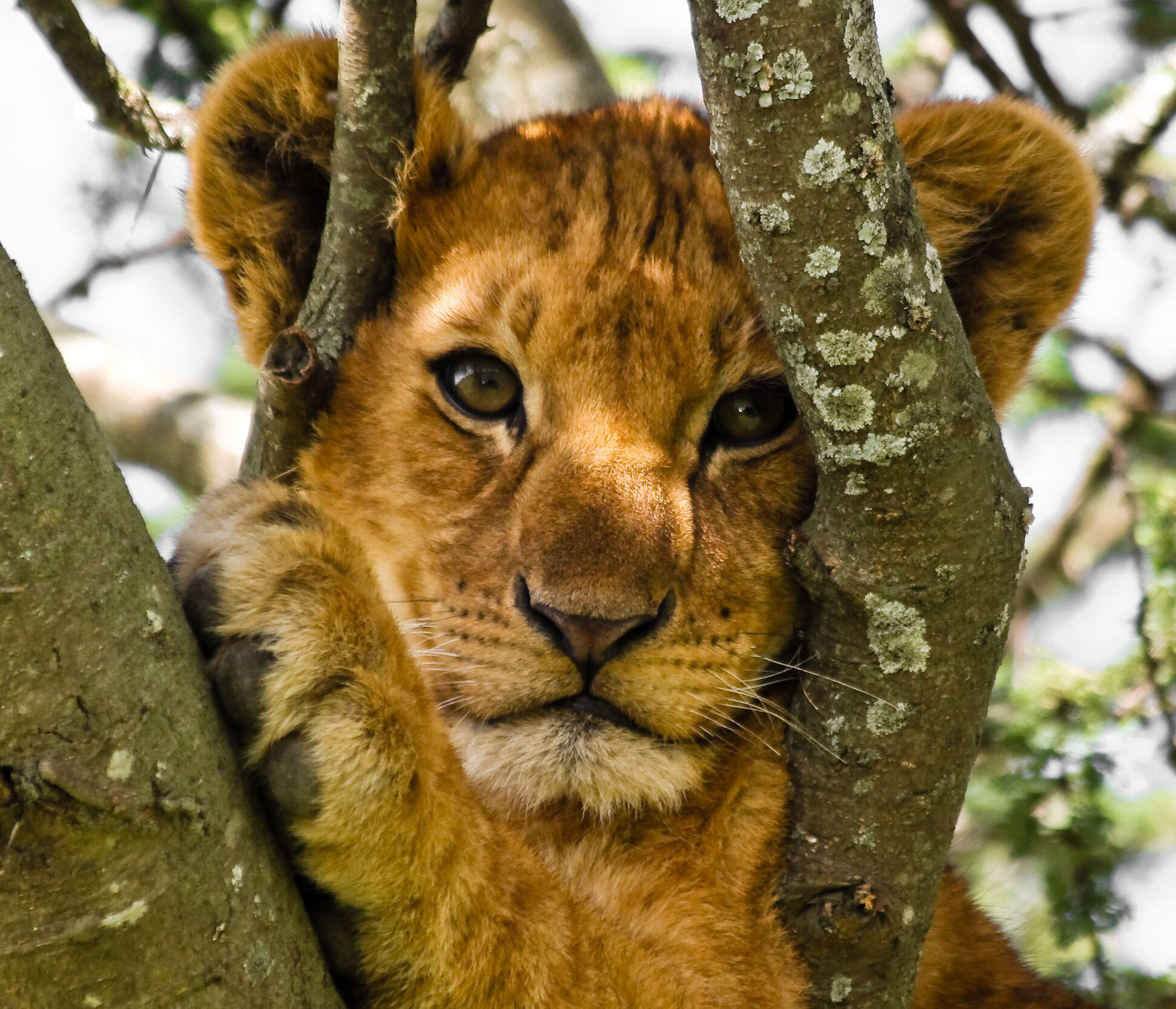 4. Lake Manyara National Park
As one of Tanzania's smaller national parks, Lake Manyara is often underestimated by those planning a safari holiday. The magnificent site is one of the most incredible in the parts of the country as it supports one of the highest biomass densities of large mammals in the world. 
Lake Manyara is home to a sensational variety of wildlife including elephants, buffaloes, hippos and wildebeests. However, it is the park's famous tree-climbing lions that often steal the show. These majestic big cats scale the flourishing acacias every single day. They can be difficult to spot at first but truly offer the most awe-inspiring sight for visitors of Lake Manyara.
The park is also renowned as a birdwatcher's paradise, with over 400 species found within its boundaries. Among its avian residents, the park is particularly famous for its 1.9 million flamingos. These elegant, blush-coloured creatures can be seen feeding on the algae of the lake, brightening its shores with rosy hues. 
With such a rich diversity of wildlife concentrated within the relatively small area of Lake Manyara, you can enjoy a high likelihood of bumping into many of Africa's most famous creatures at this park. The lake itself is nothing short of breathtaking. In fact, Ernest Hemingway proclaimed it to be the loveliest in Africa.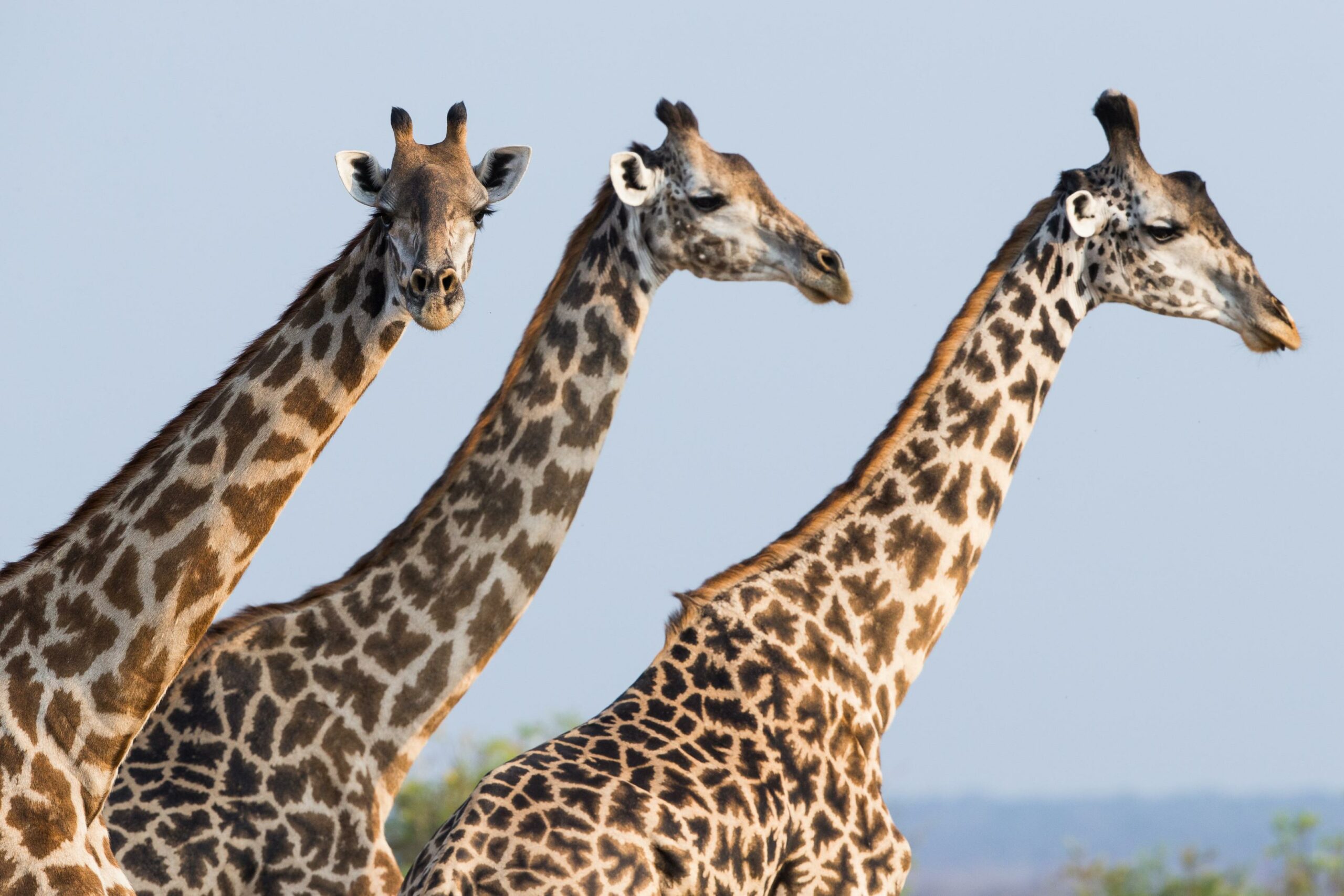 5. Nyerere National Park
Nyerere National Park is located in south Eastern Tanzania and lies within The Selous Game Reserve, one of the largest remaining wilderness areas in Africa. The untamed paradise boasts some of the highest concentrations of wild animals on the planet. 
The site sprawls over 30,893 kilometres and is one of the most magnificent new national parks in Tanzania, having only been established in 2019. Nyerere is slightly less visited than other spots on the list, despite being one of the best safari destinations in the country.
As a result, many of its spectacular wildlife residents are less exposed to humans. Nyerere National Park is home to all sorts of marvellous creatures including large populations of elephants, giraffes, black rhinos, crocodiles and wildebeests. 
As the largest national park in Tanzania and one of the biggest in Africa, you'll find a marvellous, diverse range of habitats in Nyerere. The landscape is a tapestry of vast grassland, wetland, riverine forests and miombo woodlands.
Discover a diverse range of terrains as you explore Nyerere National Park, encountering magnificent animal species and savouring the tranquil serenity of one of the country's lesser-known wildlife areas. With its remarkable landscapes and rich biodiversity, it is often hailed as the best national park in Tanzania.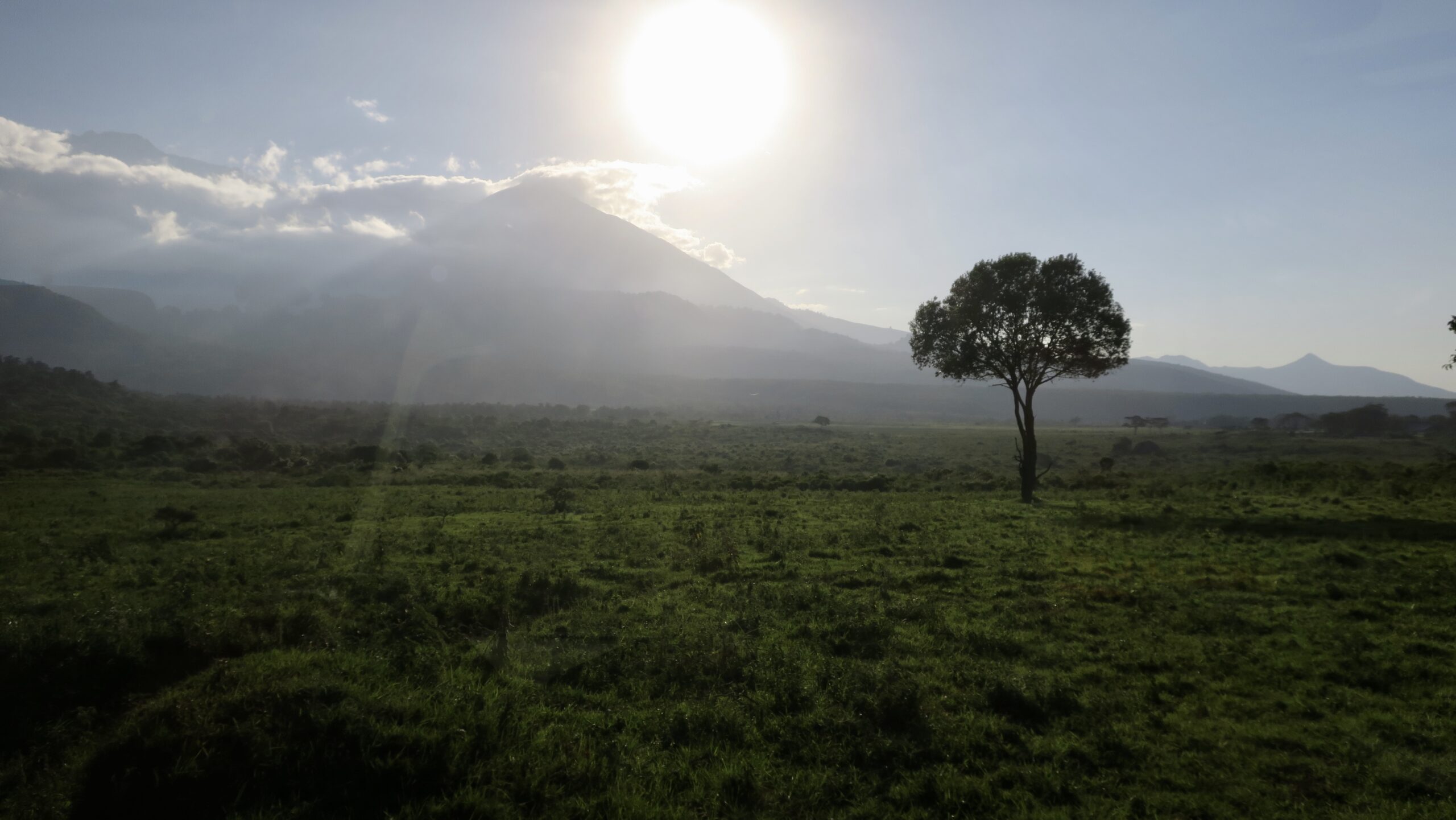 6. Arusha National Park
Arusha National Park is situated in the west of Tanzania, just outside the town of Arusha. At just over 500 square kilometres in size, it is the smallest national park in the country. 
Don't be fooled by its size, however, as it boasts one of the highest densities of wildlife in the country and boasts the largest population of giraffes in the world. These long-necked creatures can be seen roaming and nibbling on vegetation all over the site. 
Beyond giraffes, Arusha National Park is also home to hippos, zebras, elephants and cape buffalos, along with over 400 different bird species. There is also a flourishing population of primates here, including black-and-white colobus monkeys and blue monkeys.
A visit to Arusha National Park would not be complete without exploring Mount Meru, a 14,980 ft volcano located within its grounds. The landscape itself is remarkably varied, encompassing sprawling savannah, rainforest and acacia forests. 
Game drives offer the perfect opportunity to uncover the wildlife and landscapes in all of their glory. Alternatively, you'll have a wonderful array of active explorations at your fingertips including canoeing safaris and bush camping.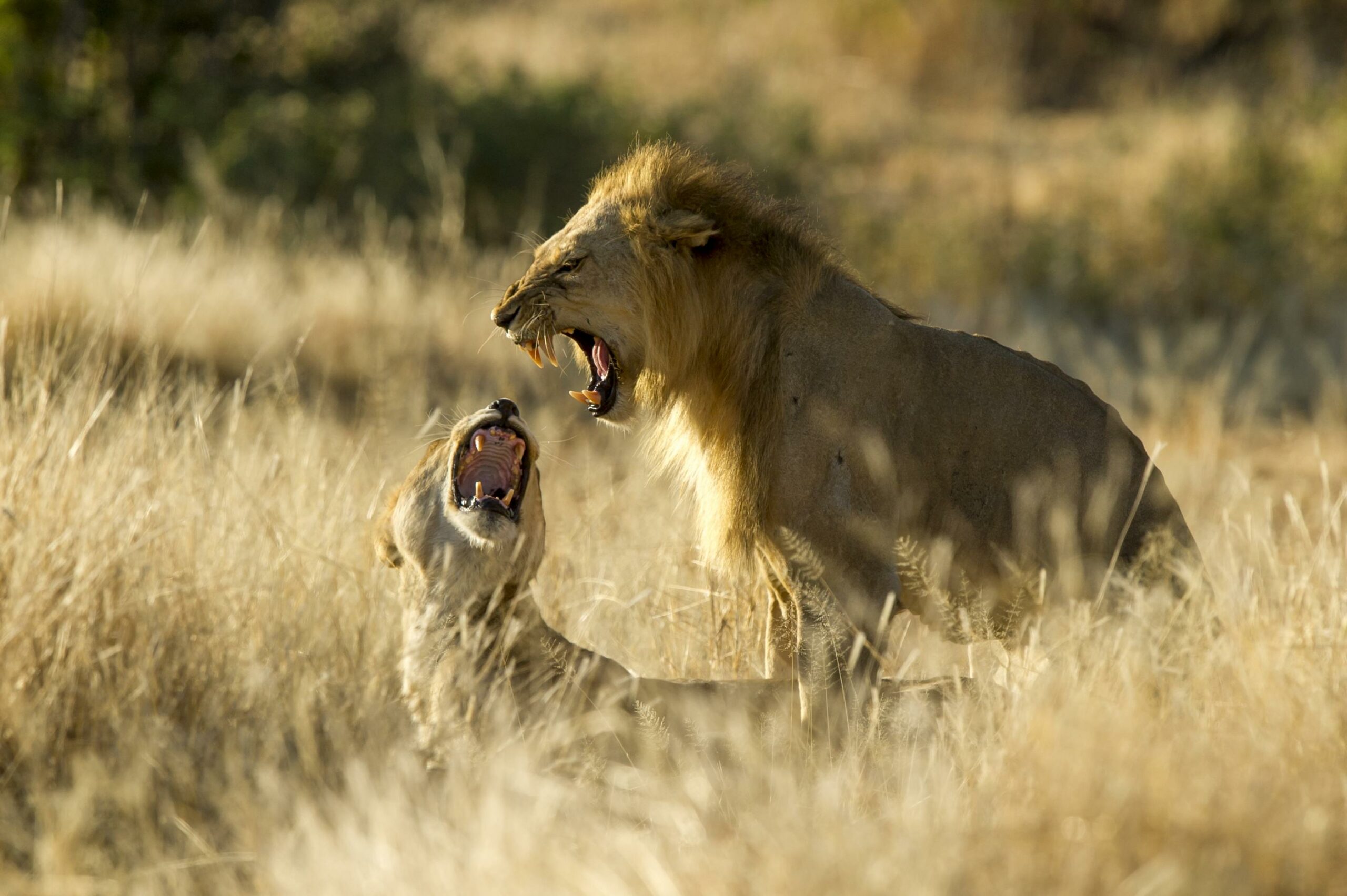 7. Ruaha National Park
One of the largest national parks in East Africa, Ruaha sprawls over around  20,226 square kilometres of unspoilt landscape in a remote area of southern Tanzania. Its remote location and expansive size ensure a serene and secluded experience, away from the crowds.
The park gets its name from the Great Ruaha River, the second-largest conservation area in East Africa. There is certainly much to see in terms of wildlife in Ruaha. Picture an unspoilt display of miombo woodlands, rocky hills in the distance and sand-lined rivers. 
As you explore Ruaha, you'll encounter an incredible array of wildlife. Notably, the area is renowned for its elephant population, with over 12,000 of these majestic creatures gathering along the riverbanks.
Predators also thrive in Ruaha National Park, with lions roaming the vast expanse, leopards gracefully navigating the riverine forests and cheetahs patrolling the grasslands.  Giraffes, zebras, hippos and crocodiles add to the rich array of wildlife in the area.
Bird enthusiasts will be delighted to hear of the park's diverse range of avian inhabitants. Over 570 species can be seen above the landscape. African fish eagles, kingfishers, bee-eaters and bateleurs are just a few of the bird species you can spot during your visit.
With such a sensational variety of landscapes to explore and wildlife to see, Ruaha is certainly one of the best national parks to visit in Tanzania.
Summary
Tanzania is without a doubt one of the best family safari destinations in Africa. The country boasts an unparalleled variety of national parks to explore. From one of the largest intact volcanic calderas on the planet to sparkling lakes home to tree-climbing lions, there is something for everyone to enjoy.
With so much to see in this magnificent corner of Africa, you simply cannot go wrong with a safari adventure in Tanzania. 
Embark on a wildlife adventure of a lifetime on a safari to Tanzania. Check out our wonderful selection of itineraries and accommodation and discover why so many travellers view Tanzania as one of the most incredible safari destinations in the world. Get in touch today to start planning your African adventure. 
Some images used in this blog are the property of our partners. Please contact us for more details.
Related destinations
Tales from the Coral Tree
Our expert knowledge makes it possible.