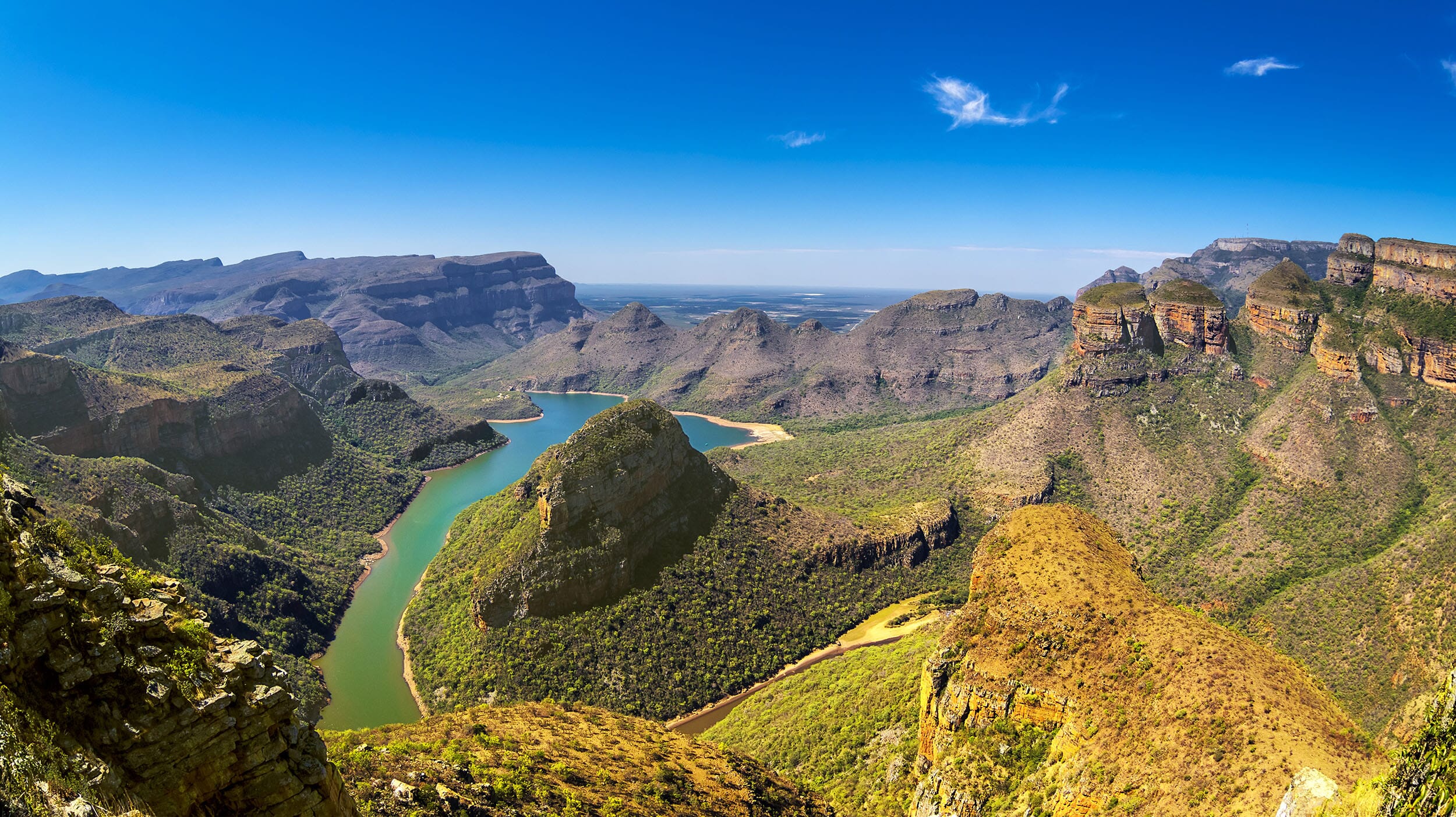 Drakensberg Mountains Holidays
South Africa's hub for outdoor pursuits and world-class panoramas
Overview
Drakensberg Mountains Holidays
Meaning 'dragon's mountains' in Afrikaans, the Drakensberg mountains are a sinuous range of peaks, escarpments, valleys and gorges, stretching across much of South Africa.
Meandering through five of South Africa's nine provinces, the Drakensberg mountains are a paradise for hikers and a magnet for lovers of activities of the vertiginous kind.
A Drakensberg mountain stay is a delightful way to add some outdoor pursuits to a South Africa family safari holiday.
Overview
Drakensberg Mountains Holidays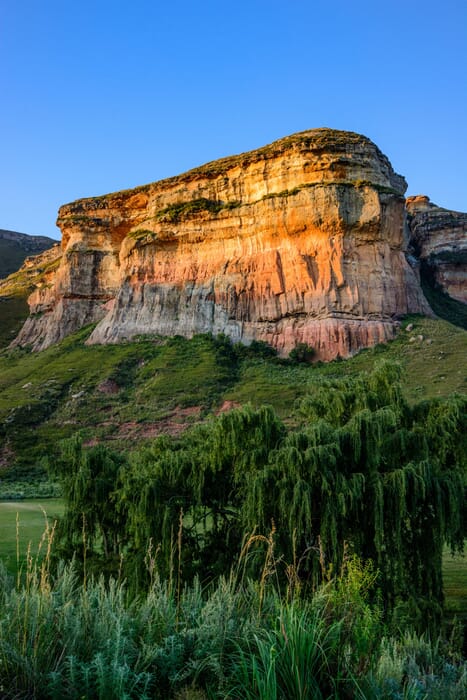 Where are the Drakensberg Mountains?
The Drakensberg range snakes from the Eastern Cape in the south, as far as Limpopo province in South Africa's north. The mountains extend along the eastern edge of a vast plateau and at their highest, form a border with the landlocked mountain kingdom of Lesotho.
These highlands are principally reached from Durban but driving from Johannesburg is also possible. A comfortable drive also brings you within easy reach of the South Africa Battlefields.
The northern Panorama Route comprises Blyde River Canyon and other majestic vistas. Accessible from Kruger Mpumalanga airport, this part of the chain can easily be combined with a safari in the Sabi Sands Game Reserve.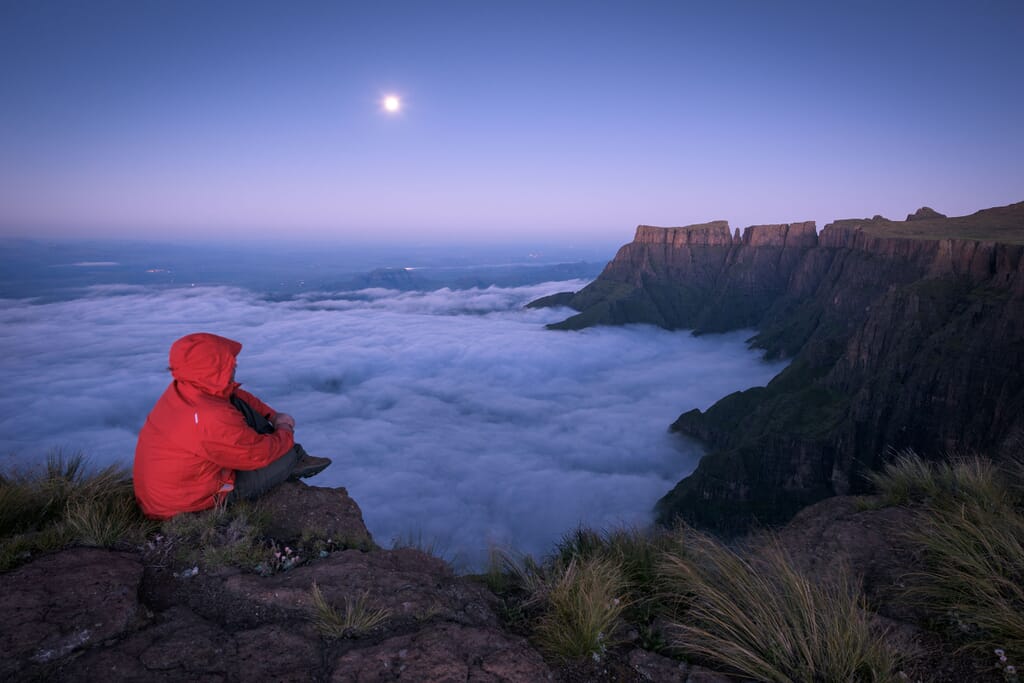 What to do?
There are many who will be happy to simply gaze upon the dramatic skyline, glass of fizz in hand, from the low-level drama of a bubbling hot tub.
However, come prepared to poke the dragon and you will discover stunning hiking trails and a surprising array of action-packed adventures. Wherever there are mountains, there will be those who conjure up ever more imaginative ways of exploring them. And the Drakensberg mountains are no exception.
Leisurely hikes and sedate pony treks take place alongside mountain biking and trail running. Free fall rope swings and high-speed canopy zip wires can all be…enjoyed. Or take to the skies and drink in the views from a thrilling helicopter flight.
Many of the activities can be tailored to all but the youngest thrill seekers. Family friendly biking trails and fun activities such as low ropes courses make the Drakensberg mountains a rewarding choice for South Africa family holidays.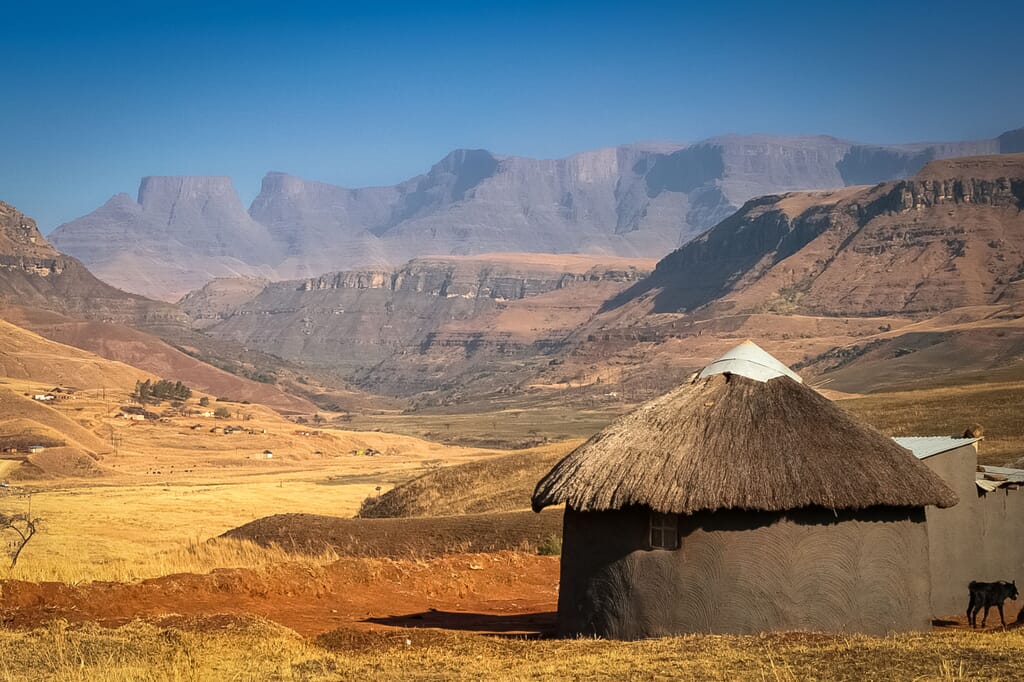 Best time to visit?
The autumnal months of March to May are a great time to visit offering warm, settled conditions and not too chilly overnight.
The winter months around June and July are pleasantly warm by day but can drop below freezing overnight. Snow on the higher peaks only enhances the dramatic vistas.
Wildflowers bloom in September and October as the shadows shorten and days begin to warm up.
The months of December to February can bring heavy rain showers. But in between the showers, the summer temperatures are kept in check, thanks to the altitude.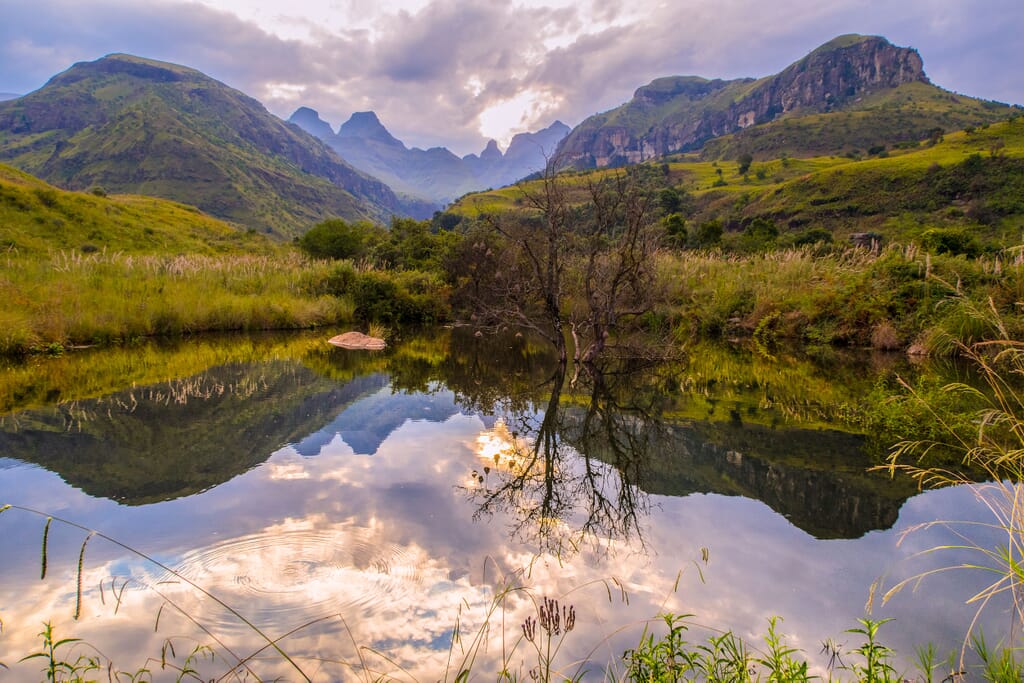 Who should visit?
Active families with slightly older children will certainly reap the rewards of the many activities on offer.
Couples looking for a romantic getaway would be hard-pressed to top Drakensberg mountains holidays. Idyllic lodges serve up delectable cuisine with a fireside digestif to follow.
Start planning
Places to stay
Recommended Drakensberg Mountains accommodation
Places to stay
Recommended Drakensberg Mountains accommodation
Why travel with Coral Tree?
We are the specialists in luxury Africa family safari holidays
We are Africa experts and also parents. We understand what makes a memorable family adventure.
Our knowledge and connections are unsurpassed
We have been living and working in African tourism for over two decades.
Every journey is tailored with your specific wishes in mind
No off-the-shelf packages or cookie-cutter itineraries. Unique family safaris.
Each trip funds grassroots conservation and girls education projects
You pay no more for the privilege, we support causes close to our hearts.